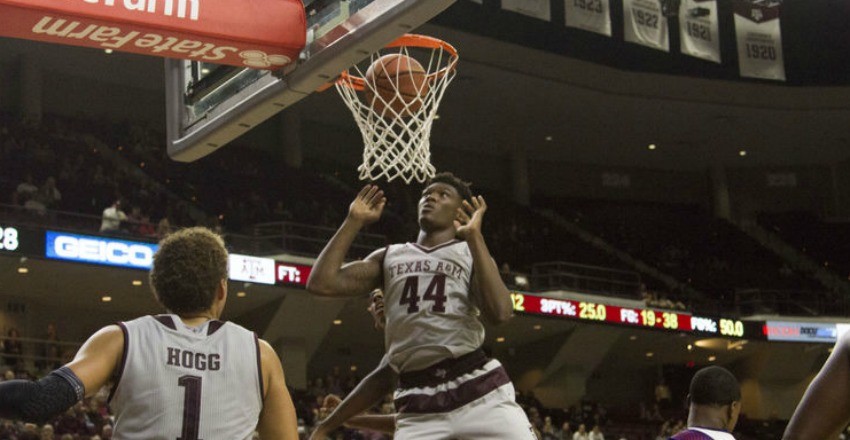 Now that we are a fourth of the way through the college basketball season, it is now time to go back and check in on our final 2016 HoopSeen Top-125 Rankings. Yesterday, the names of Carsen Edwards, Sam Hauser and Kamar Baldwin came to mind on some of the guys that we ranked higher and thus far, have gotten right thanks to their early success. However, today is the time that we give a glimpse at some of those that we underrated and further, have outperformed their original placement within our rankings.
AMIR COFFEY – MINNESOTA – HOOPSEEN: 65
There was a lot of question about the Minnesota basketball program entering the season surrounding the personnel within the program and if Richard Pitino, the school's men's basketball head coach, would be able to get himself off of the hot seat. Pitino has done just that thanks to the play of freshman wing Amir Coffey. We didn't question the talent level out of the Minnesota native but rather how good he could be as he had gone through an ACL injury that sidelined him for more than a calendar year. The son of a former UNC basketball star, the 6-foot-6 wing has come out swinging to a toon of over 13 points, three boards, and close to two assists. His ranking of sixty-five was way too low and in his first six games, the UM star eclipsed double figures in points creating great momentum for what should be an excellent college career.
ZACH COLLINS – GONZAGA – HOOPSEEN: 57
We were much lower on Zach Collins with our final rankings compared to our peers within the business but we should have saw what was coming with the now Gonzaga freshman. He has drastically reworked his body and looked much more athletic and mobile in and around the basket and in getting up the floor. He has always been an excellent high post weapon but within the confines of Mark Few's system and alongside a bevy of frontcourt talent, the Nevada native has been able to play within himself and appropriately so, be used for his strengths. Averaging close to 11 points and six boards per contest, Collins is an efficient scorer and producer thanks to his near 70-percent shooting from the field. The Zags aren't going anywhere and Collins is a major reason why.
JARED HARPER – AUBURN – HOOPSEEN: 120
Getting a number of looks at Jared Harper during his travel and high school playing career, we should have seen what was coming from the 5-foot-10 lead guard. Running with an elite travel squad in the Georgia Stars, a unit that won the Nike Peach Jam, Harper was oftentimes nitpicked for his shoot-first mentality that wasn't helped much by his lacking size. However, the sparkplug of a guard has begun to learn what a good shot is and what a poor one might be as he is hitting close to 40-percent of his perimeter attempts. All of the talk out of Auburn during the fall was that Harper would be a star and in the early going, the prediction seems to be true. Posting excellent averages of close to 12 points, three boards, three assists, and two steals displays the variety of ways that Harper can help the jumpstart Auburn program. Chippy, competitive, and confident is the name of the game with the Peach State native, a fiery little guard that recently went for 21 points in a giant win over a tough and talented UAB program.
SHAMORIE PONDS – ST. JOHN'S – HOOPSEEN: 53
Granted Shamorie Ponds has many more chances than some of his compadres from the 2016 recruiting class, but what the New York native has been able to do straight out of the gates in Queens is quite impressive. Confidence and toughness has never been lacking out of the quick New Yorker and those same traits that he showed as a high school prospect have translated nicely onto the college hardwood. We were a bit worried over whether his lacking athleticism and size for his spot on the floor could hinder him so but really, Ponds is just a gamer, something we underrated. Averaging over 17 points, five boards, and three assists per game, things are still in the rebuilding stages at St. John's but Ponds could be the catalyst for change under Chris Mullin's watch.
ROBERT WILLIAMS – TEXAS A&M – HOOPSEEN: 73
Okay, okay, we definitely blew this one. How could we have been so dead on with Carsen Edwards, Robert Williams' travel teammate, but been so wrong on the 6-foot-9 power forward? Your guess is as good as mine but one cop out of ours could be around the fact that Williams has come into his own and learned the meaning of a good shot while packing on tons of muscle mass onto his explosive physique. NBA scouts have already begun to drool over the Texas A&M freshman and rightfully so as the elite athlete can fill up the final box score without even dripping an ounce of sweat. Close to 10 points, six rebounds, three blocks and two asssits…in less than 20 minutes? That is an unbelievable state line in such short time and the fact that he is making 62-percent of shots from the field adds even more value to the Louisiana native. Sure, Williams does have to watch his foul count but he is a mean dude down low that protects his basket with enthusiasm and isn't afraid to give you a snarl once he dunks on you. Williams is a stud and we are more than happy to say that we vastly underrated the Aggie star.
Photo by: Kevin Chou