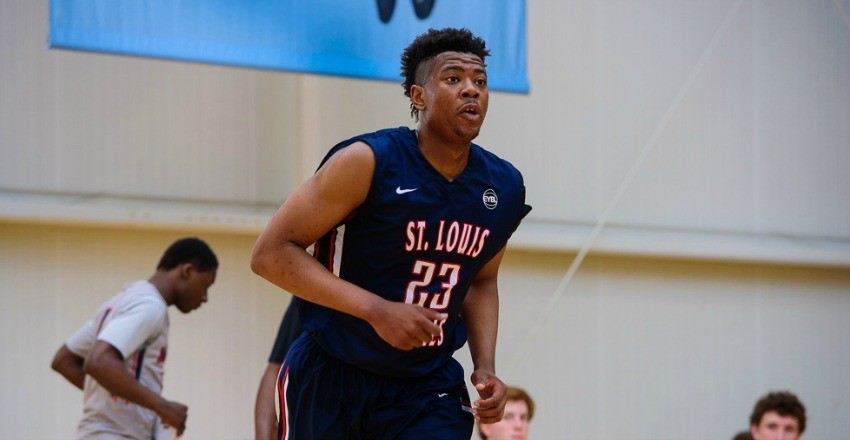 Now in the meat of the first and early signing period, we do our best to decompress a bit and look back at what has occurred and what might happen in the days ahead. Before the end of the week, we will hit on a number of topics as our panel of analysts will give their insights on some of the topics at hand.
Who is the one player that can change a program at the non-major level out of the 2017 class?
Travis Ford didn't wait too long to find a new gig after his time at Oklahoma State was over. He landed quickly at St. Louis and didn't waste any time by going after and landing key players to help the Billikens get back to the NCAA tourney. He didn't have to go far to do it either. Jordan Goodwin, the No. 62 ranked player in our HoopSeen125, could be an all-conference level player in the Big Ten. Goodwin should be an instant starter and his physical style of play will challenge the league. He won't be alone either. Power forward Hasahn French, all 6-foot-7, 225-pounds of him, will also allow the Billikens to build with toughness in the Atlantic 10 conference. Both players will be instrumental in Ford's run at the helm of the program. – Justin Young
I'm looking to Conference USA and Louisiana Tech and their score of Hot Springs (AR) guard Exavian Christon. Christon is a guy that the Bulldogs can count on to bring energy, play fast & physical, and score the ball. Christon scores the ball from all three levels, and is a capable athletic finisher around the rim with the ability to step out and shoot the ball consistently from three. With Louisiana Tech head coach Eric Konkol in his second year taking over for now Florida head coach Mike White, Christon will be a player that can help keep the Bulldogs near the top of Conference USA.
I also really like the class that Northeastern has put together in the Colonial, specifically Northfield Mount Hermon forward Tomas Murphy. Murphy is a guy with good size that can provide scoring and can hold down the paint for the Huskies. Combine him with the guards and wings that Northeastern has gotten, and this class could be a good one in Boston for the next few years. – Carter Wilson
Last summer Coastal Carolina shocked the collegiate world by winning the College World Series over a number of high-major, BCS programs. The basketball program is striving to do that too, but first, they must master their new conference in the Sun Belt.
Last week, head coach Cliff Ellis and his staff received some big additions to the Coastal Carolina program as they prepare to compete in the Sun Belt. The Chanticleers will sign Kentucky natives Jaylen Sebree and Tony Jackson. Having seen both of them frequently over the past two years with the Louisville Magic at HoopSeen events, I feel comfortably saying both have the potential to be cornerstone guys for the program. Sebree, a 6-foot-6 forward, has all the potential in the world and shows spurts of being a high-level prospect. If he can find his consistency and niche early on, he has the talent to be an All-Conference type prospect. Jackson, a hard-nosed wing man, will bring an immediate impact with his toughness and defensive prowess. Coastal Carolina was able to steal both Sebree and Jackson out of Kentucky, as both prospects would have had the option to go to a high-major school if they signed in the spring. – Garrett Tucker
Really, I mean, really? This shouldn't be much of a question to debate. While I have to agree with my peers here at HoopSeen as Christon, Murphy, and Goodwin are giant steals, it is not very often that a top-10 recruit chooses a non-power conference program. Mitchell Robinson, shaking up the industry a bit earlier this year, decided that he wanted to play his basketball in Kentucky, which is Bowling Green, Kentucky. The five-star big man will head to WKU next year and immediately stabilize the program from the inside on out. An epic rim runner that changes everything at the basket on the defensive end, the 7-footer should annihilate his C-USA opponents from day one and joined by fellow top-100 recruit Josh Anderson, expect for the branding of the Western Kentucky program to occur quickly and drastically. – Corey Evans