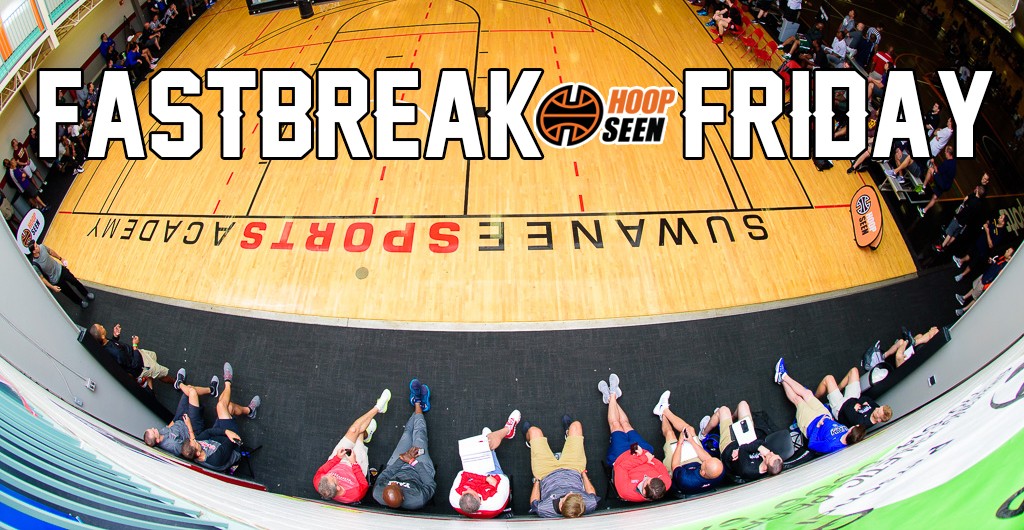 The talk of the week has centered on the early signing period but even more, much attention has been given to the start of the college basketball season which tips off on Friday evening. This is all warranted of course but there are a few on the prowl this weekend that should not go unnoticed. A few of the top prospects are completing their final official visits and while it might be a time crunch to decide, commit, and sign before the early signing period comes to an end next Wednesday, those hosting will be doing their all for a giant coup heading into the winter months.
SYRACUSE GETS LAST SHOT
Syracuse enters the new college basketball season with even more optimism compared to last year, despite coming off of a run to the Final Four. This weekend, the Orange will hope to boast even greater pop to their future as they host two of their top recruits left on the 2017 recruiting board.
Lonnie Walker, a 6-foot-4 shooting guard out of Pennsylvania, will take the short trip up north and get another look at the ACC program, this time coming in the official visit variety. Jim Boeheim's program has been in solid contention for the five-star scorer and while others such as Villanova, Kentucky and Arizona remain heavily in the mix, it sure doesn't hurt getting Walker on campus during the signing period and coming off of visits to the other three programs.
Joining Walker will be Bourama Sidibe, a quickly improving big man out of St. Benedict's Prep in New Jersey. An ideal fit within the 2-3 zone implored at Syracuse, the 6-foot-9 center is a graceful rim runner whenever the game speeds up but is best around the basket in protecting his team's goal but also scoring with efficiency from ten-feet and in. Following visits to Texas Tech and Oklahoma State, this could be the final trip for one of the top big men left on the board as the Orange will hope to add Sidibe, and if they're lucky, Walker, to their batch of talent in tow within upstate New York.
BLUE JAYS HOST A FIVE-STAR
There is plenty of reason for hope this year in Omaha. After showing great progressions last year and welcoming in potential all-league candidate Marcus Foster to its backcourt this winter, Creighton will do their very best to add even more talent to its cupboard this weekend.
Down to a final group of seven schools, Brian Bowen, a native of the state of Michigan, will make the trek south to the Big East program and get a look into the Creighton basketball program during a 48-hour stay on campus. While others such as Arizona, Michigan State, and NC State remain heavily in the mix, an interesting sell will be given to Bowen, one that the staff in Omaha will lay out with how they might use Bowen compared to former star and now Chicago Bulls forward Doug McDermott.
Creighton struck this fall with the signings of two of the best scoring perimeter assets from the 2017 class in TyShon Alexander and Mitchell Ballock. The hope is for Creighton to pull a rabbit out of its hat with Bowen, find another piece in the frontcourt, and sit back and appreciate what it has accomplished with, what would be, a top-20 recruiting class on the national scale.
OREGON HOPE TO ADD TO ITS FLOCK
There has been some debate these past few weeks leading up to the new college basketball season surrounding the health of its star forward, Dillon Brooks. While the hope is for the Canadian to get full clearances and be all sails ahead heading into the new year, the Pac 12 frontrunner will try to do their all to solidify its frontcourt for next season this weekend in hosting a five-star talent in the middle.
Hoping to fill the looming void of Chris Boucher down low, Oregon will play host to Brandon McCoy for an official visit. A 6-foot-10 center that is more of a throwback at the center position, the Windy City native, who is playing out his final year of high school ball in San Diego, will take his third official visit this weekend. After seeing Arizona and UNLV in the past weeks, the five-star big man will head to Eugene as the Ducks will hope to sell the 15-foot and in producer on the clear need for him in defining his role next year.
While things are just ramping up for McCoy, Oregon is in a very, very good position for him. Others such as Michigan State, Cal, San Diego State, UNLV, and Arizona are right there for the top-10 recruit but seeing that Oregon has landed three versatile, perimeter pieces early on and sit with a top rated 2017 class this fall, McCoy could just be the cherry on top to it all and someone that enable for little to no drop off following the possible pending departures of Brooks, Boucher, Dylan Ennis and Tyler Dorsey.
VISITS OF NOTE:
CREIGHTON
Brian Bowen, 6-foot-7 small forward, La Lumiere School (Indiana) – NATIONAL RANKING: 20
DENVER
Elvin Rodriguez, 5-foot-11 point guard, Forest Trail Academy (North Carolina)
JAMES MADISON
Tyler Foster, 6-foot-6 small forward, Middleburg Academy (Virginia)
KANSAS STATE
Jordan Lathon, 6-foot-3 combo guard, Grandview High School (Missouri)
LOUISVILLE
Anfernee Simons, 6-foot-2 combo guard, Edgewater High School (Florida) 2018 – NATIONAL RANKING: 54
Malik Williams, 6-foot-10 power forward, Snider High School (Indiana) COMMITTED – NATIONAL RANKING: 23
OKLAHOMA
Charles Smith IV, 6-foot-5 shooting guard, Westbury Christian School (Texas) 2019
OKLAHOMA STATE
Amauri Hardy, 6-foot-2 point guard, North Farmington High School (Michigan) 
OREGON
Brandon McCoy, 7-foot center, Cathedral Catholic High School (California) – NATIONAL RANKING: 10
SYRACUSE
Bourama Sidibe, 6-foot-9 center, St. Benedict's Prep (New Jersey) – NATIONAL RANKING: 109
Lonnie Walker, 6-foot-4 shooting guard, Reading High School (Pennsylvania) – NATIONAL RANKING: 24
TEXAS
De'Vion Harmon, 6-foot-1 point guard, Guyer High School (Texas) 2019
UAB
Greg Calixte, 6-foot-9 center, Mount Vernon High School (New York)
WASHINGTON
Immanuel Quickley, 6-foot-3 point guard, John Carroll School (Maryland) 2018 – NATIONAL RANKING: 5