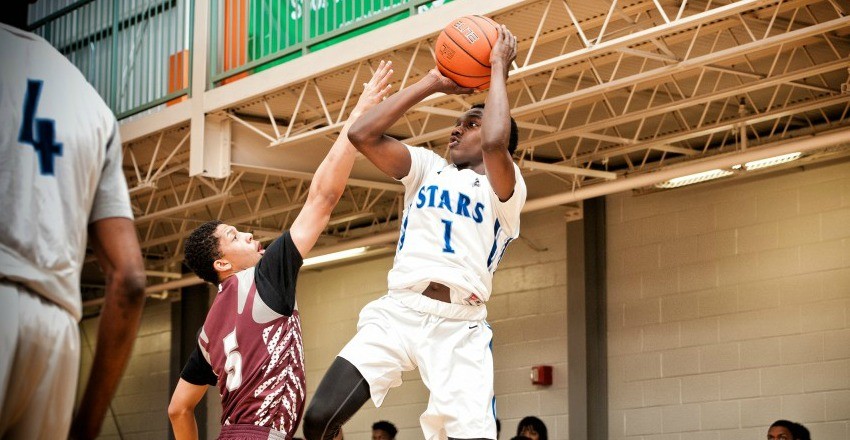 We are now less than a month away from the beginning of the 2016-2017 college basketball season. A bevy of predictions are being made about who might cut down the nets in Phoenix come April and about who might stand out as stars within the college ranks this winter. Before the ball tips, let's take a look back at ten names that weren't seen in the 2016 HoopSeen Top-125 Rankings, but may overproduce early on and become a major contributor straight out of the gates this season.
KAMAR BALDWIN 6-FOOT-2 GUARD - BUTLER
Sure, Butler is going to dearly miss the likes of Kellen Dunham and Roosevelt Jones this season but the cupboard sure isn't bare and thanks to an excellent 2016 recruiting class, more talent has infiltrated into the Big East program. While Joey Brunk was the gem to the class, word out of Indianapolis is that Kamar Baldwin might just be the most game ready. The backcourt is already a good one for Butler thanks to the in-transfers of Kethan Savage and Avery Woodson, along with the sturdy play of Tyler Lewis. However, shot makers are hard to come by, hence the value in the freshman from Georgia. Expect for Baldwin to over-produce given his lack of a number given to his name out of high school and become a double-digit scorer during his upperclassmen years in Hinkle Fieldhouse.
JORDAN BONE 6-FOOT-2 POINT GUARD – TENNESSEE
As former Texas head coach Rick Barnes settles in for his second year as head coach in Knoxville, it would seem that there is some talent on the table but also some opportunities afloat for the incoming 2016 class. While Jalen Johnson, John Fulkerson, Kwe Parker, and Grant Williams all could contribute in bits and pieces during their freshmen campaigns, look for Jordan Bone to be a standout immediately at the SEC program. The good sized lead guard is a winner at heart and with the opportunity to step in and play above 20 minutes per game, Bone could become the face of the Vols program for years to come, thus outpacing his rankings early on at Tennessee.
KYRAN BOWMAN 6-FOOT-3 GUARD – BOSTON COLLEGE
The Jim Christian era hasn't gotten off on a great note in Chestnut Hill but after finding some nice pieces to build upon from this past year's freshman class, might good years be ahead for Boston College? While there still are a few more seasons of melding needed with the Eagles, Kyron Bowman is someone that could jumpstart the process that much faster. A virtual unknown until last fall, the one-time highly regarded football prospect decided he wanted to solely focus on the roundball. Playing alongside sophomore guard Jerome Robinson in the backcourt, Bowman may be new to the game in regards to giving his entire time to the hardwood, but whispers out of the BC basketball program is that they expect the Carolina native to step right in and show that he is someone to be reckoned, thus establishing himself as an easy ranking beater from the 2016 recruiting class.
JARED HARPER 5-FOOT-11 POINT GUARD – AUBURN
Look at the 2017 class rankings and Auburn fans have to be excited about what might be ahead as they sit at number-two overall. However, the upcoming college basketball season could be another step in the right direction for Bruce Pearl's gang and it is thanks to the new crop of talent heading to the SEC program. Yes, landing Mustapha Heron, a five-star wing from Connecticut, was a giant coup, but another piece of the puzzle that could leave a similar imprint at Auburn this winter is none other than Jared Harper. The 5-foot-11 lead guard has been known for his shot making and scoring prowess in the past. Word is that the Peach State is still scoring the basketball but also playmaking with added efficiency, all of which could make the Pebblebrook High graduate a major producer all four years at the jumpstart program that is Auburn.
ELIJAH HUGHES 6-FOOT-6 SMALL FORWARD – EAST CAROLINA
East Carolina hasn't been one known for its basketball program in the past few years and now fully acclimated into the American Athletic Conference, it seems as if Jeff Lebo and his staff found a few nice pieces to build around in Kentrell Barkley and BJ Tyson. The Pirates are going to need a lot more than the duo and after the graduation of do-it-all wing Prince Williams, it might just be the time to shine for Elijah Hughes. The 6-foot-6 small forward had a tremendous ending to his prep career last winter at South Kent School and if it wasn't for the New Yorker committing early to ECU, he would have been a highly pursued recruit by the high-major rung. There are immediate minutes and shots for the taking as we expect for Hughes to settle in quickly and earn entry into the all-freshmen team within the AAC.
WILLIE JACKSON 6-FOOT-6 POWER FORWARD - MISSOURI
The rebuilding process has not been much fun for Kim Anderson and his staff in Columbia but after finding strong producers in the backcourt from freshmen KJ Walton and Terrence Phillips last season, the need for a heavy producer within the interior is now at hand. Kevin Puryear hopes to build upon a solid first year at Mizzou but Willie Jackson might just be what the doctor called for with the Tigers. The undersized power forward, standing 6-foot-7 on a good day, is one to make up for things with a giant chip on his shoulder and furthermore, the way he rebounds the basketball. He didn't get included within our 2016 rankings but with the opportunity presented to him and his consistent mindset, expect for Jackson to quickly make a name for himself at the SEC program this winter.
JUSTICE KITHCART 6-FOOT-1 POINT GUARD - PITT
On the cusp of our top-125 class year, Justice Kithcart might use the extra motivation to contribute straight out of the gates at Pitt. The 6-foot-1 lead guard has never been one to shy away from physicality on the playing floor and after remaining true to his original commitment to the prior staff in Oakland, look for Kevin Stallings and his staff to enjoy what they were able to keep secure. Kithcart, while not a great jump shooter of the ball just yet, the Carolina native has cut his teeth on his ability to get into lane and put pressure on the opposing defense from off the deck. Upon the graduation of four-year stalwart James Robinson as the lead guard spot, the chance for Kithcart to stamp his name onto the position and take the reins immediately is there; now, all the freshman has to do is value the basketball and bring tough-nosed defense on each possession, something that he could do without an issue as he grows into the facilitating role.  
XAVIER SNEED 6-FOOT-6 SMALL FORWARD – KANSAS STATE
There is a little heat on the seat of Bruce Weber's in Manhattan, Kansas, though thanks to the talents of Xavier Sneed, look for Kansas State to make a move towards a better standing within the Big 12 pecking order. The Wildcats are in need of a productive wing that can score the basketball but also defend his man on the other end of the floor. The Missouri native is the guy for the job and while he entered the recruiting scene as a highly acclaimed ballplayer that never came to show consistency in his jumper, Sneed might now be ready to outshine the previous viewings of him. One of the best athletes in the 2016 recruiting class, the will and desire has never been questioned out of Sneed and if he can show any semblance of a reliable jumper, expect for Sneed to shine from day one at the Big12 program.
KEITH STONE 6-FOOT-8 POWER FORWARD – FLORIDA
While Stone was a member of the 2016 class, the 6-foot-8 forward deserves his dues here for the work that he has put in over the past year in Gainesville. The talk out of the SEC program of late has been just how much better Stone looks physically has he has dropped several of the excess pounds and exchange, added strength and has become that much quicker. Add it all up and Stone, who had already displayed a progressed skillset as a face-up forward that can create major match-up issues in the frontcourt, should be that much more of a threat from 20-feet and in. Capable of stretching the defense with the deep ball but also deceptively explosive at the basket, Stone should play nicely alongside Devon Robinson and produce accordingly as someone that makes a name for himself beginning next month.  
MIKE WATKINS 6-FOOT-9 CENTER – PENN STATE
This may be cheating on our part but after being named a partial qualifier last year during his inaugural year on campus in Happy Valley, look for Mike Watkins to use that added year of physical and skill development to annihilate foes within the paint. The well-built and hard playing 6-foot-9 center wasn't as highly regarded recruit coming out of high school as a member of the 2015 class, and after one of the best classes in Penn State history this past year, the Philly native has been somewhat of an afterthought. That should all change immediately next month where Watkins should be a gigantic rebounder of the ball and a fine finisher in the lane. If he added any sort of face-up game after sitting out last year, Watkins' production could be that much fiercer as the major energy giver could be a primary catalyst for PSU's ascension within the Big 10 pecking order.