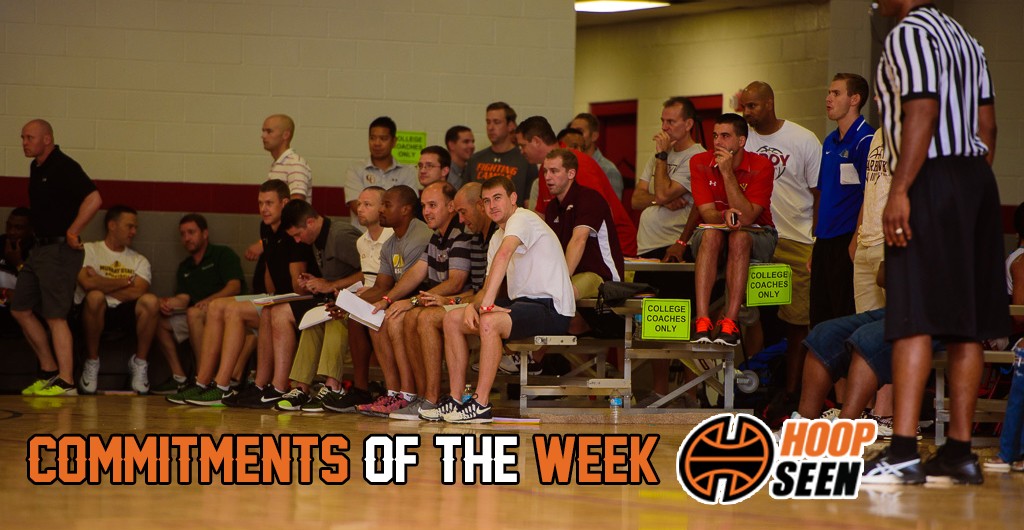 Things are beginning to slow down on the commitment front and with just less than two weeks to go until the first signing period begins, there still should be a few more big ones to come off the board in th days ahead. This past week, a couple of higher level programs went out and snagged solid pieces to add to its cupboard of talent but no one had a better week on the trail than the staffs at Pitt and St. Louis.
POWER CONFERENCE COMMITMENTS OF THE WEEK
PITT SNAGS TWO READY-MADE PERIMETER WEAPONS
Things began in solid fashion for the staff at Pitt after they scooped up Aaron Thompson, a top-125 guard from the DMV area, and Terrell Brown, a high upside and versatile center, earlier in the recruiting calendar. With the need to add at least three more recruits before next year rolls around, this week went a long way to creating an even better future and a stronger core with the Kevin Stallings era now in place.
Marcus Carr, a 6-foot-2 combo guard and someone that can play both on and off the basketball, gave his verbal commitment to the ACC program earlier in the week. Others such as Cincinnati and Baylor had coveted the Canadian guard where the Montverde Academy product should be someone that can be used right away and in a variety of ways. He oozes toughness in the backcourt, has bettered his perimeter jumper, and is an even better playmaker within the half-court setting as he can make others better without turning the ball over much. Together, Carr and Thompson should create a dynamic and tough-minded smaller guard backcourt that could be the start of future success at Pitt.
However, Carr was not the only Pitt target to give his commitment to the Panthers. While he will have already exhausted two years of his college eligibility beginning his career at Northwest Florida State College, Jared Wilson-Frame let it be known that he will be heading to Pittsburgh next fall. The 6-foot-5 wing is someone that will more than likely be used as a small forward but can really score the ball and from practically every level on the playing floor. His size and college ready body should allow for the New England native to defend various spots on one end but it is his confidence and toughness that makes Wilson-Frame such a highly lauded junior college prospect, making him a tremendous addition to the Pitt basketball program, one that will have to replace Jamel Artis after this season.
Together, Carr and Wilson-Frame, added with the Brown and Thompson, creates a super strong and potent four-man class, one that boasts immediate production, toughness, versatility, and furthermore, upside to tap into further.
NON-POWER CONFERENCE COMMITMENTS OF THE WEEK
TOUGHNESS IS THE NAME OF THE GAME FOR ST. LOUIS 
Travis Ford could have stood pat and added another solid few pieces to his 2017 recruiting class and the industry still would have been impressed with the waves that he had made during his first year at St. Louis. Landing Jordan Goodwin, a top-75 recruit earlier in the year, was a giant coup for the A10 program. This past week dwarfs the buzz that the Billiken coaching staff caused thanks to the commitments of Hasahn French and Carte'Are Gordon.
When St. Louis really had things rolling a few years ago when the late Rick Majerus was at the helm, the A10 bunch prided itself on its grit, ball skills, and versatility. While the talent base is still in need of replenishing as the past few years haven't been too kind to the St. Louis faithful, what the new staff has done thus far makes it look as if the conference is going to be that much more loaded in the years ahead.
Beating out the likes of Minnesota, Marquette, and UMass for  his talents, Hasahn French, an undersized but super hard playing and productive forward out of New York, gave his verbal last week. The 6-foot-6 senior brings a massively giant chip onto the hardwood each time that he suits up. He has added even further to his ball skills in recent years as he can step out and hit the perimeter jumper, yet also produce within the bigger trees in the lane on put-back looks and on straight line drive and scores.
To end the week, Carte'Are Gordon, a top-60 recruit out of the 2018 class, decided enough was enough by also giving his verbal to St. Louis. A member of the USA Basketball family, Gordon is the definition of toughness. He is a solid 15-foot and in big man that can really rebound the basketball, finish with efficiency within the painted area, and run the floor from rim to rim whenever the game speeds up. Beating out a bevy of Big 12 and Big 10 programs for his services, Gordon is just a tremendous addition to Ford's program and is someone that will step in and immediately start in the frontcourt.
Add it all up and the commitment s of French and Gordon, plus the prior one from Jordan Goodwin, gives insight into the threat that St. Louis now poses on the recruiting trail and because of it, walks away as the winners of the week that was.
ACC
LOUISVILLE
Lance Thomas, 6-foot-8 forward, Norcross High School (Georgia) – NATIONAL RANKINGS: 89
MIAMI
Deng Gak, 6-foot-9 power forward, Blair Academy (New Jersey) – NATIONAL RANKING: 73
PITT
Marcus Carr, 6-foot-2 guard, Montverde Academy (Florida) – NATIONAL RANKING: 121
ATLANTIC SUN
JACKSONVILLE
JD Notae, 6-foot-2 shooting guard, Newton High School (Georgia) – STATE RANKING: 30
LIPSCOMB
Greg Jones, 6-foot-2 shooting guard, Wakeland High School (Texas)
NJIT
Shawndale Jones, 6-foot-2 guard, Kiski School (Pennsylvania)
ATLANTIC 10
GEORGE WASHINGTON
Justin Mazzulla, 6-foot-2 point guard, Bishop Hendricken High School (Rhode Island)
LA SALLE
Jamir Moultrie, 6-foot guard, Bishop McNamara High School (Maryland)
ST. LOUIS
Hasahn French, 6-foot-6 small forward, Commonwealth Academy (New York)
BIG EAST
GEORGETOWN
Antwan Walker, 6-foot-7 forward, Hargrave Military Academy (Virginia)
CAA
JAMES MADISON
Matt Lewis, 6-foot-4 shooting guard, Bishop O'Connell High School (Virginia)
CONFERENCE USA
OLD DOMINION
Marquis Godwin, 6-foot-4 shooting guard, Hampton High School (Virginia)
UAB
Makhtar Gueye, 6-foot-10 center, Aspire Academy (Arizona)
UT-SAN ANTONIO
Jhivvan Jackson, 5-foot-10 point guard, Trinity High School (Texas)
IVY
COLUMBIA
Randall Brumant, 6-foot-7 forward, South Kent School (Connecticut)
MAAC
SAINT PETER'S
Mikko Johnson, 6-foot-3 shooting guard, Brooklyn High School for Law and Technology (New York)
MEAC
UMES
Miryne Thomas, 6-foot-7 forward, Cleveland Central Catholic High School (Ohio)
MOUNTAIN WEST
AIR FORCE
Zach Couper, 6-foot-4 shooting guard, Boylan Catholic High School (Illinois)
PAC 12
ARIZONA STATE
Kimani Lawrence, 6-foot-6 small forward, New Hampton School (New Hampshire) – NATIONAL RANKING: 45
STANFORD
Oscar Da Silva, 6-foot-7 small forward, Ludwigsgymnasium München (Germany)
SEC
TENNESSEE
Zach Kent, 6-foot-10 power forward, Blair Academy (New Jersey)
SOUTHERN
UT-CHATTANOOGA
Demarcus Mitchell, 6-foot-8 power forward, Germantown High School (Tennessee)
SOUTHLAND
HOUSTON BAPTIST
Phillip McKenzie, 6-foot-5 small forward, Concord School (North Carolina)
Reece Spencer, 6-foot-3 shooting guard, Porter High School (Texas)
INCARNATE WORD
Keaton Hervey, 6-foot-6 small forward, Cedar Park High School (Texas)
SUN BELT
UL-LAFAYETTE
Cedric Russell, 6-foot-2 shooting guard, Peabody Magnet High School (Louisiana)
WAC
TEXAS RIO-GRANDE VALLEY
Javon Levi, 5-foot-10 point guard, Shoemaker High School (Texas)
2018 CLASS
ATLANTIC 10
ST. LOUIS
Carte'Are Gordon, 6-foot-8 center, Webster Groves High School (Missouri) – NATIONAL RANKING: 59