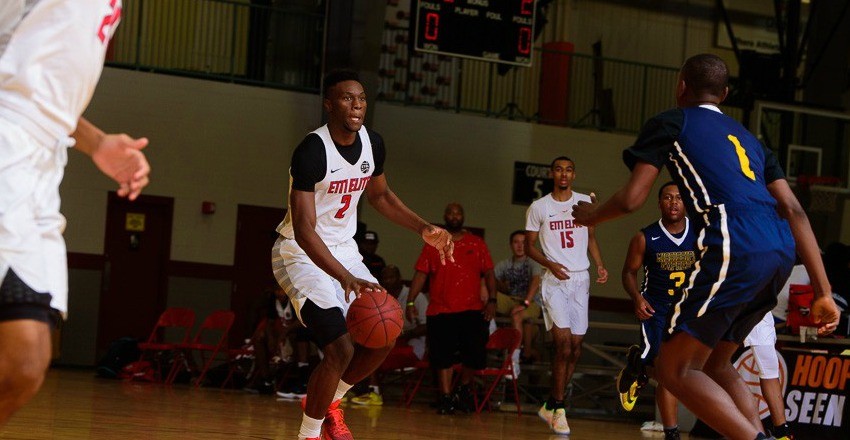 Things have finally settled down some as the summer of 2016 has come to an end. The very best went at it throughout the past few months and whether it was at individual camps or grassroots tournaments, there were a select few that used the added platform in making large statements to those in attendance. While we have spoken briefly on the 2018 class thus far and how it is a bit lacking, there were still a few that made some noise and thus, took a step forward in enhancing their stock. We take a look back at five that made the biggest move from the summer that was.
ETHAN HENDERSON, PF, ARKANSAS HAWKS, RANKING: N/A
Getting a look at Ethan Henderson at both the adidas Summer Championship and at the adidas Nations this past week in California, boy, was I wrong with Henderson! I was very high on him last year but wasn't too optimistic about the Arkansas native's toughness in the lane and within the stronger bodies. That vantage point changed greatly this past month as he displayed a much improved mindset in the lane along with budding ball skills from 17-feet and in.
A much better athlete at the basket as Henderson attempted impressive dunks within the open floor and off of the hard attack to the rim, the Hawks forward definitely has his game headed in the right direction. We spoke on him earlier in a spotlight article but even that wasn't enough in describing the steps that the 6-foot-8 power forward has taken these past few months. Unranked at the current moment, expect for one of the greatest leaps out of anyone in our rankings during its next update as the Parkview product has the makings of a top-50 recruit nationally.
FOSTER LOYER, PG, ALL-OHIO RED, RANKING: N/A
Much has been said about Foster Loyer and his less than ideal size at the point guard spot. Will he be able to hold up at the highest level of play? Can he get his shot off against bigger defenders? Can he defend more physical opponents? Those are all fair questions but one that cannot and should not be asked is just how competitive and productive that the floor general is and will continue to be.
Running with the All-Ohio Red 16-under bunch alongside already committed Ohio State shooting guard Dane Goodwin, Loyer made a name for himself this past July. The son of an assistant on staff for the Detroit Pistons, the 5-foot-10 point guard was the stir to the pot for the Buckeye State based program all summer long. He made opportune shots when he needed to but more so, was about making others better from off of the drive to the basket.  A play making facilitator that is tough all of the way around, Davidson, Purdue, and St. Louis were just a few that jumped on board with an offer for the giant climber from this past July.
JALEN SMITH, PF, TEAM TAKEOVER, RANKING: 50
Ding, ding, ding! The bell has finally rung for Jalen Smith as the 6-foot-8 forward out of the Team Takeover program has seen the light go on as the junior big man has become so much more productive. The potential word has been thrown around too often with 'Sticks' in recent years and even up until the end of June, when we saw him as the USA U17 trials, the Baltimore native tended to go through the motions at times. In July, Smith was much more urgent and brought some physicality to the painted area.
While we may have been the lowest out of most of the national rankings on Smith, we are okay with him proving us wrong. The talent budding out of the DMV recruit is pretty damn good and so is the upside with the Takeover product. To end the month, Sticks was the primary catalyst for his team's championship run in Las Vegas as he protected his basket, hit mid-range jumpers, and brought major energy levels and instincts to the glass. Look for the Mount St. Joe's star forward to receive a nice bump up in the rankings next time out due to the giant climb that he took within his confidence levels and further production on the hardwood.
EMMITT WILLIAMS, PF, E1T1, RANKING: 72
Okay, I will take the bullet on this one. My teammate here at HoopSeen, Carter Wilson, has been a giant fan of Emmitt Williams for some time now but I was stubborn. I was taken back by his lacking height standing just short of 6-foot-7. However, the E1T1 product continued to dominate his foes playing a year up on the Nike EYBL circuit this summer where now, enough is enough, I was wrong and Carter and Emmitt were right…the junior big man is one of the best that there in 2018 class within the frontcourt.
Sporting excellent length as he carries a 7-foot wingspan, and a nasty snarl that would make you quiver at a brief looksee, Williams has continued to dominate each step of the way. While he still must develop his skillset further as he tends to produce primarily through his energy levels and paint intimidation, the IMG product did display a newly implemented outside jumper along with a fine hook jumper over his left shoulder in the lane. Averaging over 10 points and nearly seven rebounds while making nearly two-thirds of his field goal tries this spring and summer, Emmitt Williams hasn't stopped fooling those that have dared to doubt him, myself included, where his ranking at 72 is due to raise greatly during its next update.
ZION WILLIAMSON, F, GAME ELITE, RANKING: 2
How can we include Zion Williamson here in the biggest climbers from this past summer when we already had him ranked second overall within our 2018 HoopSeen Rankings? Well, much has been said about the giant gap between Marvin Bagley and the rest of his peers from the junior class. A gap is still there but it actually might be a two person tier with Williamson joining the fray in the fight for top dog status in 2018.
Posting great averages of 19 points, nine rebounds, and nearly 70-percent shooting from the field playing a year up on the adidas circuit should be enough. However, he surpassed those marks further playing against the very best this past week in Anaheim at the adidas Nations. Averaging over 20 points per contest while making over 80-percent of his shots from the field…now that is just crazy talk. Williamson has incorporated his early age guard skills into his now grown man physique where the super explosive athlete takes over each game that he plays in. The rising junior out of Spartanburg was the most efficiently productive ballplayer regardless of his age and he hasn't relented playing against the best. He doesn't have much higher to go in our rankings but compared to where he was thought to have been in regards to matching up with Marvin Bagley, the separation isn't as great as it once was this time four months ago.