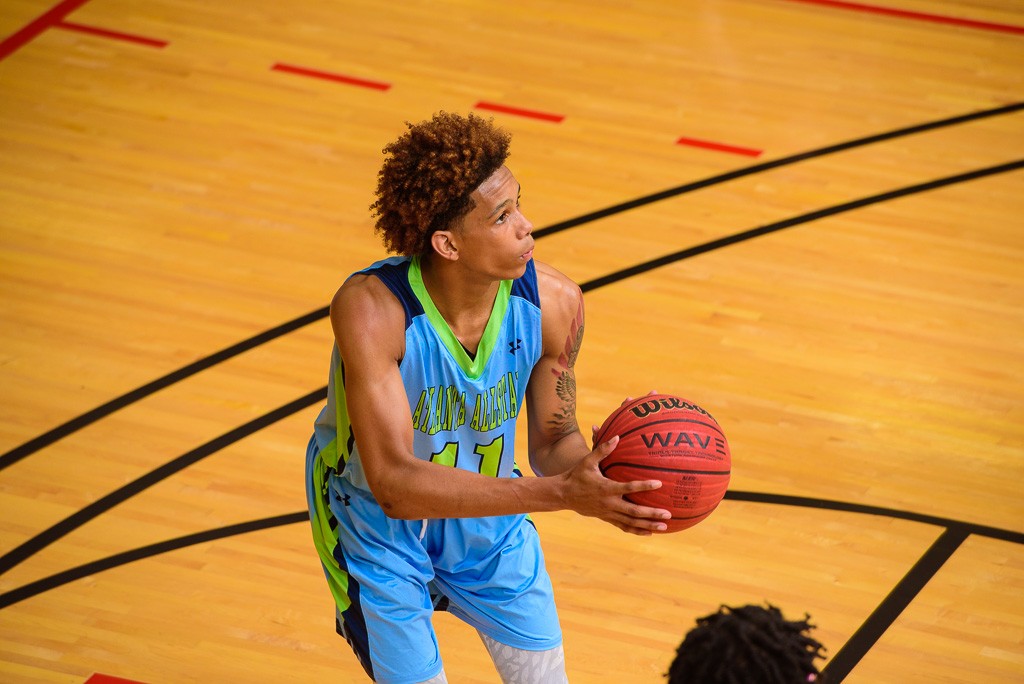 The summer travel ball period is a grind. And come July, there are a lot of tired legs and success can often come to who wants it the most. A number of Peach State players saw a big boost in the recruitments to make a name for themselves and pick up scholarship offers. Here are a few of those players:
Evan Cole, 2017, South Forsyth: Playing for the Atlanta All Stars, Cole arguably made his way onto more radars than any other player in the state. At 6-foot-8 and showing a wide variety of skills and athleticism, Cole picked up a number of offers during the July live periods including offers from Valpo, Drexel, Denver, Chattanooga, Western Carolina, Georgia Southern, Appalachian State, Troy, UNC Wilmington, Youngstown State, Jacksonville, Georgia State, Wofford, Furman, and Tennessee Tech. 
Justin Forrest, 2017, Greenforest: Forrest's stock has been on a steady rise over the course of the last year, but it took off even more in the July period, where he showed his ability to fill up a scoring column in a variety of ways. Forrest gained offers from Jacksonville, Albany, Stetson, Troy, Winthrop, Indiana State, UL-Monroe, Towson, Wofford, and NJIT in July. Expect him to become a priority recruit down the stretch for a lot of MM & LM programs. 
Mohammad Abdulsalam, 2018, Greenforest: Running with the Georgia Stars 16U unit, Abdulsalam showcased his great skill set over the travel ball period. He also showed improved conditioning and the ability to stay on the floor for longer periods of time. With his size at 6-foot-9 and his back-to-the-basket abilities, he got put on the radars of high major programs and collected offers from Georgia Tech, Providence, and UAB over the July period. 
Trey Doomes, 2018, Allatoona: After changing to the Southern Stampede 16U team in July, Doomes saw an increased boost in his stock during July. Coming into the summer, he had offers from Kennesaw State and Tennessee Tech, and he saw some high majors jump on board during July with Auburn, Georgia, and Georgia Tech throwing out offers for him. He also received an offer from Furman during the live periods as well. 
Javon Greene, 2017, Henry County (pictured): The smooth lefty combo guard showed out in July with the Atlanta All Stars. With good size and length for his position, Greene showed a skill set to match and a very high ceiling. And coaches took notice. Greene gained offers from Denver, Lipscomb, Georgia State, Coastal Carolina, and George Mason during the July period and put his way onto a lot of radars for the next few months.