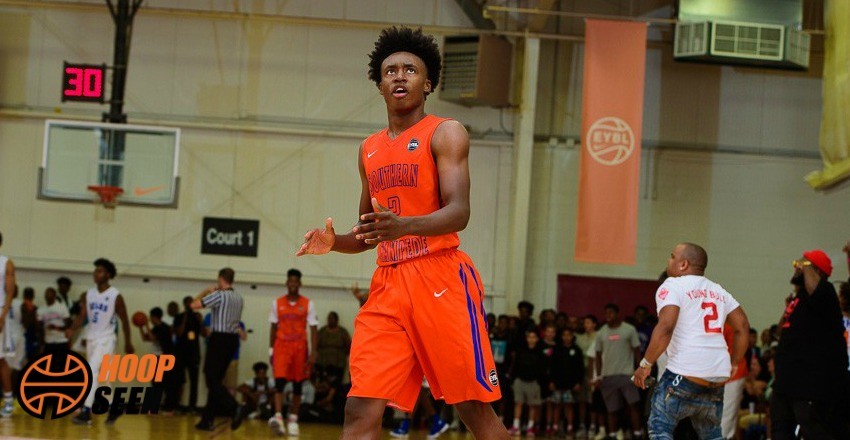 The busy month of July is upon us and with it, college coaches will zero in on their top recruits in the coming weeks. The first leg of the three part, five-day open evaluation period begins tomorrow evening at 5pm eastern as Nike, adidas, Under Armour, and several other non-affiliated events will be run until Sunday evening. The majority of college coaches will be spotted in North Augusta, South Carolina, as they will take a seat at the Nike Peach Jam. Wherever they might be, let's take a look at some of the prospects that will have the greatest amount of eyes placed onto them this month.
TROY BROWN, SG/SF, LAS VEGAS PROSPECTS, 2017
Fresh off a gold medal run with the USA U17 bunch over in Spain, Troy Brown is ready to see tons of eyes placed onto the Vegas native in the weeks ahead. Jumping onto the scene as a big time, top tier recruit straight out of the gates three years ago, the 2017 wing hit a bit of a wall with his development and overall production. However, things have gotten back in the proper gear this month as Brown had been tremendous in international play and at the USA trials in Colorado Springs. Blessed with great size and ball skills, along with quality athleticism, things are all over the place with the super versatile piece in the rising senior class, a guy that will see unlimited attention from here on out and from the best of the best nationwide.
JAREN JACKSON, PF, SPIECE INDY HEAT, 2017
Now back in the states after a solid run in Spain on the USA U17 bunch, Jaren Jackson has used the past few months to not only solidify his standing as a must for the Big 10 programs nearby, but also as a capable elite, blueblood recruit moving ahead. Finding ballplayers that can stretch the floor with the outside jumper but also protect his own bucket is never an easy task. Whenever a prospect in this mold comes along, deep value is placed onto him. Jaren Jackson is just that type of guy as he averaged over a block per game during the Nike EYBL play, yet also made nearly 44-percent of his 64 3-point jumper attempts. Practically the entire Big 10 has prioritized the 6-foot-9 big man, a rising senior that has bloodlines that lead back to the Georgetown basketball program as the Hoyas, Maryland, Notre Dame, and several others are chasing after.
ALEX O'CONNELL, SG, TEAM UNITED, 2017
Sure, he might not be perceived as a top-50 type of recruit but the attention headed towards the Peach State native's way is absurd. Regardless of what conference you might be in, more than likely, O'Connell is receiving heavy interest and offers from the respective lead. A bouncy and swagger-filled wing that can shoot it and score at the basket with deceptively athletic finishes, O'Connell is a fine shot maker with added consistency. Butler and Syracuse are just two of the latest offers for the Team United star, a prospect that is a far ways away from seeing an end with his recruitment.
ANDREW PLATEK, SG, ALBANY CITY ROCKS, 2017
After reclassing a year ago and into the 2017 class, the City Rocks guard has seen his stock and game take a giant bump into the next stratosphere. Laying his hat on shot making, with the new era of basketball that we are enjoying where shooters are a premium, Platek fits the mold. A lethal jump shooter that is pretty much automatic with his feet set, the New York native has lit the nets on fire competing on the Nike circuit this spring. Throw in his quality grades and the Northfield Mount Hermon product could have the pickings of elite bluebloods as in UNC, an Ivy League school as in Princeton, or a high academic, quality basketball program in Stanford. One thing is for sure, Platek will be a highly monitored recruit this month.
BRANDON RANDOLPH, SG, PSA CARDINALS, 2017
A year ago this time, practically no one knew about the Westtown School star. Fast forward 12 months and the New York native has not just brought in quality scholarship offers, but invites to suit up for the best of the best next year. Fresh off of a visit to Louisville, Brandon Randolph has had a great run on the travel circuit this spring running with the PSA Cardinals bunch making 37 3-pointers off of 40-percent shooting from deep, while also knocking down 80-percent of his shots at the line. Bringing great toughness and two-way production skills as Randolph can defend different spots but also play on and off the basketball, the list is still in the infancy stages for 6-foot-5 wing, a group of schools that include the likes of Xavier, Oregon, UNC, Maryland, Indiana, Xavier, Villanova, Arizona, Kansas, and the already mentioned Louisville Cardinals program in heavy pursuit.
COLLIN SEXTON, G, SOUTHERN STAMPEDE, 2017
Questions are up in the air as to whether Collin Sexton will suit up during the first evaluation period tomorrow as he may be a bit jet lagged from his MVP performance at the FIBA U17 World Championships. With his Stampede bunch missing out on the Nike Peach Jam, Sexton may decide to sit it out and get it going the second week around at the HoopSeen Best of the South. Regardless, the 6-foot-1 maverick of a scorer has gone from a fringe top-100 recruit just a few months ago, and into the debate as one of the best scorers that the recruiting world has seen within the past five years. The SEC has made Sexton a priority recruit and after landing offers from Kansas and Arizona in the spring, expect for all of those in pursuit, along with others that haven't jumped on board just yet, to keep a closetful eye on the budding five-star talent.
NICK WEATHERSPOON, PG, MBA HOOPS ELITE, 2017
The class of 2017 has been discussed in great detail about the lacking amount of quality, high-level point guards that could leave a quick imprint at whichever program they call home for next year. Nick Weatherspoon is one of the few that has all of the tools to be quite the assassin on a college hardwood come 2017. The Mississippi native has transformed his recruitment into national level status finishing second in adidas play in scoring aided by his explosive first step, toughness in the lane, and contributions on both sides of the ball. Mississippi State is the perceived leader but all ten of his finalists will be in hot pursuit, a group that includes Indiana, Louisville, UNC, NC State, Georgetown, Memphis, MSU, Iowa State, LSU, and Ohio State.
ZION WILLIAMSON, F, GAME ELITE, 2018
While plenty of eyes will be placed on the rising senior class, Zion Williamson gets the lone nod from the 2018 crop. Still some time away from even cutting off schools for a more concrete college list, the Game Elite product will be quite the heavily watched prospect throughout the nation. The 6-foot-7 forward is coming off of an MVP performance at the NBPA Top 100 Camp as he continued to wreak havoc on anyone and everyone that he faced off again. A relative unknown to most heading into the spring, Williamson has become not just a fan and mixtape favorite, but also a college coach favorite as he has reeled in 26 high major offers since the beginning of April. This month will only solidify further the value that the best of programs nationally have placed in the South Carolina native.