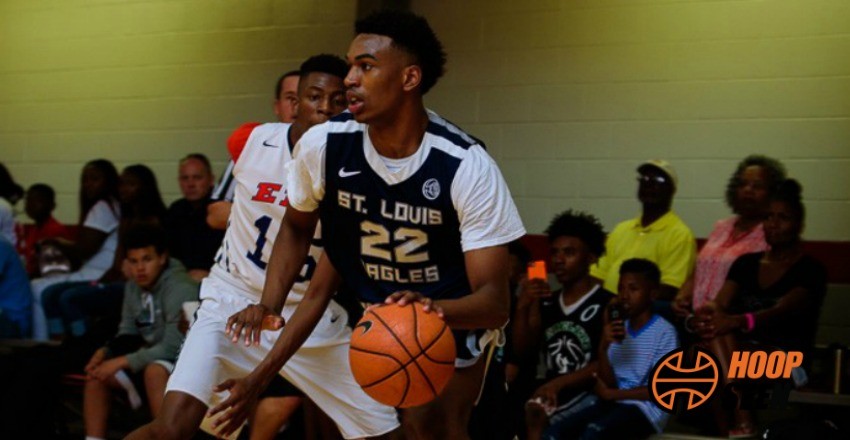 The month of July is just a few days away and with it, college coaches will get the chance to scour the nation in observing, evaluating, and for some, baby sitting some of their top prospects on their recruiting boards. While the 2017 class will be the primary focus for most of the programs next month, for others, such as Creighton, Auburn, and UCLA, all of whom hold more than one commitment from the rising senior class, they will be hoping to get an upper hand on the 2018 class.
After releasing our 2018 HoopSeen Top-100 Rankings this past Friday, let's take a look at a few of the names that could blossom into giant recruitments over the three hot and steamy weeks during the evaluation periods.
AYO DOSUNMU, PG, MAC IRVIN FIRE – RANKING – 29
It is a bit difficult to blow up during the months of May and June, primarily because college coaches are not able to get a glimpse of a respective recruit as the travel events are shut down for division-1 coaches. What is crazy is that Ayo Dosunmu, a blossoming lead guard and the next guy up out of the Windy City, held just one offer, that coming from UIC, finishing up the spring evaluation periods in April. Now, the Mac Irvin Fire star holds a dozen offers, all of those that followed the Horizon League program coming from high-major schools.
Sure, Dosunmu needs more time to fill out into his long-bodied frame along with adding consistency to his outside jumper, yet all of the raw talent and abilities is already in the hopper with the Morgan Park High star. The 6-foot-3 floor general is an elite attacker and finisher off of his right hand and while many of his recent offers have come via secondary sources reporting just how good Dosunmu is, we stand on firm ground in stating that the Dosunmu more than warrants near elite status as a member of the 2018 class.
NATE LASZEWSKI, F, NEW ENGLAND PLAYAZ – RANKING – 38
A bit mind boggling that before the month of June began, Nate Laszewski held just one scholarship offer, that coming from the nearby Providence Friars basketball program. Villanova and Princeton jumped in with offers this past weekend but before sooner or later, some of the very best will pounce on the Northfield Mount Hermon product.
With a sister set on suiting up at Wisconsin this winter on the women's team, and with bloodlines leading back to the Big 10 program, it seems that if the Badgers decide to pursue the instate native, that they could be the team to beat. Regardless, the high academic and sharp shooting forward can absolutely shoot any team out of a zone defense and has some improving toughness at the rack on deceptively athletic finishes. While he does have to develop his ball skills and handles further, this time next year, Laszewski will be a priority for the best of academic programs nationally, along with a bevy of the very best basketball programs regardless of conference affiliation due to his Midwest upbringing and current New England residency.
KARRINGTON DAVIS, SG, ST. LOUIS EAGLES – RANKING – 60
Are we going out on the ledge by ranking a prospect with just one scholarship offer, that coming a week ago from Middle Tennessee State, within the top-60 of our 2018 rankings? Sure, but our belief in Karrington Davis is rock solid. The good size wing and product of the famed Chaminade College Prep program in St. Louis seems to have all of the physical tangibles to burst out onto the scene in the coming weeks.
While being a role piece and rarely getting playing time on his high school squad this past winter playing behind five-star Duke signee Jayson Tatum, that should all change during his junior year campaign. In the meantime, while college coaches will line the walls to check in on Davis' Eagles 16-under teammates in 2019 studs James Wiseman, Francis Okoro, and Marcedus Leech, they are going to fall upon a tremendously talented and skilled wing that is Karrington Davis. The 6-foot-5 sophomore brings great size off of the ball along with a polished three-level scoring game. He can finish at the basket, convert with efficiency from deep, and also lock up on defense, all of which should parlay the Eagles' next star into a high-level recruitment in the nearby future.
JUSTIN AHRENS, SG, KING JAMES – RANKING – 73
Whenever you don't have a shot making presence on the floor, a lot of harm can be done. Teams see defenses sag on a low post threat and also control the glass much better. Driving lanes aren't as evident and in all, the flow of an offense is a lot less fluid. That is why Justin Ahrens will become such a hot commodity in the weeks ahead.
The Versailles High standout, a rising junior that is the younger brother of Michigan State sophomore wing Kyle Ahrens, boasts a bevy of upside and value at the college level. The southpaw guard brings loads of toughness to the backcourt and some deceptive athleticism off of the right footed leap at the goal. However, the Buckeye State native comprehends what makes him great, which is of course the perimeter jumper. He is one of the best shooters of the basketball throughout all of the land in 2018 and with just three offers in hand from Stony Brook, Toledo and St. Louis, expect for all of that to change this summer as he will more than likely become a Big 10 priority recruit.
JEROME HUNTER, F, OHIO NOVA – RANKING – 78
To be blunt, the easiest way for college coaches to see prospects is by heading to shoe sponsored events. Why you ask? For the most part, there is a lot more talent across the board than on non-affiliated teams. However, Ohio Nova has done a commendable job of rounding up some of the best talent out of central Ohio in the upcoming classes where Jerome Hunter is the jewel of the program.
The 6-foot-7 forward brings fine versatility to the playing floor along with decent athleticism and length to either forward spot. While he is a bit in between spots in the frontcourt, Hunter is a demon out of the high post region in scoring at the basket off of the hard line drive or in nailing the intermediate jumper, yet he has the evolving ball skills to become a great sized small forward in the nearby future. A relative unknown to most for those outside of the area, Hunter recently pulled in an offer from Dayton during an unofficial visit to the A10 frontrunner; expect for many others to jump in on the 2018 play making forward known as Jerome Hunter this summer.