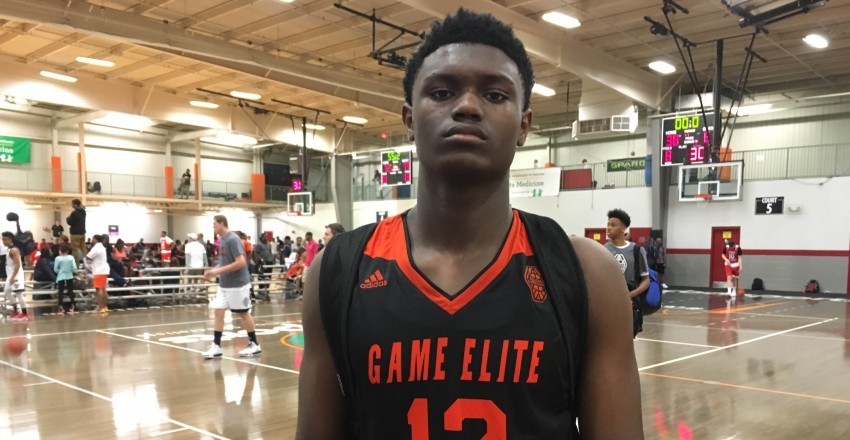 A lot of players opened eyes in the April live periods and have continued their good play into the beginning of May. Those players will look to make their mark at one of the biggest tournaments in the country, the Bob Gibbons TOC. Here are five of the hottest players coming into Gibbons:
Zion Williamson, Game Elite: The Spartanburg Day (SC) 2018 wing was a big time sleeper that was awoken at last year's Bob Gibbons TOC and is now opening the eyes of the high major head coaches around the country. Williamson has earned offers from Tennessee, UCLA, Maryland, LSU, South Carolina, UCONN, Virginia Tech, Georgia Tech, NC State, Mississippi State, Miami, Virginia, Texas A&M, Iowa State, Florida, & Georgia this spring to add to his offers list, which already included Clemson. 
Hunter Tyson, PSB Select: Playing with the 16U PSB Select Elite, Tyson was one of the top performers in the 16U division of the HoopSeen Atlanta Jam. Since that performance, Tyson has added his first four scholarship offers from Appalachian State, Tennessee, UNC Charlotte, and Elon. He will look to continue his good play in the 16U bracket. 
Nicholas Claxton, Team SC: Coming into the spring, Claxton already held a bevy of offers from a range of mid majors to high majors. Claxton's play earned offers from Notre Dame, Iowa State, NC State, and Texas A&M during the live period in April. He will be one of the better players to watch out for in the 17U division of Gibbons this year. 
Elias Harden, Game Elite: Williamson's teammate on the 17U Game Elite squad, the Sandy Creek (GA) shooting guard has locked in from distance during April and plays his role as a sniper with Game Elite. He is one of the best jump shooters that Georgia's 2017 class has to offer and tends to shoot the ball very well in Suwanee Sports Academy. He gained offers from Texas A&M and Charleston during the live period to add to his list of mid major and high major offers. 
Antwann Jones, E1T1: Jones is one of the top players to watch out for in the 16U bracket. The Sickles (FL) prospect has gained the attention of a lot of high major coaches and has gained offers from Oklahoma, Texas A&M, and TCU this spring. With the 16U division loaded with talent, look for Jones to stand out as one of the players that makes an impact this weekend.