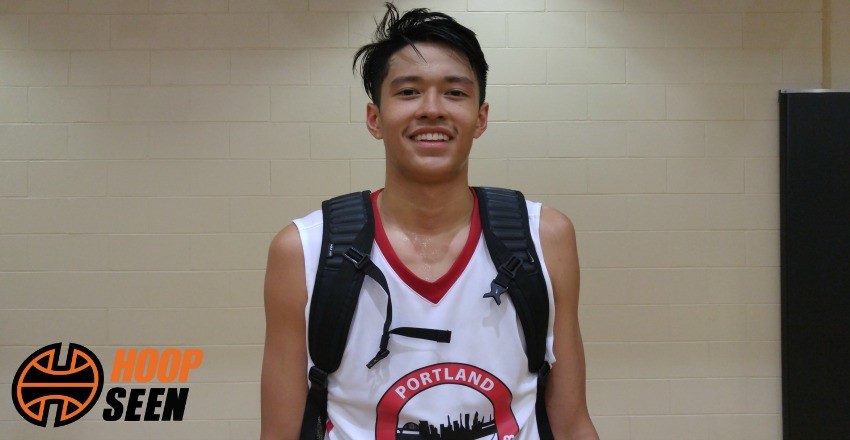 Indianapolis was littered with some of the best talent throughout all of America on Saturday as Nike and Under Armour were running the second phase of their circuit series this weekend. Much of the attention was focused in towards the older, rising senior prospects but it was at an off site gym where one of the best sophomores in all of America was cementing his status as a primetime recruit in the coming years.
KAMAKA HEPA MAKES HIS STATEMENT
There has been a lot of intrigue and buzz surrounding this 6-foot-8 forward out of Barrow, Alaska. His name is Kamaka Hepa and while the travel circuit has seen and known about him a tad, this spring, the highly skilled and crafty forward has become a mainstream recruit playing with the Portland Basketball Club on the 16-under level for Nike.
Now living in Portland, Oregon for the foreseeable future, Hepa went head to toe with the talented Southern Stampede bunch that boasts several quality college prospects within their own right. However, it was Hepa who showed off his vast skillset on the floor at Noblesville West Middle School. He now has a very cut but strong physique that he uses well on the attack to the basket where he can then score on skilled pivot and step through moves in the post. Throw in his catch and shoot game and mid-range pull-up jumper and there sure is a lot to like about the Alaskan.
On the recruiting front, things are beginning to heat up with Hepa as a majority of some of the top programs on the west coast, from the mid-level on up, have dished out an offer to the 6-foot-8 sophomore. On Saturday evening, Gonzaga head coach Mark Few and an assistant were in attendance for him as his father, Roland, spoke very high about the WCC juggernaut.
A few weeks ago, Hepa and his family visited Oregon and was very intrigued by what the Ducks had to offer but this recruitment is just beginning so buckle up because Kamaka Hepa is here to stay as a national-level and highly versatile prospect within the 2018 class.
JAHVON QUINERLY HAS A PRESENCE
Not very often do you have head coaches from major programs checking out a 16-under game during the afternoon sessions in April. This was the case on Saturday as Virginia head coach Tony Bennett, Missouri head coach Kim Anderson, and South Florida head coach Orlando Antigua, all were in attendance for the Sports U and Team Breakdown outing.
Boasting a plethora of stars on both sides of the floor, Jahvon Quinerly took the stage by storm and controlled things from the onset. While he is very unassuming with his physical make-up, don't bat your eyes towards the Sports U star. His floor presence at the lead guard spot is tremendous and so his is ability to set up his team's offense, even with pressure give to him in the backcourt.
As one high-major coach stated, there is a lot of Virginia star guard London Perrantes to Quinerly. He can make shots when he has to but where he is at his best is in making others better as he gets into the lane with relative ease and can distribute accordingly. On the recruiting front, schools are beginning to ramp up their attention for him. "Virginia is really interested in me and so are UConn, St. John's, Cincinnati, Tennessee, Penn State, and Pitt," the floor general stated. "Seton Hall came and saw me on Wednesday and I am going to try and visit them soon."
Speaking on 10 offers already in hand, the 2018 lead guard continues to display everything a coach may want in his point guard: the ability to facilitate, defend, take care of the basketball, and make shots when needed.
CHRISTIAN BROWN: A PROSPECT INTO A BALLPLAYER
For just a freshman, Christian Brown has had his name talked about throughout the east coast because of his high-level athleticism and non-stop motor on the playing floor. Sure, he is always entertaining to watch just because of how consistent he is on the hardwood and because of his love for up-tempo affairs. On Saturday evening, when most coaches were back at their hotels getting a good steak dinner, Brown was putting on a show for those who made the trip to see his team's outing.
A super bouncy and play making 6-foot-5 wing, while Brown didn't make any perimeter shots, he did get to the rack and with relative ease. He also showed off the added ability to create for others on the drive to the cup and slide over onto the ball and run his team's half-court offense. He is still a far from finished product within the 2019 class, but all of the raw abilities and talent is there for the South Carolina native.
In Indianapolis, Brown showed that he made strides within his game and the willingness to defend different spots, lead his team, and takeover when needed. Clemson, Wake Forest, Baylor, Miami, South Carolina, and Georgia all hung around and before the night finished, the Clemson Tigers made it official by offering the in-state recruit, a guy that will be seeing a lot more coming his way in the nearby future.