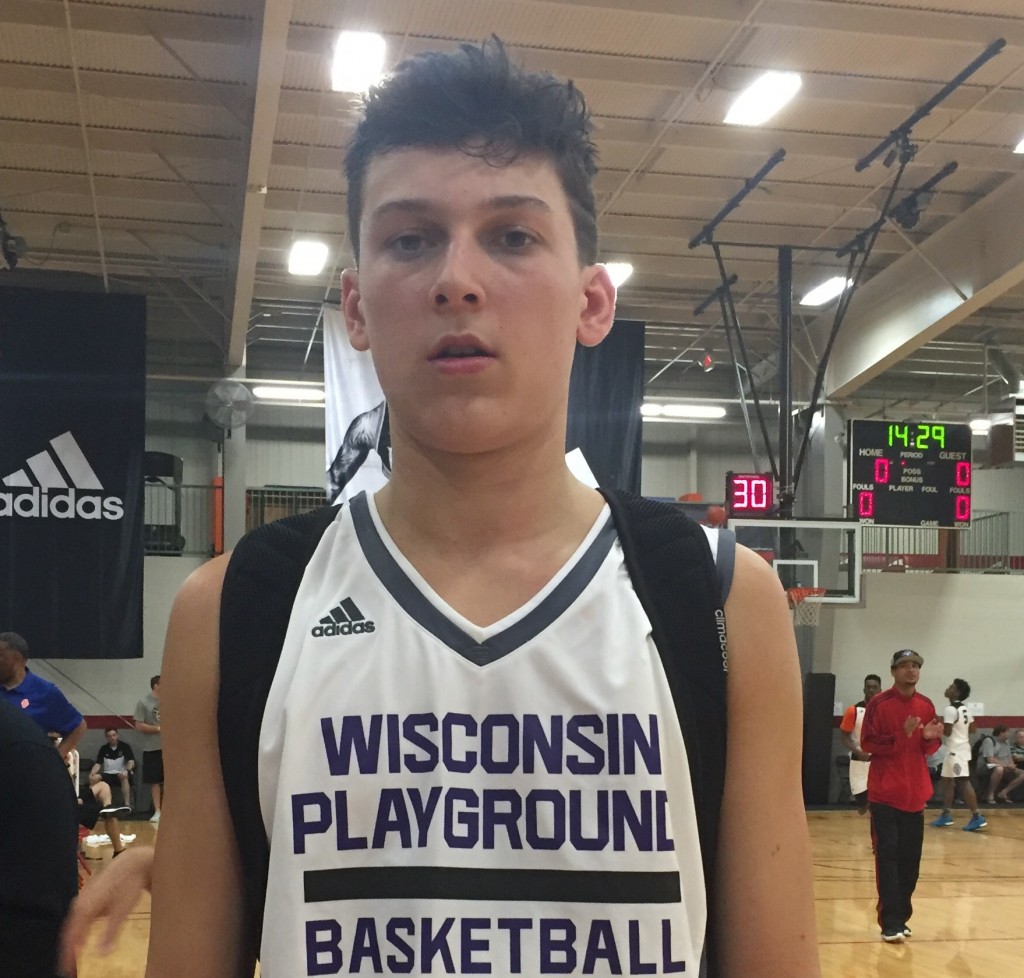 The second weekend of the April live period hit its last stride today, as coaches were getting more looks at some of the best players from across the nation at the Atlanta stop of Adidas Uprising. Here are a few takeaways from today:
Tyler Herro Shines Early
The first set of games in the morning of any tournament can be a little sloppy just based on timing. However, 16U Wisconsin Playground Elite shooting guard Tyler Herro (pictured) showed up ready to play. The 6-foot-4 scoring guard lit it up and set the bar high for the rest of the day, pouring in 26 points, hitting shots from deep and getting into the paint and creatively finishing around the rim. His backcourt mate Jordan McCabe also came to play. Herro has offers from Wisconsin, Marquette, Boston College, DePaul & Creighton while McCabe holds offers from Missouri, West Virginia, DePaul, and UW Green Bay. Very impressive backcourt here.
Sleeper Watch
A couple of sleepers were on display this afternoon. The first is Team Lillard 2017 combo guard Souley Boum. After going for 33 points on Friday night, Boum followed up with a 26-point performance this afternoon against a highly touted Garner Road backcourt. Boum did a majority of his work with the jumper, showing he is a premium shot maker. Boum currently holds an offer from UC Davis and interest from St. Mary's, Santa Clara, and other mid majors on the west coast.
Another solid sleeper is Upward Stars 2017 wing Vincent Cole. Cole is a lengthy wing who showed great versatility on both ends of the floor and the ability to attack the paint, where he found ways to score as well as find his teammates for buckets. He currently holds offers from Tennessee Tech and South Carolina State and interest from low major and mid major schools throughout the Carolinas as well as Wake Forest.
Other Top Performers
Thomas Allen, Garner Road: Allen picked up where he left off yesterday: scoring the basketball. Over the course of two days he is proving that he is one of the better scorers in the 2017 class in the Carolinas and the southeast.
AJ Oliver, Upward Stars: The Clemson commit is an offensive force. He can score it from all three levels, but he really makes his living as a jump shooter from behind the arc. He was cooking today early in a game against Mass Rivals, but unfortunately went down in the second half. Thoughts go out to him and we hope for a fast recovery!
Makai Ashton-Langford, Mass Rivals: Ashton-Langford is regarded as one of the best guard prospects in the 2017 class and he showed exactly why. He has a swagger and confidence to his game that makes him a constant scoring threat. He was on point with the jumper today and also got into the paint for some big buckets. He put together one of the best offensive performances of the day.
Alex Reese, Team Carroll: Reese has looked more active and physical than we have seen him. He was productive scoring the ball and on the glass today. The stretch four Alabama native had it going today, scoring from the inside and outside as well as in transition, until he was slowed by an injury. He also earned an offer from Cincinnati today to add to his long list of offers.
Romeo Langford, Eric Gordon All Stars: With Kentucky head coach John Calipari watching, Langford proved why he is ranked as a top five player in the 2018 class. He was exceptional on both ends, but really showed he is an elite level rebounding guard. He also scored 20 points including the eventual game winning bucket in the last seconds of the game.