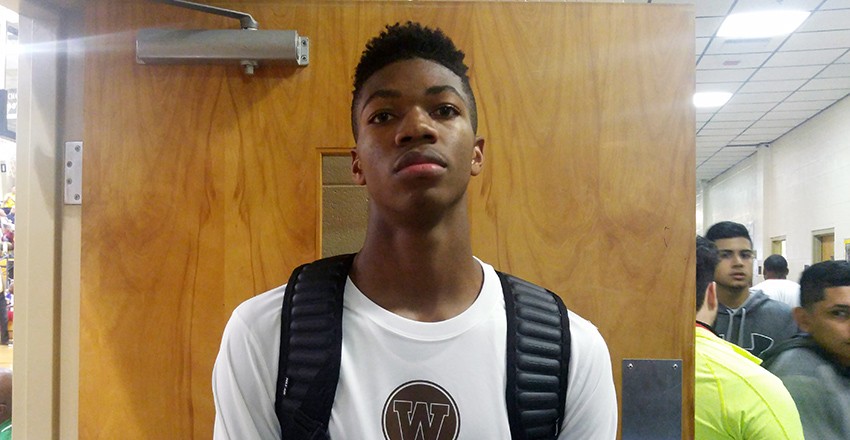 Coming in at number-36 in our recently released 2017 rankings, Brandon Randolph has gone from a no-name, to a priority recruit for some of the top programs on the east coast. The 6-foot-5 wing recently caught up with HoopSeen in giving the latest on his recruitment and the whirlwind that was this past high school season.
After suffering a broken left leg last April during the first college evaluation period, Randolph entered his junior high school season with two offers, those coming from VCU and Manhattan. Transferring into Westtown School and in playing alongside five-star big man Mo Bamba and top-50 sophomore Cameron Reddish, the opportunity was one for the taking. "I definitely think Westtown was the right choice," the junior stated. "We had a lot of talent and it helped improve my game. I had to bring the intensity every practice and the coach really helped me after the injury."
Fast-forward a few months and Randolph now sits at 15 offers which come from the likes of Louisville, Wake Forest, Virginia Tech, Xavier, and St. John's. "It has been great," Randolph said about the night and day turn in his recruitment. "Eventually I knew it would have happened and I am just blessed that it happened so quickly. Ever since we started the season, things just blew up from there."
Now hoping to take his game and recruitment to the next level this spring and with a clean bill of health, the chances for Randolph turning into a national level recruit is evident. He is a hard-nosed driver of the basketball but can also fill it up from deep with a consistent jumper. Due to his added length and quick feet, the 6-foot-5 wing can guard various spots on the floor, something that has become deeply valued in today's new era of basketball.
Running with the loaded PSA Cardinals bunch this travel season alongside such other top-50 recruits as Deng Gak, Mo Bamba, and Quade Green, the Westtown standout has his eyes set on the Nike Peach Jam title. "I just want to win the EYBL and everything else will come to me after that," Randolph exclaimed.  
While things remain a bit of a blur on the recruiting front and with more college programs due to enter the fold in the coming weeks, Randolph remains open with the entire process. "All of the schools are equally recruiting me right now," he said. "After the AAU season we will make our cuts and decisions but I have no timetable at this time."
When it does come time to decide, Randolph has a decent feel for what he is looking for in his future destination. "Me and my parents want a program that really fits my game," the blossoming play maker stated. "If I don't make it to the pros, I want to have a great academic situation so that I could get a job later on in life."
Still with time to go before things come to a close, Randolph is more than ready to seal his fate as a top-50 recruit this spring and summer and aid in the fight for a Nike EYBL title for his 17-under bunch that is the PSA Cardinals out of New York.