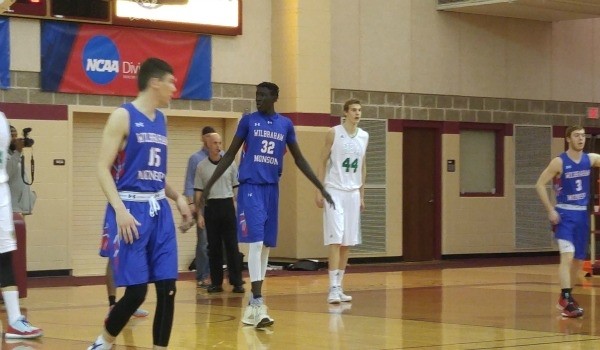 The snow and ice couldn't stop the heated up competition that took place at day two from the National Prep School Invitational, an event taken place in Providence, Rhode Island. Boatloads of coaches came into the gym at Rhode Island College where they came to see some of their top recruits. The day started with a dynamic matchup between a Kentucky and Arizona commit, while it ended with a bang that was Hamidou Diallo.
LAURI MARKKANEN, PF, HELSINSKI, 2016: Playing in America for a few games with his Finnish team, Markkanen, who is headed to Arizona in the fall, is one polished prospect with major upside to him. Facing off with Kentucky commit Wenyen Gabriel, the 6-foot-10 forward slightly edged out the Wilbraham & Monson prospect and helped lead his team to the W. Markkanen is a very productive face-up forward who can hit shots out to the 3-point line while also taking his man off the bounce with his right hand. He isn't a super athletic guy but he can surprise every now and again with the dunk in the lane. A matchup nightmare with innate strength, the Finnish star can post up on the block and either hit turn and face jumpers, or locate the open man on the perimeter with the precise kick out pass. A solid rebounder of the ball who shows off good defensive abilities away from the basket, while there has been talk about a lackluster class headed to Sean Miller's program in 2016, Markkanen is definitely the gem to it and should be counted on from day one, especially with three big men departing this spring.
WENYEN GABRIEL, PF, WILBRAHAM & MONSON, 2016: It has been somewhat of a difficult two days for the Wilbraham & Monson program as they have struggled to stay afloat against its competition. That is no fault of Gabriel's and while his outside jumper hasn't been as accurate as he may have wanted, the 6-foot-10 forward still hasn't stopped competing and on both ends. He never gives up on any play and seems to be in the hunt for each and every 50-50 ball that is available to him and his teammates. Still with a very loose body, Gabriel has yet to fill out and can struggle at times with high levels of physicality on the hardwood. However, the future Kentucky forward is as versatile as they come and even in a down game, Gabriel can get you 20 points, 10 rebounds, five assists, and a few blocks and steals. Far from polished, the well-motored forward is as reliable as they come, something that will definitely be welcomed by Big Blue Nation straight out of the games next college basketball season.
JUSTIN JACKSON, F, HILL ACADEMY, 2016: While in the prior viewings of him Justin Jackson wasn't his very best compared to how dominant that he was as an underclassmen, what he did on Friday evening was definitely impressive. Looking to be in a lot better shape and more agile near and away from the basket, the Canadian kept his team within reach against the talented Putnam Science bunch with his high level finishes at the basket. With great size at 6-foot-7 and the strength in providing matchup issues on the floor, Jackson is the ideal, small-ball 4-man at this time and at the next level. He can post up some on the block when being guarded by the smaller defender, yet also take the bigger guy away from the basket and explode right by him with a great first step. Finishing through contact isn't much of an issue and with a fine feel for things who can create for others, Jackson will be a very steady frontcourt piece for the Rebels at UNLV next year.
MARCUS OTTEY, PG, SPIRE, 2016: The 6-foot guard was sensational a few months ago at the National Prep Showcase and on Friday afternoon, the Canadian guard had it all going again. A bit on the smaller side but with a 6-foot-7 wingspan and a compact, strong frame, Ottey gets wherever he wants with the ball in his hands. If you are familiar with Kay Felder at Oakland this year, think that type of toughness and explosiveness where keeping the Spire guard away from the basket is a task within itself. Whenever he gets to the lid, Ottey can finish with some flair by way of either handed lay-ins through contact, or on two-handed power jams over the opposing defender. While he didn't shoot it a ton, a hold-up of his in the past, the senior guard still was responsible for his team's blowout victory and looks to be one of the better available point guards late in the year.
MAIK KOTSAR, PF, SUNRISE CHRISTIAN, 2016: The breakout performer of the day, the Estonian forward showed off the entire package of abilities in the frontcourt. Setting foot in America five months ago, the 6-foot-9 forward is a hard playing big man who has a good feel for the game. He calmly can put the ball on the floor and attack the basket with either hand where he can then finish in a similar manner. The lefty wields a good looking, polished jumper from off the catch as he can be a weapon off of the pick and pop. A versatile scorer of the ball with good touch near the basket, Kotsar still needs to put on a bit more weight which would allow for him to be even more productive within the interior. The senior big man doesn't have much known about him at the moment but even in a brief viewing of him, looks to be someone that can receive high-major offers where South Florida seems to already be on hot on his trail. Regardless, Kotsar is a good looking ballplayer and recruit and someone that will see his name heat up in the coming weeks out of Sunrise Christian.
HAMIDOU DIALLO, SG, PUTNAM SCIENCE ACADEMY, 2017: One of the most explosive finishers at the basket and a killer whenever the game speeds up, Diallo continues to reinforce the fact that he is one of the best prospects in all of high school ball. Solidifying his case as the best guard prospect in the 2017 class, the New Yorker displays so many comparable traits to that of a young DeMar DeRozan. Just like the current NBA All-Star, Diallo isn't the best 3-point shooter, yet he can play make with the best of them, is a menace on the defensive end with his length, activity,  and quick-twitch muscles, and his finishing skills are as good as it gets. Finishing with 22 points and eight rebounds in the hard fought win on Friday in front of Kevin Ollie and two UConn assistants, along with Providence and Syracuse on hand, it is about that time we start thinking about Diallo as a top-five prospect. His rapid development, work ethic, intangibles, and ceiling are all you could ask for in an elite recruit and his production isn't too far behind, either.
RECRUITING NOTES
2017 Cushing guard Makai Ashton-Langford seems to be coveted the most by Providence and UConn.
Maik Kotsar has received limited interest from the likes of Marist, San Francisco, and South Florida.
An explosive lead guard, Marcus Ottey noted on offers from DePaul, Wichita State, Delaware, UIC, VCU, and Toledo, with further interest coming from Cincinnati, Butler, Vanderbilt, Texas A&M, Missouri, California, and Valparaiso.
SEEN IN THE CROWD
While Friday is usually a day that most programs are travelling in gearing up for its weekend contests, it gave a great opportunity for some of the coaches to get into the gym at Rhode Island College. Seen were head coaches from UConn, Providence, and NJIT, along with assistants from Georgia Tech, Syracuse, Auburn, Alabama, St. Louis, Penn, South Florida, San Francisco, Marist, Cincinnati, UIC, Old Dominion, Butler, Virginia, Iona, Albany, Brown, Oregon, Villanova, and Texas Tech.