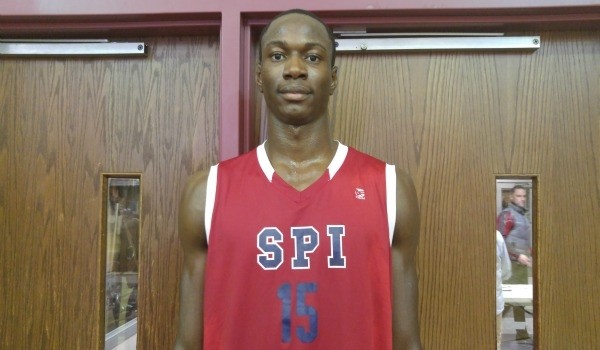 The third and final full day of hoops kicked off on Saturday at the National Prep School Invitational in Providence, Rhode Island. While many eyes were placed onto the college basketball scene as some of the top ranked teams were upset, a few stars of tomorrow were competing at Rhode Island College. Bruce Brown did his usual while Wabissa Bede continued to solidify his profile; however, it was Cheickna Dembele that became the hot name of the day.
CHEICKNA DEMBELE, C, SCOTLAND PERFORMANCE INSTITUTE, 2016: The desperate need for a true five-man that can score with his back to the basket is clearly evident this time of the year. On Saturday, Cheickna Dembele escaped out of the woodworks and showed major flashes of what he can be down the road. With a very long body and a physique that could put on several more pounds before even hitting the college realm, the upside is in place with the Mali native. Having come over to the United States at the beginning of the school year, Dembele runs the floor well from rim to rim and changes shots well at the basket. Where he impressed the most was in his poise on the low block. The SPI star has a go-to hook over his left shoulder and makes good checks off the entry catch. Due to his polished counters moves with his back to the basket and precise touch, it would seem that Dembele is one of the better back to the rim guys still available late in the year, hence his first high-major offer coming from Iowa State following his outing in Rhode Island.
BRUCE BROWN, G, VERMONT ACADEMY, 2016: Why place the guard label next to Bruce Brown's name? In a few years, Brown might be seen solely as a point guard, only heightening his potential even further for the next level. Sure, he does have to polish out the kinks but if anyone can do it, it sure is the Boston native. Blessed with a linebacker's body, a killer work ethic and alpha-dog mentality, and an improving skillset, Brown showed it all off in his team's first game over the weekend. He nailed two first half 3-point jumpers from off the bounce, a major hold-up of his in the past, and as usual, attacked and finished at the basket with some highlight dunks, facilitated for his team within the half-court, and rebounded the ball with the best of them. Miami loses Angel Rodriguez and Sheldon McCellan this spring; look for Bruce Brown and JaQuan Newton to create a dynamic 1-2 punch these next two years down at the U.
TRAVIS ATSON, SF, NOTRE DAME PREP, 2016: While the identity of Travis Atson is up for debate by some, where a few think of him as a shooter and others view him as an athletic slasher, what isn't in question is the kid's toughness. In a game where Atson failed to find his outside jumper, he still did quality work on the glass and in producing near the painted area. He is always willing and capable of defending the 2-4 spots on the floor and has the body and grit in checking guys much bigger than him near the blocks. Headed to Tulsa in the fall, Atson is a solid coup for the AAC bunch. Battling knee tendinitis at this time, Frank Haith has someone in the NDP senior who will bring leadership straight out of the gates, a workers approach, and a no-ego mentality who will buy into whatever asked out of him in order for his group to succeed.
AJ BRODEUR, PF, NORTHFIELD MOUNT HERMON, 2016: It definitely was a good day for the Penn Quakers on Saturday. On the college floor, the Ivy bunch knocked off Harvard and on the prep floor, AJ Brodeur was doing his thing in helping secure the W for his NMH bunch. A major steal for Steve Donahue and company, Brodeur is one of the more productive and hard-playing big men that you're going to find. He is phenomenal out of high-post sets and works well facing the basket. He could become a better passer but Brodeur doesn't lack a feel for the game. The NMH senior can knock down jumpers out to 17-feet, put it on the floor some off the hard rip to his right hand, and has the toughness and wherewithal in coming up with rebounds within traffic. In all, Brodeur is the go-to guy for this loaded squad of head coach John Carroll's and was the reason that his team created separation in its win on Saturday afternoon.
WABISSA BEDE, G, CUSHING ACADEMY, 2017: The definition of a true combo guard, Wabissa Bede seems to produce regardless of if he is being play on or off the basketball. He definitely has some alpha-dog in him where toughness is never lacking and neither is his activity on the playing floor. Since the summer, the Massachusetts native has spent some time on his jumper, a shot that looks a lot more consistent and is capable of hitting from off of  the bounce and in spot-up situations. He has a fine change of speeds dribble and burst to him on the blow-by and is capable of using his frame in absorbing blows en route to the basket and then finishing off the and-1 opportunity. Despite his team's loss, Bede was impressive in every manner and with stock that is slowly escalating, the Cushing junior ended up making the short drive over to Providence College to see the Friars take on Villanova, a program that is in hot pursuit of the 6-foot-2 junior.
CHRISTIAN DAVID, SG, VERMONT ACADEMY, 2017: David didn't have his best on display during the early portions of his first year at Vermont Academy, however that is all out the door now. One of the most talented and skilled guys that hit the floor this weekend at Rhode Island College, David is as smooth as can be. A super versatile weapon on the offensive end of the floor, the Canadian wing can post up on the block, distribute and create for others off the dribble-drive, yet also displays a super cool jumper from deep. Throw in the fact that David was a lot more engaged and active on the glass, showcasing progressions within the toughness category, and it would seem that the 6-foot-6 wing is about to go from ten or so offers at the moment, to forty-some this spring as he runs with the CIA Bounce squad.
RECRUITING NOTES
Providence College hosted 2017 Cushing products Wabisse Bede, Makai-Ashton Langford, and Jarrod Simmons, along with 2017 Putnam Science five-star wing Hamidou Diallo for its game against Villanova on Saturday.
Wabisse Bede spoke on offers from Temple, which was his most recent, along with Providence, Boston College, Rhode Island, UMass, La Salle, New Hampshire, Bryant, UT-Chattanooga, and ECU; he feels as if Temple, UMass, La Salle, and Providence are making him a priority thus far.
The first high-major program to offer, Iowa State made it official with 2016 SPI big man Cheickna Dembele, while St. Joe's was the other already to have dished out one to him; Pitt head coach Jamie Dixon has been in several times to see him and it would look as if there would be a lot more to come for the native of Mali.
2017 NMH guard Kellan Grady speaks highly on his offer and interest from Davidson, though Villanova is ramped up their pursuit on him, along with Butler, a Big East program that he hopes to visit in the spring.
SEEN IN THE CROWD
While there were loads of meaningful college basketball games taking place on Saturday, a few coaches were still able to get out to Rhode Island College on Saturday. Those spotted throughout the day were assistants from Winthrop, Boston College, UConn, Providence, Maine, Northwestern, Minnesota, Oregon, Marist, Northeastern, South Florida, Washington State, Texas State, and Brown.