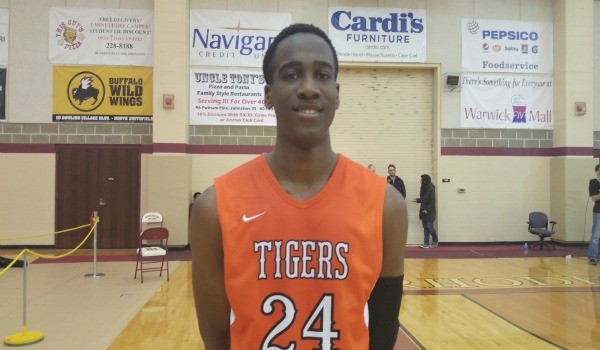 The National Prep School Invitational kicked off on Thursday bringing in some of the very best prep programs throughout the nation onto the floor at Rhode Island College. There were a bevy of some of the top prospects suiting up but no one had a better performance than Miye Oni, a 6-foot-6 wing headed to Yale in the fall.
MIYE ONI, SF, SUFFIELD ACADEMY, 2016: What Oni did on Thursday evening was nothing short of remarkable. Known primarily as a slashing scorer with major athleticism at the basket, the Suffield product went bonkers from deep. He connected on 11 3-point jump shots which aided in his record breaking 52 points on the scoreboard. Throw in the fact that his squad knocked off Wilbraham & Monson, a team that boasts five-star forward Wenyen Gabriel, and the day couldn't have gone much better for Oni. With a Yale assistant on hand, the future Bulldog gave plenty of reason for excitement. While it would be hard to say that the senior play maker is a consistent jump shooter of the ball, the fact that he could hit that many throughout the course of a game and also continue to destroy the basket on explosive finishes, makes it seem that the Ivy League program found itself a major steal with him.
DANIEL CUMMINGS, F, ORANGEVILLE PREP, 2016: Cummings came into the event only being able to rattle off one offer to date, that coming from Charleston Southern, yet that should all change within the coming days. The 6-foot-6 forward showed off a picturesque jumper from off the catch as he continually nailed catch and shoot looks, ran off screens and converted with range, and even put it on the floor some on the pull-up attempt. He facilitated a tad on the drive and kick and while he is more of a guy that is best used on the ball, there sure is a lot of value in a guy with size and shot making, both of which Cummings brings to the floor.
KALIF YOUNG, C, ORANGEVILLE PREP, 2016: Young is a big boy down low who is a space eater at its finest. While he isn't in the greatest of shape, the Canadian big man understands his strengths and plays directly to them. The lefty clogs the lane but has Velcro-like hands where everything that is thrown towards him, or comes off the glass, is immediately owned by him. Young seals well off the entry catch and can finish over his right shoulder and with the bigger man guarding him. While he didn't shoot it a ton off the face-up, the 6-foot-8 big man did display uncanny passing skills out of the high elbow where he could fit in at the next level as a solid high-low guy. He will never be described as an athlete but he seems to always produce and thus, gave good reason for why so many college coaches were in attendance for him on Thursday evening.
JON ISAAC, F, IMG ACADEMY, 2016: Working his way back from a foot injury, Isaac isn't totally in shape, yet that still didn't affect his production on Thursday. With a frame that is still growing by the day as Isaac stands near 6-foot-10, he is best used on the perimeter in facing up and attacking off of limited dribbles. He loves the baseline pull-up from 15-feet and deterring it is a major issue as he can get his shot off against any type of defense. He has exquisite hands on the glass and fine instincts whenever the ball goes up where Isaac can really hurt an opponent on the second chance opportunity. Defensively, the IMG staff uses Isaac out in front of a half-court, trapping 1-3-1 zone, a defense that really pushes opposing offenses out away from the basket due to Isaac's height and length. Heading to Florida State in the fall, there aren't many better with more upside than Isaac who finished with 25 points in the win.
OMARI SPELLMAN, PF, ST. THOMAS MORE, 2016: Back on the floor after a brief hiatus due to a minor injury, Spellman looks to be in a lot better shape than he previously was earlier in the summer and fall. He got up and down the floor more easily and was much more agile in and around the basket. A major matchup issue now and down the road, Spellman threw down a monster dunk on Thursday due to his lighter body. Posting up a bit more frequently, Spellman connected on a few baby face-up shots from 12-feet and in and his touch and accuracy on every attempt is never too far off base. Headed to Villanova in the fall and with an assistant on hand for him, Spellman is one of the more unique prospects in all of high school basketball as he continued to solidify the fact in Providence.
DIMENCIO VAUGHN, SF, MASTERS SCHOOL, 2016: One of the more powerful guys around, there is no stopping Vaughn from getting to the basket once he gets downhill with the ball. A shoot-first type of guy who can create for himself off of the breakdown and crossover, Vaughn has a solid mid-range jumper game that he can convert on against the contested defense. With a very bulky physique but toughness definitely not lacking, the 6-foot-5 wing continually got to the rim and scored while also grabbing the ball off of the defensive glass and leading the break. His shot selection wasn't the best but he did whatever he had to do in order to keep his team afloat. Headed to Rider next year, Vaughn has the chance to be an immediate producer for the MAAC program straight out of the gates and leaned upon for his scoring prowess near the rim.
RECRUITING NOTES
IMG forward Aleem Ford spoke on offers from Richmond, Marist, American, and Rutgers. After his solid showing on Thursday, St. Louis joined the fray with one of their own.
Orangeville Prep big man Kalif Young remains open with the process but did mention offers from Providence, Marquette, Auburn, St. Bonaventure's, and Pitt; Duke and Syracuse are showing further interest.
IN THE CROWD
The seats were jam packed with college coaches on Thursday at Rhode Island College where head coaches from Providence and DePaul were in attendance, along with assistants from UIC, Alabama, Georgia Tech, Arizona, San Francisco, Duquesne, Texas Tech, Oklahoma State, St. Louis, Yale, Miami OH, Iona, Penn, Villanova, Syracuse, Western Illinois, Bryant, Rider, Florida State, Albany, and Maine.