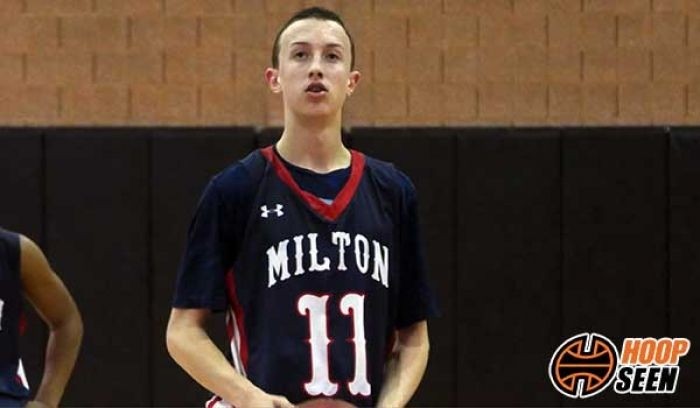 Milton 94 Campbell 83
There aren't a whole lot of teams in Georgia that are more of an enigma than Milton.
They are undoubtedly one of the most talented teams around, with multiple Division I caliber players. However, they have had moments this season where they look like the pieces haven't fit together. On the flip side, they have also had really good moments as well.
Their quarterfinal game against Campbell kept that theme.
In moments of this game, they looked like they were going to run away with the game. In others, they looked like they could blow the leads they built.
The start of both halves was where Milton looked dominant. Getting out to big leads to start both the first and third quarters. In these times, their stars looked like stars. Alex O'Connell was an offensive force, Chris Lewis controlled the block, and Kyrin Galloway and Kendrick Summerour made plays.
Then the script changed.
Campbell began to throw full court pressure at Milton, giving them a lot of problems and muddying up the game, causing a lot of turnovers.
Campbell senior guard Mike Olmert was everything and more. Milton had no answer for the unsigned senior, who scored 25 second half points to keep Campbell within striking distance.
Olmert, who scored 39 points in the game, hit his most notable shot coming down the stretch: a three pointer to bring Campbell within one at 84-83. However, Milton responded with a 10-0 run to end the game, paced by Chris Lewis free throws to win the game 94-83.
Milton will play Pebblebrook on Saturday at West Georgia at 8:15pm.
Pebblebrook 78 McEachern 71
Pebblebrook and McEachern are two teams who have leaned on their stars for a majority of the season.
Pebblebrook's Jared Harper and Collin Sexton were both all region and JJ Smith has been big at times this year.
McEachern's AJ Jones was region 4-AAAAAA player of the year, and Darius Jones was an all region performer as well.
However, this game was not all about the stars.
Collin Sexton was very effective scoring the ball as he always is, but sophomore guard Dwight Murray stole the show, scoring 23 points to lead the Falcons.
Also while the Joneses were solid for McEachern, freshman sensation Isaac Okoro was very effective, scoring from all three levels and showing his immense potential.
In the end, Pebblebrook's guard play was too much for McEachern to keep up with as Pebblebrook took them down 78-71.
Pebblebrook returns to the state semifinals for the third straight year. They will play Milton on Saturday at 8:15pm at the Univ. of West Georgia.