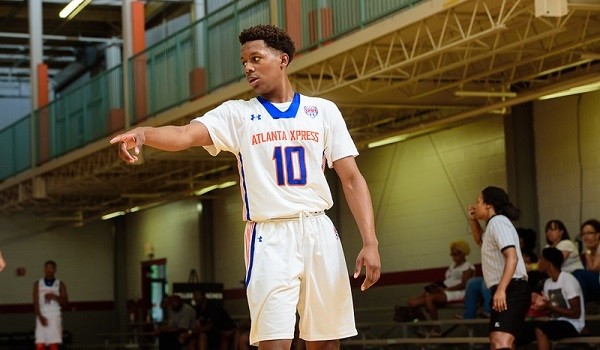 For the past few years, 2018 Eufaula (AL) guard Tony Johnson has been regarded as one of the top players in Alabama's 2018 class. He has done a good job of backing that talk up to this point during his sophomore season.
The 6-foot-2 combo guard is averaging 20 points, eight rebounds, and six assists for a 17-7 Eufaula squad. He also eclipsed 1,000 points in his career last week. However, the real season is just beginning.
"The season is going well. We have one more regular season game before the postseason starts," Johnson told HoopSeen.com. "I think we have a great chance to be in Birmingham when it's all said and done. We have a lot of good pieces on the team and a great coach."
Several college programs have noticed Johnson to this point. He currently holds scholarship offers from Auburn and Samford, but plenty of other schools are showing high interest.
"Georgia, Vanderbilt, Alabama, UAB, and Mississippi State are showing the most interest. I think Georgia and Vanderbilt could offer soon if I keep doing what I am supposed to do."
Interestingly enough, the talented sophomore says that the Georgia and Vanderbilt are recruiting him the hardest right now. He broke down what he likes about both schools.
Georgia: "I love the atmosphere and the fans at Georgia. Coach [Mark] Fox pushes his players in which I really like. I like the coaches that always try to bring out the best in me. The assistant coaches are great.  I have a great relationship with them. Georgia is a great school academically and that is very important to me and my family."
Vanderbilt: "I love the campus itself. Vanderbilt is one of the most prestigious schools in the country academically and one of the hardest schools to get in to. As far as basketball, they have a great program. I love their style of play. Everyone who plays basketball loves offense, and Coach [Kevin] Stallings has one of the best offensive minds in the country. I also enjoy their coaching staff, too. Plus it is in Nashville."
During the high school season, Johnson has been busy visiting college campuses. Recently he visited Auburn, Alabama, and Georgia. More visits are being planned for the future, too.
"I'm in the process of scheduling visits to Georgia and Vanderbilt for soon. I just have to work around my high school schedule," he explained.
While HoopSeen.com does not rank current sophomores, expect to see Tony Johnson's name close to the top of the 2018 list when we release them closer to the summer.