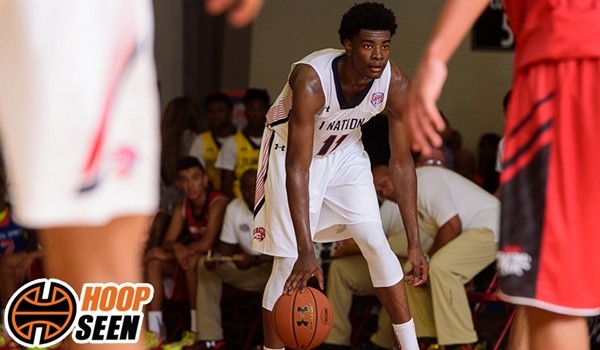 DAYTON, OH – Saturday night was a religious one in sports across America. The nation wiped the sleep from their eyes and watched some of the greatest Hail Marys in NFL history in one of the wildest NFL playoff games in the league's history.
An hour before, five-star basketball prospect Josh Jackson not only caught the pass, he threw up his own prayer and melted the minds of a capacity crowd on a winter's night in the Midwest.
The five-stars were paired up against each other, the James Trent Arena was sold out, all eyes were on the court and the story of the day came down to 1.2 seconds and an improbable shot in one of the best player rivalries in America.
Jackson was the target of the long baseline bass, he fumbled the catch, regained the ball in midair and stepped back for the buzzer-beating three-pointer at the top of the key.
Prolific Prep beat Huntington Prep 64-63. Jackson was stormed by his teammates on the baseline from whence the pass came. The capacity crowd of the Flyin' to the Hoop stood in amazement.
Did that just happen? Did that just happen?
When stars are on the stage, we've come to expect the unexpected.
For 90 percent of the game, Jackson was quiet by his lofty standards. His teammates Ira Lee and Abu Kigab were the most productive players on the floor. Both players finished with 14 points.
Huntington Prep played in control for the majority of the game. Credit that to the calming play of future Indiana guard Curtis Jones. The 6-foot-4 native of Virginia knocked down gorgeous three-pointers, attacked with the dribble and played a very efficient offensive game. He finished with 22 points in the game.
In the third quarter, future Michigan State wing Miles Bridges was playing as if he was auditioning for a full-time role on Scott Van Pelt's midnight SportsCenter. Bridges was the best player on the floor in this game and all of the games on a busy and cold Saturday.
There will be times next season when Bridges will be the best player in college basketball. He's one of the most unique amateur athletes in American prep sports. His speed, strength, bounce and athleticism is stunning. Bridges shined in the pairing against his longtime foe Jackson.
Bridges, the No. 5 overall senior in America, finished with a loud 22 points (9-14 FG), seven rebounds, five blocks and three assists. Jackson finished with the game-winner, 15 points (7-13 FG), eight rebounds and a pair of assists.
Prolific Prep is headed back to California. The team has been on a wild American tour. Huntington Prep returns to the court on Sunday afternoon at 5 p.m. against Ohio powerhouse Garfield Heights.