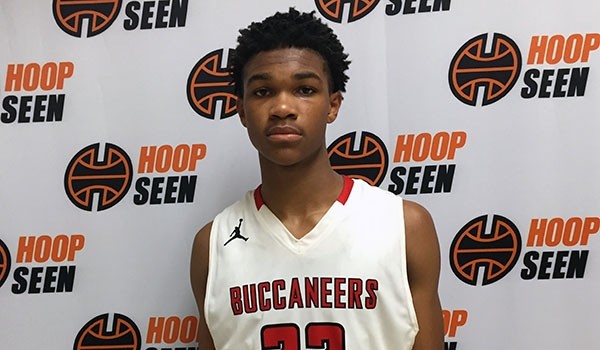 The Mellow Mushroom bracket of the Lake City Classic was a fun-filled three days of action. Allatoona took home the championship with a win over McEachern. We pick our all-tournament team and MVP from the jam-packed tournament during the holiday break.
MOST VALUABLE PLAYER
Trey Doomes, CG, Allatoona, 2018: The Buccaneers coaches have praised his play so far this season and the LCC tournament was a great opportunity to see it all come together. The 6-foot sophomore did a little bit of everything on his home stage over the course of three games. From a statewide perspective, this was his consistent coming out party.
ALL TOURNAMENT TEAM
Robert Allen, PF, Edgewater (FL), 2018: The 6-foot-7 forward was all energy all the time. He was tough on the glass and rebounded well. Teams struggled to contain his passing form the post. Allen did a nice job of getting big in the post and didn't do things he's not capable of. It was a nice first impression of the young forward at the LCC. We look forward to seeing more of him on the travel circuit.
AJ Jones, PG, McEachern, 2016: The Indians marched through a tough schedule and competed until the very end. The engine behind their success was Jones. The unsigned senior was exactly what you want your point to be – a heady floor general that glued all of the talent together. You could make an argument for senior big man Bryce Smith and freshman wing Isaac Okoro on this list, too. That's because Jones made it so easy for everyone.

Darius Jones, SG, McEachern, 2016: The unsigned senior guard pumped in the points at a comfortable rate for the surging Indians. He was the beneficiary of great passes and quarterbacking from AJ Jones. Darius Jones was active in the passing lanes and helped his team make it to the championship game of the Mellow Mushroom bracket.
Dishon Lowery, PF, McIntosh, 2016: The motor man in the middle was the best rebounder at the Lake City Classic. The future Wofford post used his bounce and big hands to secure everything off the rim and glass throughout the event. Lowery was one of the toughest players to defend because of his natural strength in the post. He was consistently good at the LCC.
Alex O'Connell, SG, Milton, 2017: The 6-foot-6 guard pumped in the points at the Lake City Classic and scored all over the floor. We've seen his continued improvement over the years and the LCC was the perfect stage to show where he's at in the development scale.  He drew the likes of Auburn's Bruce Pearl and UAB's Jerod Haase over the course of the tournament.