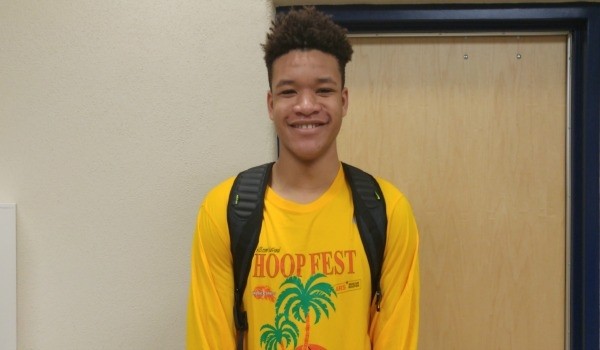 One of the bigger breakouts over the past 12 months has shown little back-off with his development as a complete ballplayer. Kevin Knox, a 6-foot-8 forward out of Tamp Catholic High School, was once thought of mainly as an energy giving big man with quality athleticism near the basket. Flash forward to his current junior high school campaign and the Sunshine State native is very much skilled with the basketball in hands and recently gave HoopSeen the update on his recruitment.
After hosting UNC head coach Roy Williams on Thursday evening and having Florida State in for him on Friday, Miami and Duke both made their ways into the Tampa Catholic gym to see the highly productive prospect. Even with the recent uptick in attention that Knox has received, his production have yet to falter. On Friday at the Berkeley Prep Hoopfest, the five-star junior finished with 23 points and 16 rebounds, where he then followed it up with a 30 point and 10 rebound affair. On Tuesday, Knox kept the double-double streak going in finishing with 26 points and 10 boards.
While he has always had a knack for rebounding the basketball, Knox has put in tons of work with his handles and on his mid-range jumper. Repeatedly over the weekend, the 6-foot-8 forward hit a variety of jumpers and with a hand in his face, all of the way out to beyond the 3-point mark. He still has a nose for the ball and can throw down a highlight reel dunk at any given chance.
Heading to UNC and Duke from February 10-14 for a set of unofficial visits, and with Florida State making a hard push for him as his father once suited up at the school for the football squad, Knox gave insight on what stands out about the three programs.
UNC:
"I like them a lot. They play my style of getting up and down the floor a lot."
Duke:
"They're a good school and Coach K likes how I play like Brandon Ingram; how I can come off screens and stuff like that."
Florida State:
They're off to a rough start but they want me to go there and help them get better. I like their scheme and the way Coach Hamilton coaches."
While other schools like  and Georgia are heavily pursuing the top-10 recruit, there are a few things that Knox is looking for when it comes time to select a college home. "Just how I fit their style and how I feel around the coaches," the product of the Each 1 Teach 1 program stated. "Really, my relationship with the coaches is what's going to be the main part in making my decision."
Selecting a program from the best of programs nationally, it does seem like UNC, Duke, and Florida State are in a good spot with the 6-foot-8 junior who has yet to display his basketball ceiling as an elite recruit within the 2017 class.