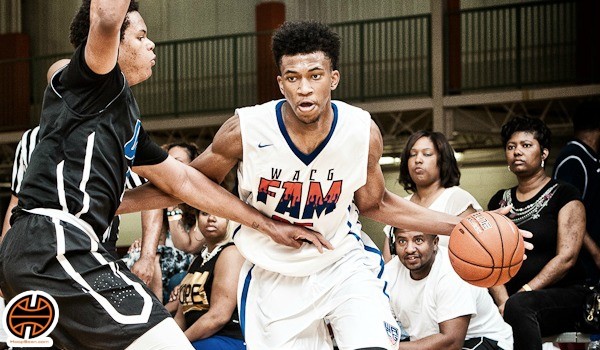 With top 50 rankings for the senior and junior classes nationally, we wanted to shift gears and take a peek at the sophomore class at a national level.
The class of 2018 is deep, talented, and has major star power up top.
While we did not rank this list, we did include those that are worth monitoring heading into the spring. After time on the national circuit in April and May, we we will then establish a ranked list.
The class is led by by one of the best talents in all of high school ball in Marvin Bagley III. The 6-foot-9 big man recently transferred to Sierra Canyon in California. Close behind is Montverde (FL) big man forward Silvio DeSousa, and 6-foot-4 guard Javonte Smart of Baton Rouge.

Thirty of the top 40 prospects within the 2018 class can be spotted in the frontcourt. That is a mind-boggling number. Keep in mind it takes a lot longer for big men to develop compared to their smaller counterparts out on the perimeter.
It is pretty astonishing the number of sophomores who possess ideal size for their spot on the floor along with developed ball skills early on.
Prospects like Zion Williamson, Isaiah Mucius, Khavon Moore, Jaedon LeDee, Cam Reddish, and Jairus Hamilton all stand 6-foot-6 and above and are more than comfortable playing on the perimeter as they can facilitate their team's half-court offense, score it on the hard drive and finish, but also hit long distance attempts with room and time given.
While the pride of the class will come in the frontcourt, the backcourt options may bring up some issues. Due to the current lacking depth of star power up top, expect for many of the lead and combo guard types to be pursued early on.
The point guard position seems to always be the most prioritized position early on in any given recruiting class and once coaches begin to understand that depth just isn't there with this crop, there may be quicker commitments occurring from some of the better guards within the 2018 class.
Lastly, there is only one commitment within our top-40 at this time, that coming from Jontay Porter, a 6-foot-9 big man out of Father Tolton in Missouri, who has already verballed to the University of Washington. However, Rechon Black, a 6-foot-7 guard out of North Carolina, will be making his own commitment on Friday as it seems that UNC has the best shot at landing his talents. 
| | | | |
| --- | --- | --- | --- |
| Player | Position | City, State | High School |
| Bol Bol | PF | Roeland Park, KS | Bishop Miege |
| Brandon Johns | PF | East Lansing, MI | East Lansing |
| Brandon Slater | SF | Fairfax, VA | Paul VI |
| Cameron Reddish | SF | Philadelphia, PA | Westtown |
| Carte'Are Gordon | PF | St. Louis, MO | St. John Vianney |
| Connor Vanover | C | Little Rock, AR | Arkansas Baptist |
| EJ Montgomery | PF | Fort Pierce, FL | Montverde |
| Elijah Hardy | PG | Oakland, CA | Bishop O'Dowd |
| Elijah Weaver | PG | Cocoa, FL | Oldsmar Christian |
| Ethan Henderson | PF | Little Rock, AR | Parkview |
| Gerald Liddell | SF | Cibilo, TX | Steele |
| Immanuel Quickley | PG | Baltimrore, MD | John Carroll |
| Isaiah Mucius | SF | Brooklyn, NY | St. James School |
| J'Raan Brooks | PF | Seattle, WA | Garfield |
| Jaedon LeDee | SF | Houston, TX | Kinkaid School |
| Jairus Hamilton | SF | Concord, NC | Cannon School |
| Jalen Smith | PF | Baltimore, MD | Mount St. Joseph |
| Jamie Lewis | PG | Atlanta, GA | Westlake |
| JaVonni Bickham | PF | New Hope, MN | Minnehaha Academy |
| Javonte Smart | PG | Baton Rouge, LA | Scotlandville |
| Jontay Porter | PF | Columbia, MO | Father Tolton |
| Jordan Brown | PF | Roseville, CA | Woodcreek |
| Jordan McCabe | PG | Kaukauna, WI | Kaukauna |
| Kamaka Hepa | PF | Barrow, AK | Barrow |
| Keldon Johnson | SF | South Hill, VA | Park View |
| Kezo Brown | PG | Chicago, IL | Simeon |
| Khavon Moore | SF | Macon, GA | Westside |
| KJ Hymes | PF | Phoenix, AZ | St. Mary's |
| Lou King | SF | Roselle, NJ | Pope John XXIII |
| Marvin Bagley III | PF | Phoenix, AZ | Sierra Canyon |
| Miles Norris | PF | Chula Vista, CA | Mater Dei |
| Nazreon Reid | PF | Roselle, NJ | Roselle Catholic |
| Noah Locke | SG | Owings Mills, MD | McDonogh School |
| Rechon Black | SG | Concord, NC | Concord |
| Robert Woodard | SF | Columbus, MS | Columbus |
| Romeo Langford | SG | New Albany, IN | New Albany |
| Shareef O'Neal | SF | Los Angeles, CA | Windward School |
| Silvio DeSousa | PF | Angola | Montverde |
| Simi Shittu | PF | Ontario, CAN | Montverde |
| Tyler Herro | SG | Greenfield, WI | Whitnall |
| Zion Williamson | SF | Spartanburg, SC | Spartanburg Day |