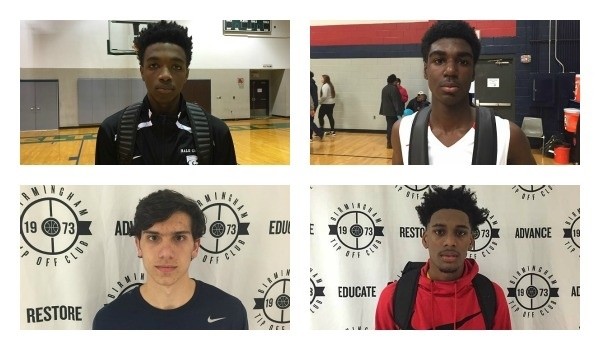 I'm a big fan of December basketball. With numerous holiday tournaments in a variety of different places, Alabama basketball is at its best during Christmas time. Here's five things that distanced themselves from the rest in a very, very busy month of basketball.
JAVIEN WILLIAMS IS A TOP-100 CALIBER GUY
In a span of four months, 2016 Woodlawn (AL) shooting guard Javien Williams went from practically unknown in the state of Alabama to a priority recruit for several college programs in the Southeast. The UAB signee now finds himself as the No. 2 overall prospect in our 2016 Alabama rankings, but he is proving he is worthy of national top-100 consideration during his senior campaign.
Williams was the best and most entertaining player at the Steel City Invitational before Christmas – and honestly, it wasn't really close. He stole the show with a couple of big performances, including a 36-point performance against J.O. Johnson and a 34-point performance against Mountain Brook.
The 6-foot-4 wing man is an electric scorer, as he showed on the AAU circuit with the Birmingham Storm. Williams' uber-athleticism has always been his calling, but there is so much untapped potential. He has a knack for finishing at the rim with contact and his shooting is becoming more consistent from the perimeter. UAB got a steal with Williams, and, there's no doubt, he's a high-major talent that needs to be considered in any national rankings going forward.
HOMEWOOD PROVES THEY ARE CONTENDERS
Coming into the Steel City Invitational, no one had Homewood making a run and winning the tournament. And if you thought the Patriots would make it that far, well, you're probably lying. In fact, many (myself included) didn't think they would make it past Madison Academy in the first day of action.
Nevertheless, Homewood proved everyone wrong, as they went on to defeat perennial state powers Madison Academy, Sacred Heart, and J.O. Johnson to emerge victorious. They proved they belong in the conversation as one of the top teams in the state, as well as a strong contender for a state championship in 6A play.
Homewood has just about everything you look for in a possible state championship team. They have a prove point guard in senior sparkplug Austin Patterson; they have a post player to man the paint in 2018 power forward Trey Jemison; they have a star coming into his own with 2017 wing Luke Touliatos; and last but not least, they have a helluva coach in Tim Shepler, who does as good as anyone in the state at preparing his team for the next game at hand.
When the playoffs start in early February, expect Homewood to be considered one of the favorites to win the 6A state title. They've earned that recognition.
HERB JONES IS REALLY, REALLY GOOD
Since the fall, I've had numerous people tell me I needed to go see 2017 Hale County (AL) guard Herb Jones play. Making the two-hour trip to see him in Tuscaloosa didn't disappoint, to say the least.
Having grown to 6-foot-6, Jones truly is a unique prospect at this point in his development. He is a long, wiry, versatile wing that can play anywhere from the 1-4 at the high school level. The junior has athleticism and a superb skill-set. However, what sets him apart is his high IQ. Jones is a cerebral player that seems to glide through the game. Hardly ever does he seem to be rushed or disrupted from his pace and game. The scary thing about Jones? He's just getting started. This kid has a chance to be really, really good. When it's all said and done, he could be one of the top three prospects in Alabama's loaded 2017 class. It's easy to see why Alabama, Auburn, and UAB are fighting to keep him in-state.
SACRED HEART HAS THE BEST BACKCOURT IN ALABAMA
Up until a few weeks ago, I vastly undervalued the guard play for Sacred Heart, a 1A power from Anniston. However, during the Steel City Invitational, the junior backcourt of D.J. Heath and Kevion Nolan, along with some help from Diante Wood, proved they are the best set of guards the state has to offer.
Heath exudes toughness and a fearless attitude and he sets the tone for his team. Nolan, a more polished shooter and scorer, can hit shots and score from anywhere on the floor. Together, they complement each other very well and create a formidable perimeter force for Sacred Heart.
Heath and Nolan helped lead Sacred Heart to huge wins over Bessemer City, Spain Park, and Mountain Brook in December. Not only did the duo prove they are the best backcourt, but the team also proved it is deserving of being considered one of the top teams in Alabama, regardless of class.
KIRA LEWIS WILL BE ONE OF THE BEST 2019 PROSPECTS IN THE SOUTHEAST
Freshman Trendon Watford is not only the top 2019 prospect in Alabama, but in the country as well. That's been obvious for the past few years. However, it doesn't mean he's the only young gem the state has to offer. 2019 Hazel Green (AL) combo guard Kira Lewis has had a productive start to his high school career, leading the Trojans in scoring and being one of the focal points on offense. He introduced himself to the state at the Huntsville Times Classic following Christmas.
It's refreshing to watch a kid like Lewis play. The 6-foot-2 guard is wise beyond his years and plays like a seasoned veteran. He understands the game thoroughly and makes the right play each time out. It's not surprising that programs like Murray State and Alabama are beginning to get involved early. He has a special combination of skills and IQ that make him appealing to all basketball fans - and, more importantly, college coaches.
I haven't seen a lot of freshmen better than Lewis this season. I'm confident in saying Watford is the only prospect better than him within the state's borders. And I'll also say he will be a priority recruit for many high-major programs in the next few years, as he will be one of the best guard prospects in the Southeast.