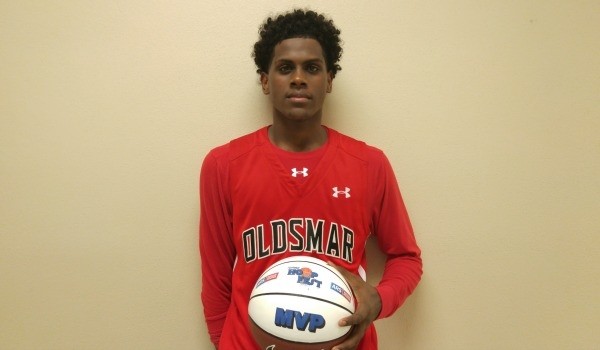 The Berkeley Prep National Hoopfest brought in some of the best high school programs throughout the Sunshine State over the weekend in Tampa, Florida. There were a variety of already committed seniors that laced up their shoes but there were a few others that really enhanced their own respective resumes. While Troy Baxter, Loren Jackson Jr., and Thomas Dziagwa each shined, it was the likes of Tyson Ward, Jerome Merritt, and Elijah Weaver that broke out.
JEROME MERRITT, SF, OLDSMAR CHRISTIAN, 2016: The fact that Merritt boasts just one offer at this time is somewhat despicable. The 6-foot-5 forward epitomizes what it means to be a winner. What might that be? Someone who gets on the floor for every loose ball, is willing to and capable of defending the opposing unit's best offensive weapon, and scoring it whenever he may have to. Finishing with 18 points and six rebounds on Saturday in the comeback win over Tampa Catholic, Merritt was the catalyst for his bunch which pitted several four and five-star players against each other. With a lone visit set up to UNC-Greensboro at the end of February, Merritt walked off the Berkeley Prep floor having impressed many in attendance with his grit, toughness, and consistent approach.
TYSON WARD, SG, TAMPA PREP, 2016: Just like Merritt, the recruitment out of the 6-foot-4, wiry and skilled wing, is very lacking. While he has yet to really grow into his body just yet, Ward makes up for it with his deceptive ball skills within the half-court setting along with his feel and intellect with the ball in his hands. He can create for others off the perimeter, nail the catch and shoot jumper from deep, but also convert on crafty post moves in the lane. With a possible growth spurt in the horizon, regardless if the Tampa Prep wing will grow or not, Ward is a producer and unafraid of whomever he's put up against. On Friday, he finished an assist shy of a triple-double; the follow night, despite the lopsided defeat against the ultra-talented Montverde bunch, Ward still competed and scored the ball in various ways.
MAYAN KIIR, PF, VICTORY ROCK PREP, 2017: A relative unknown outside of the state of Florida, the Australian import showed off the ability to impact a game in a variety of ways. Albeit on the more slender side, Kiir definitely doesn't lack toughness or a low-post game. His counter moves and the ability to score over either shoulder is more than polished as he uses his pivot extremely well in creating angles to the basket prior the lay-in attempt. A monster motor guy, Kiir exchanges ends with the best of them and is a major pest on the offensive glass and in protecting his own basket as a shot blocker. He failed to display much of a face-up jumper but with programs like Louisville and Long Beach State involved, it would seem that Kiir's stock will explode that much more this coming spring on the travel circuit once greater eyes are placed onto him.
KEVIN KNOX, F, TAMPA CATHOLIC, 2017: How does an already top-10 ranked prospect boost his stock further? By displaying consistent developments and progressions within his set of balls skills on the perimeter. This past summer, the stock boosting junior was known for his bouncy body-type and motor whenever the game sped up. However, flash forward to the current moment and what Knox can do with the basketball from 22-feet and in is mind-boggling. Knox has developed overnight as he is now more of a skill guy who can create for himself on the breakdown and rattled in several pull-up jumpers throughout his two-contest weekend. While he did settle at times, whenever he was feeling it, Knox was dominant. Finishing with 23 points and 16 rebounds in his first outing, then following it up with 30 point and 10 rebounds in his last, Knox is an elite prospect nationally and thus the reasoning for why programs such as Kansas, LSU, Syracuse, Duke, Florida State, and UNC are all heavily involved.
ELIJAH WEAVER, PG, OLDSMAR CHRISTIAN, 2018: While it is still some time away before a college commitment takes place, get ready to hear much more about the 6-foot-5 lead guard. Sporting ideal length that any football coach at the FBS level would love to acquire in the coming years, Weaver has focused all of his attention to the hardwood. The lefty has an elite feel for the game along with an elite burst on the crossover and blow-by move. More of a facilitator for his very talented and star-studded bunch, Weaver is great within the dribble-drive as he can rack up several assists quickly on the kick-out pass. However, whenever the moment presents itself just as it did Saturday afternoon, Weaver can be the lead guy to win a game for you. He made the game-winning basket with 17-seconds left in regulation before clinching the contest with a made foul-shot. Put it all together and Weaver is a sure-fire, five-star prospect in 2018 and quite possibly, the best guard nationally within his class.