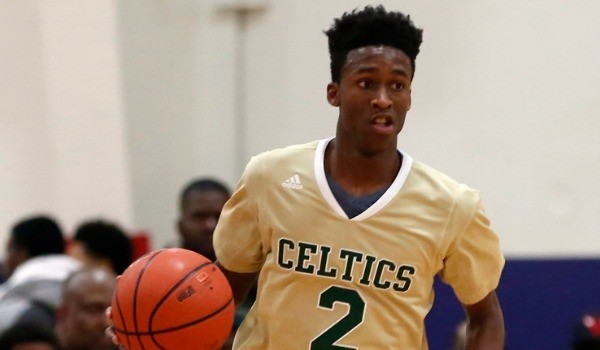 With the high school in full force, we wanted to take a big picture look at the top unsigned players in the state of Georgia. Who are the three best unsigned players in the state of Georgia? Justin Young looks at the top trio in the Peach State in today's 3@3.
Kobi Simmons, St. Francis. Simmons recently became the all-time leading scorer at St. Francis. With Dave Rice now out at UNLV, it will be interesting to see what happens with Simmons and the Rebels moving forward. Ohio State still remains in the race and, according to Simmons's step father, UNLV remains an intriguing spot because of the names that are currently being considered for the job. But could Simmons go to a school that isn't even in the conversation right now? Absolutely. Ohio State and UNLV have been the most consistent to date. Arizona and Michigan have expressed an interest in recruiting Simmons but have not been down to see him this high school season.
Aaron Augustin, Miller Grove. Playing his last high school season at a new school, the speedy point guard hasn't had any trouble of finding his way with one of the best programs in the country. Augustin is playing well alongside UConn bound Alterique Gilbert. The former Peachtree Ridge floor general is one of the best in the state when it comes to assists per game, putting up 8.6 a contest. The one-time East Tennessee State commitment is having a great year as a lead guard and should be actively recruited by mid-majors. The recruiting interest has been quite varied this year. Iowa State and Ole Miss have dabbled while UNC Wilmington, Tennessee Tech, Wofford, Mercer and Boston are involved. The plan is to play the season out and see what the options are once the college season is over.
Will Jerrell, Crawford County: If you like gaudy numbers, then the 6-foot-4 guard is your guy. Jerrell has his Class AA runner-up at 13-1 on the season and averaging 26.3 points, 12.6 rebounds, 8.7 assists, 5.7 steals and 4.3 blocks a game, according to MaxPreps. There is no denying his production. We've seen it first hand for the last three seasons. Jerrell should be a major priority for the elite junior college programs in the country. He's a high-major prospect in waiting.