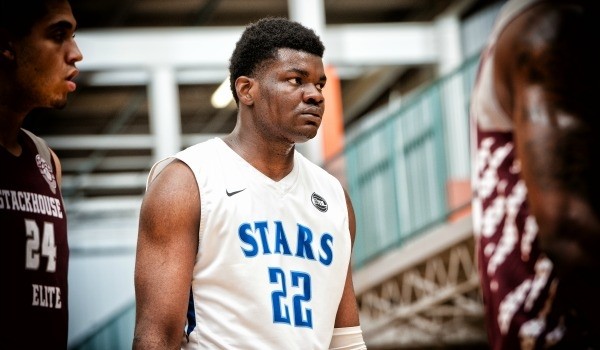 While the winter months get colder and colder up north, some of the best uncommitted seniors see their recruitments heat up more and more. Down in Florida, talent is never lacking and while the late signing period is just three months away, there are still quality prospects left on the board that could leave an immediate imprint on any given program. Today, Corey Evans gives his look at the top trio in the Sunshine State in today's 3@3.
Udoka Azubuike, Potters House Christian: Where to begin with Azubuike? There has been whispers for some time now that a commitment could take place with the big man out of Potters House but it does seem like the inevitable is about to occur. Down to a final four of Kansas, UNC, Florida State, and NC State, it feels as if Azubuike will play out his college ball for the Seminoles or the Jayhawks, with the Tar Heels being the dark horse candidate. The 6-foot-9 big man, who is one of the best uncommitted seniors still left on the board, clogs the lane on the defensive end and is an efficient finisher around the cup. Whether it is on his go-to hook over his left shoulder or two-handed power jams off of both feet, they sure don't make them the size of the Nigerian, or with the physicality tenacity of him, which clearly shows that Azubuike will be an immediate producer wherever he calls home within the coming weeks.
Bruno Fernando, Montverde Academy: What a year it has been for Fernando! The big man, by way of Angola, came over to the United States last January and now fully settled at his home in Florida, has quickly become a prioritized recruit this winter. While he was thought of as a bully and physical intimidator down low, Fernando has quickly developed a back to the basket game. He has a quality hook shot that he can convert within traffic over his left shoulder and doesn't leave too many left over at the foul line, a place that he gets to in heavy amounts. A walking double-double guy each time he hits the hardwood, the 6-foot-9 center is far from a college commitment. Programs ranging from UCF, SMU, Marquette, Florida State, Alabama, and LSU, along with several others, are heavily involved, but there is a chance that Fernando could opt for another year of prep play, that is if he can fully qualify for collegiate play next fall.
Darius Allen, Chaminade-Madonna College Prep: Quite possibly the most explosive athlete on the hardwood in all of America, Allen remains open with the college recruitment process and while things were on the uptick running with Team MOAM on the travel circuit this past summer, his stock is beginning to gain further traction. Grades may be the question mark surrounding Allen but what isn't is the 6-foot-5 wing's ability to finish on the break with highlight dunks that place his chin above the basketball hoop. Beyond that, Allen has developed a nifty set of handles that he uses on the breakdown and incorporates his solid feel for the game where he can distribute off the deck. Throw in his versatile defensive prowess and with offers in hand from FAU and FIU, expect for some of the high-majors throughout the region to get involved with the elite athlete this winter and spring.