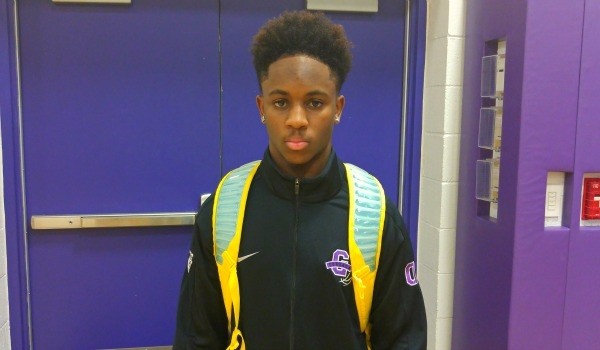 There are always heavy amounts of talent in any given recruiting class throughout the Washington DC area and this past weekend, three quality events were put on bringing this talent into three gymnasiums. The Bullis School Tournament, Gonzaga DC Classic, and the National Hoops Festival, each brought in the best of the best from the area and even a few from outside of the Capital. Now that we have time to decompress, there were three vital things that stood out the most but none more than what I saw Sunday morning.
FUTURE OF THE  DMV RESIDES IN LAUREL, MARYLAND
Heading into Sunday morning, I was still reeling off of the unbelievable contest that I took in the prior night when API defeated Paul VI at the buzzer by way of Mark Vital's buzzer beating dunk. I didn't think I would be swayed off of my position that that exact moment would be the highlight of the weekend. I stood corrected the next morning after getting a glimpse of Karim Coulibaly.
A freshman big man at St. Vincent Pallotti, there was practically nothing known about the native of Mali heading into my viewing of him. However, what I saw from the basketball adolescent was nothing short of remarkable. The 6-foot-9 center scored on jump hook moves over either shoulder, rebounded the ball on both ends, knocked down a pick and pop perimeter jumper, and was cool and confident in icing the game as he swished two free throws in the overtime session. We did our best to summarize Coulibaly in an earlier article but that still wasn't enough; this kid is special. The Pallotti freshman is the future of the DMV region and is someone that will be coveted by some of the best programs nationally. Miami, George Washington, and Penn State all took in his team's win on Sunday morning; no offers have been given just yet, but that will definitely all change and in a rampant pace within the coming weeks and months…be warned!
JUNIOR POINT GUARDS AREN'T LACKING
If you're a fan of a high-major program and they are in need of a lead guard late in the 2016 recruiting cycle, well then, good luck! There is a giant dearth of available high-level floor generals within the senior class but for those who are in need for a point guard 2017, then the DC area was the place to be this weekend.
On Friday evening and at the Gonzaga DC Classic, Chris Lykes cemented himself as a high-major prospect. While he is just 5-foot-7, the dynamic lead guard doesn't relent against any sort of physicality, can score it, pass it, and defend, and is an alpha type at the point guard position. The host bunch's star guard wasn't the only one showcasing his talents at Gonzaga College High as Good Counsel's Cam Norman and St. Raymond's floor general Isaiah Washington both displayed plenty of upside at the lead spot at the next level.
The rest of the weekend solidified this standing that the 2017 crop looks pretty promising. It would be difficult to leave out the top guard prospect within the junior class in Trevon Duval who, while he didn't have the best of weekends, still displayed why his stock is so immense. Joining him and cementing their cases as quality college prospects at the point guard spot was Paul VI junior Aaron Thompson and Bishop McNamara point man Jamir Moultrie, both of whom hold a handful of high-major offers and are becoming prioritized by those who have already dished one out to each.
2016 COLLEGE BASKETBALL SEASON IS ALREADY ENTICING
There is a lot of talk lately about the lacking amount of elite teams this year within the college realm. Sure, Kentucky, Kansas, UNC, Iowa State, and Michigan State all look to have solid chances of making their way to Houston in April, but compared to last season, there isn't a standout bunch. Some believe that this is so because of the less heralded freshmen crop compared to the previous year, a group that sent off such stars as Jahlil Okafor, Karl Anthony-Towns, Justice Winslow, and Stanley Johnson to the NBA following their one and done campaigns. I am here to say that next college season will be quite the year of top shelf talent brought to you by the outgoing senior class of high school recruits.
This past weekend, some of the more heralded prospects throughout the 2016 class all threw up quality numbers on the stat sheet and further provided insight on just how immense their basketball ceilings are. Sacha Killeya-Jones, a Kentucky signee, was very efficient from the field and put together a 25 point and 13 rebounds outing in an overtime win. Mark Vital wasn't all too great but he still was the guy that helped his squad secure the W with a tip-in dunk at the buzzer. Terrance Ferguson, one of the best two-way guys around, hit on six 3-pointers on his way to 27 points. That losing bunch from Paul VI has its own senior stars as VJ King, a Louisville signee, put up 26 points on the scoreboard while Pitt signee Corey Manigault completed his evening with a 15 point and 10 rebound affair. To top it all off, Markelle Fultz, a top-10 guard out of DeMatha Catholic, once again displayed why he has yet to scratch the surface of how good that he can be as he finished with a complete stat line and continues to prove the idea that he can be a lead guard next year at the University of Washington.
Sure, there is a lot of buzz about the younger crop throughout the DMV, yet things still begin and end with the current 2016 class and this past weekend in the District of Columbia cemented the standing that the senior group of prospects is star studded, deep, and chock full of highly potent prospects that can be seen as potential NBA guys in the coming years and should immediately impact the college realm next season.