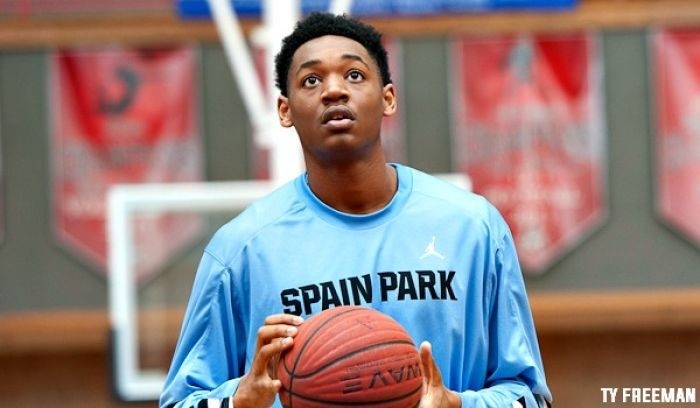 Tuesday night, a pair of 2017 top 50 big men took the floor against each other in Birmingham, as Austin Wiley and Spain Park welcomed Alex Reese and Pelham. Despite the Jaguars winning convincingly 73-51, the HoopSeen staff saw some good things during the game.
Here are three takeaways from last night's action…
1. Wiley and Reese are really, really good at what they do. Duh, right? Both Wiley and Reese are extremely talented and they are great at what they do, but they are beginning to thrive in their roles. Wiley, an Auburn commit, is more-suited as a traditional 5 man that patrols and controls the paint – and he does exactly that. The 6-foot-11 big man did a great job of clogging the lane and protecting the rim last night. He rebounds at a high rate and is strong around the rim. Wiley finished the game with 21 points and 10 rebounds.
On the other hand, Reese, at 6-foot-8, is a little different with his game. He is perfect at playing the role of a face-up, stretch 4 man, and he displayed that Tuesday evening. The talented junior scored the ball in a variety of ways around the rim en route to a game-high 31 points for Pelham. In the past, Reese has been criticized for floating around the perimeter and shooting too many 3s. Well, it's safe to say that wasn't the case last night. He did a great job of attacking the rim and using his craftiness to finish. Reese's biggest part of the game was the beginning of the 3rd quarter, when he came out on a strong 6-0 run of his own. He doesn't always show that fire to him, but it was nice to see, especially in a big matchup like this.
2. Jamal Johnson has value all over the floor. Last night was far from the best I have seen Johnson. The junior couldn't get his shot to fall for the majority of the game, but, nevertheless, he made a big impact on the game's outcome. At 6-foot-4, Johnson is a big guard who can do a variety of things. He showed that Tuesday, as he finished with a triple-double in the official stats. When he is hitting shots, Johnson is a talented scorer, but he impacts every facet of the game each time out. He has the size and length to rebound with bigger players, and his vision and passing ability is quickly becoming a strength of his game. Johnson's shot was falling, so he made it a priority to get to the free-throw line. Once he got in a rhythm from there, a couple of shots fell at the end of the game.
3. Spain Park's role players were the most impressive players on the floor. Wiley, Reese, and Johnson all received a lot of the spotlight heading into this big matchup – and rightfully so – but two guys in the backseat shined for Spain Park. Parker Boswell, a freshman point guard, impressed with his high IQ and passing ability. Despite being young, he controlled the game very well for the Jaguars and played above his age. We don't rank freshmen, but when the first 2019 rankings come out in a few years, it's safe to say Boswell will find himself on the list. Justin Brown, a senior forward, also impressed with his toughness and strength. Brown had the duty of guarding Reese, and he did a solid job in the first half. However, it's tough to contain the talented big man for too long. Brown proved himself as a viable Division II or JUCO option. He is one college coaches will want to keep tabs on.