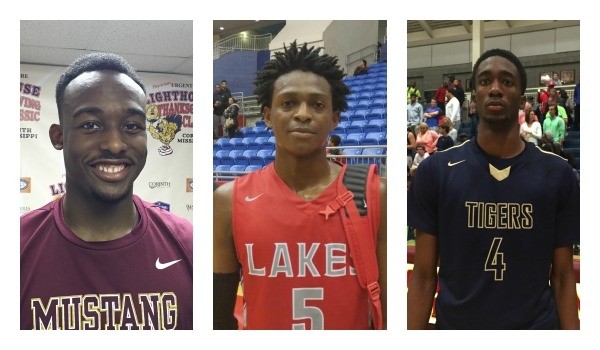 The HoopSeen team was out and about this past weekend and while most were still hung over a bit from eating too much turkey and stuffing, our squad made its way out to Mississippi, Georgia, and Texas. Covering the Lighthouse Classic, Holiday Hoopsgiving, and the Thanksgiving Hoopfest, we asked each of our panel about the primary takeaways throughout their few days on the road.
What power conference commitment was the most impressive this past weekend?
Carter Wilson: The most impressive power conference commit at Holiday Hoopsgiving was Brandon Robinson, who is headed to North Carolina. He scored the ball in a variety of ways en route to a 33-point performance. I see him fitting in at North Carolina with his versatility and ability to shoot the basketball. Over the course of his career he will likely see time at both the 2 and the 3 spots and Roy Williams will work to get him open looks on the perimeter.
Garrett Tucker: Josh Langford was fantastic on Saturday at the Lighthouse Classic, but no one had a more consistent weekend than Oklahoma State commit Lindy Waters. On a Sunrise Christian (KS) team stacked with talent, Waters is the go-to guy – and the best player on the floor, in my opinion. He can play the 1-3 with his size, ball-handling, and shooting ability. After this weekend, I can say this kid can play anywhere in the country. Oklahoma State is losing some key backcourt guys, so Waters should be able to come right in and make an impact from Day 1. The 6-foot-6 wing isn't just a shooter, but he has the versatility and IQ to play multiple positions and be a valuable asset to any team he is a part of.
Corey Evans: Sure, guys like Harrison Henderson (USC), JJ Caldwell (Texas A&M), and Cameron McGriff (Oklahoma State) all shined at times, but De'Aaron Fox was the guy. The top lead guard in America was his typical self. He scored the ball at the basket on hard slices, defended the basketball with a vengeance, and as usual, closed out the game in perfect fashion. He did settle a bit for the perimeter jumper but whenever the more crucial moments presented themselves to the future Kentucky Wildcat, Fox shined brightly, thus his top-three ranking without our HoopSeen 2016 rankings.
What non-power conference commitment was the most impressive this past weekend?
CW: Furman commit Jordan Lyons went head to head in a matchup with the previously mentioned Brandon Robinson, and matched him stride for stride. Lyons makes his living as a shooter, but he is becoming a very complete scorer with the ability to score from all three levels. Of course I see him fitting in with the Paladins as a scorer and a shooter. He will immediately provide a scoring presence from the perimeter shooting the ball. I think having a college-ready body will also help him score when he gets into the paint as well.
GT: This was a tough one for me, but I have to go with 2016 Hamilton Heights (TN) forward Ezekiel Balogun, who will suit up for The Citadel next year. The 6-foot-5 forward is physical and does all the little things a team needs to win. He has the ability to play both inside and out, and with his toughness and strength, he looks like a perfect player for a military school. The Citadel is getting a high-motor athlete that can impact both ends of the floor with his rebounding and athletic ability.
CE: I am going to cheat here a bit and go with the play from two different ballplayers. However, these two are twin brothers as Kalob and Jacob Ledoux of Lafayette Christian Academy was quite the tandem playing alongside Greg Williams and a cupboard of talented prospects for the Louisiana bunch. Both committed and signed for McNeese State, the Southland squad got quite the duo where each bring great size to the perimeter standing at 6-foot-4, can play make and create for both themselves and others in the half-court setting, and can score the ball in a variety of ways. Add it all up and while the signing of the Ledoux brothers didn't receive a ton of attention, the Louisiana natives definitely have a chance to leave a quality impression early on for the Cowboys.
Outside of the two commitments mentioned, who had the best showing over the weekend?
CW: IMG Academy (FL) sophomore Emmitt Williams was very impressive in both of his showings at Holiday Hoopsgiving. He is a monster on the glass and an athletic freak. He plays the game with endless motor and has an offensive game that is developing at a rapid pace. He is a very fun player to watch. At the event, he earned offers from Vanderbilt and Florida State, adding offers to a list that already included Louisville and LSU.
GT: Lindy Waters was great for Sunrise, but 2016 shooting guard Bryan Trimble may have been equally good, if not better. The 6-foot-3 wing provided another scoring punch for Sunrise. He is built like a football player and did a lot of slashing toward the rim, but he also kept the defense honest with his shooting ability. He knocked down several 3s in both games Friday and Saturday. Right now, Trimble looks like a mid-major plus type guy. UMKC is his only offer right now, but Missouri, Nebraska, and a few other schools are showing interest. His recruitment could see a spike over the next few weeks, though, as he is contemplating doing a postgrad year and moving to the Class of 2017.
CE: How can I not go with Trae Young? The 6-foot-1 lead guard was sensational all weekend long. He averaged over 38 points per game in his two outings and showed development with his decision-making, strength and size, and ball skills at the point guard position. Known mainly as an assassin by way of his quality deep ball, Young not only hit numerous long distance attempts, but was a lot more productive in finishing in the lane off the soft-floater and in making the appropriate pass off the high ball screen. Now down to a final list of eleven schools, programs like Kansas, Duke, Kentucky, and Texas all look to be in solid footing in landing the well-rounded and well-groomed lead guard out of Oklahoma.
Who was the biggest breakout of the event that opened some eyes with his play?
CW: I really liked what I saw from Greenforest (GA) forward Baybe Iyiola. He has been known in Georgia as a player that plays hard and gets his points from effort and offensive rebounds. However, at Holiday Hoopsgiving, he showed a great offensive skill set and ability to score the ball. He had a variety of moves on the block and in the mid post to get to the rim or get an open look in the mid-range, and even showed that he cannot be left alone from the three point line, hitting a couple of perimeter shots. With this skill set and his size and high energy style, high majors may want to give him a look.
GT: I really liked what I saw from 2017 Callaway (MS) forward Kassim Nicholson. The 6-foot-6 junior is one of the top options for Callaway now that Malik Newman is in college. He still has some work to do in filling out his game, but it's hard not to be intrigued by his play. He is a long, wiry point-forward type that can play the 1-4. In Callaway's two games, he was their best player. Jackson State is Nicholson's only offer to this point, but mid-major programs need to keep an eye on him going forward.
CE: Heading into the event in Texas, there was nothing known on my end about Alex Vilarino. However, his lone outing on Saturday morning in Duncanville was quite the productive affair. The 6-foot-1 lead guard is fairly athletic at the basket, can make jump shots from deep, and can make the appropriate play off the bounce. While he only carries offers from UC-Davis and New Hampshire, Vilarino is already qualified to play within the college realm next year and defines a sleeper prospect. He can provide immediate contributions at the most important spot on the floor next college basketball season due to his sturdy approach and playmaking skills off the bounce and I wouldn't be surprised to see and hear much more programs getting involved with the Texas native in the coming weeks.
What was the biggest takeaway from the event?
CW: The number one ranking that Wendell Carter has been given in the class of 2017 is well-earned. He is the best rebounder that I have ever covered, and throw in his diverse offensive skill set and his presence on the defensive end, and you're talking about a player who really doesn't have a glaring weakness in his game. He shot the ball from three, he put it on the floor, he scored on the block, he grabbed rebounds on both ends, and he blocks and alters a ton of shots. At 6-foot-10 and with that many diverse abilities, it is scary to think how good he can be.
GT: There are players everywhere in the rural South. A lot of people don't take the time to focus on Alabama, Arkansas, Mississippi, Louisiana, and Tennessee, but truth be told, you can find some talented players in the smallest places. Nicholson and 2017 Baldwyn (MS) wing Felix Hayes did a great job of showing that this weekend, as did several other prospects. The Lighthouse Classic does a great job of pulling in a nice mixture of top talent, as well as local under-the-radar talent.
CE: Andrew Jones is a beast. I was lucky enough to catch a glimpse of the lead guard last summer before he hit the major growth spurt that saw him jump from 6-feet tall and all the way up to 6-foot-4 now. Over the weekend, the MacArthur star was unbelievable going up against both Trae Young and De'Aaron Fox on consecutive nights. Jones hasn't stopped getting better and is an absolute killer in the backcourt. He made jump shots from a variety of spots, finished at the basket with highlight jams, and crashed the glass like a 6-foot-10 center. His numbers backed it all up and as he becomes more accustomed to the fact that he is 'the guy,' expect for him to step in at any of his final schools next year, which includes Texas, Baylor, SMU, Louisville, and Arizona, and immediately produce in more than just one way on the hardwood.
*Corey Evans (CE) attended the Thanksgiving Hoopfest in Duncanville, Texas
*Garrett Tucker (GT) attended the Lighthouse Classic in Corinth, Mississippi
*Carter Wilson (CW) attended the Holidays Hoopsgiving in Atlanta, Georgia