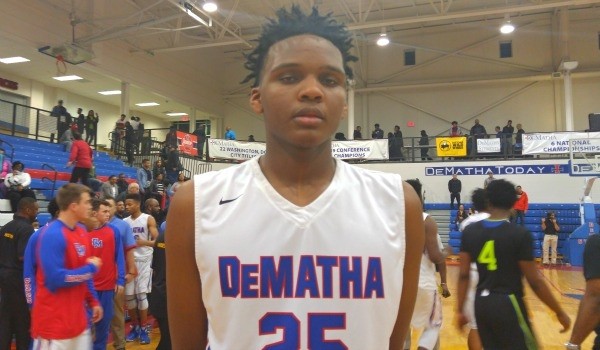 While much of the talk surrounding this year's DeMatha Catholic bunch is about five-star guards Markelle Fultz and DJ Harvey, it should be noted of the importance of its new big man. Josh Carlton, a 6-foot-9 center, was originally born in Silver Spring, Maryland, and has returned back home after spending a few years in North Carolina and immediately has provided a rim presence within the interior for the winning bunch out of Hyattsville.
With a very strong body and someone that runs the floor well, Carlton will never be described as an athletic and explosive ballplayer around the basket. However, his strength and toughness immediately sets the tone within the paint and because of it, causes for major issues when it comes to his opponents scoring from 15-feet and in.
Carlton, who will run with the Team Loaded Virginia bunch this summer alongside Aamir Simms, another top shelf 4-man who we profiled earlier this week, comes more in your throwback 5-man variety. He has great hands and touch around the basket and cleans his area well on the glass. Due to his strength and size, the recent import back into the DMV changes shots at the basket and does a fine job of fighting for his spot on the block.
Now lacing up his shoes for Mike Jones' squad at DeMatha, Carlton's recruiting is beginning to heat up some. "I just have two offers right now from Old Dominion and Penn State," the big man stated. "But I am starting to hear a lot more from Clemson, USC, West Virginia, and Georgetown."
Great accessibility will now be allotted to Carlton since the DMV region is such a hotbed for college coaches and playing at one of the more storied programs around, expect for the recruitment of the productive interior piece to really heat up entering his summer travel season this coming spring.