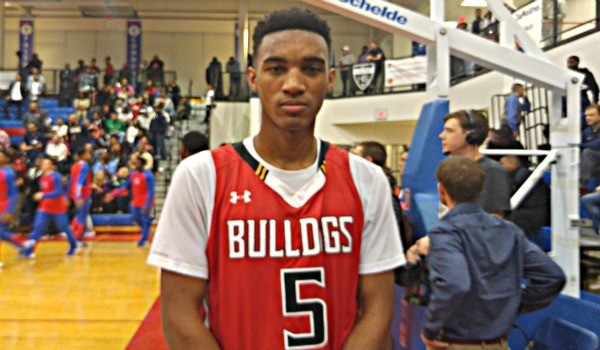 The National Hoops Festival, an annual event put on by Keith Stevens and the Team Takeover crew on the grounds of DeMatha Catholic High School, once again brought together some of the best high school teams throughout the DMV region, along with a few others from outside of its geographic niche. Several of the future stars of tomorrow showed what they had but it was the epic matchup between API and Paul VI that was the highlight of not just the day, but of the early high school season.
Down for extended portions of the game, Paul VI roared back to take the lead during the waning moments of its game against the Texas-based bunch as Aaron Thompson's toughness, Brandon Slater's shooting, and the production out of VJ King and Corey Manigault enabled for the local bunch to take the lead with just under five seconds off of a converted up and under lay-in by King. However, while it was definitely controversial, it sure didn't lack in the entertainment category whenever Billy Preston drove down the lane, left his runner short, only to be followed up by a two-handed dunk by Baylor commit Mark Vital. The game-winning putback definitely was made in time but the fact that the ball may still have been on the cylinder of the rim is up for debate. What isn't was just how high profile of a game it really was and some of the stat lines from the best prospects within it matched it, just the same.
Trevon Duval: Nine points and four assists
Terrance Ferguson: 27 points (10-17 from the field)
Billy Preston: 25 points and 12 rebounds (11-18 from the field)
Brandon Slater: 17 points (4-6 from 3-point range)
Corey Manigault: 15 points and 10 rebounds (six offensive)
Aaron Thompson: Eight points, three rebounds, six assists to just one turnover
VJ King: 26 points and six rebounds
STANDOUT STARS
BILLY PRESTON, PF, API, 2017: Where to begin with Billy Preston? The 6-foot-9 forward is such an unbelievable weapon with the basketball in his hands. He is already built like a bull as he can take any type of defender off the bounce and his finishing skills within the lane are as good as it might get for this stage of the game. While it would be nice to see the API star post up more in showing off just how difficult of a mismatch that he can be, you still have to respect the boatload of potential and deceptive ball skills out of the face-up forward. Preston converted on numerous side steps lay-ins and runners throughout the day. Add in his ability to clean the defensive glass and what the junior showcases is that he is one of the most consistent producers throughout the high school ranks which led to another 25 points and 12 rebound affair in the giant victory over Paul VI.
TERRANCE FERGUSON, SG/SF, API, 2016: Currently committed to Alabama but still having not signed yet, the 6-foot-6 wing was phenomenal all game long. While he has yet to really fill out and put on any sort of weight or muscle, Ferguson displayed high level abilities and on both ends of the basketball. Finishing with 27 points in all, the Texas native hit on five first half three-pointers and it was the work that he was doing in running off screens enabling for open opportunities for easier shots that impressed us the most. Throw in his defensive prowess on Louisville signee VJ King in the first half and whenever you hear NBA analysts speak about the importance of the 3-and-D wing, Ferguson fits the mold perfectly. He is an assassin from long range, a defensive maverick in shutting down the opposing bunch's best offensive weapon, and is a bouncy athlete at the basket, giving him one of the highest upsides out of anyone within the 2016 class.
NAJI MARSHALL, SF, ROOSEVELT HIGH SCHOOL, 2017: A wing with giant length and a physique that has put on over 15 pounds of muscle since the spring, Marshall's squad didn't come home with the win on Saturday morning, yet he still displayed great playmaking skills and upside on the hardwood. A graduating senior who will take a prep year next season at Hargrave Military Academy, Marshall is the epitome of a slashing scorer at the basket. He uses his length and quality first step extremely well in getting past the first line defender and has a nifty side step, jump stop, and two-handed finishing game already polished within his repertoire of abilities. While he does have to become much better in knocking down shots from the mid-range region on out, one still has to appreciate the depth of abilities that Marshall brings in scoring the basketball within the trees and also in defending various spots out on the perimeter and even in some cases, down low.
JAMIR MOULTRIE, G, BISHOP MCNAMARA HIGH SCHOOL, 2017: In his first full week back on the floor since the summer due to an injured wrist, Moultrie didn't start things off on a high note. His team did have the half-time lead but knocking down just one of his seven shot attempts from deep and failing to account for one assist didn't impress too many. However, the second half was a different story as the 6-foot guard got it going with his pure mid-range in knocking down a couple of intermediate pull-ups along with showcasing a very composed and balanced floater near the taller defenders surrounding the basket. Once the flow of the game got going, Moultrie also began to find his big men and shooters within the half-court setting but it is the competitive edge and toughness that the McNamara standout brings to the table that sets him apart from so many others and because of it, enables for crucial wins over and over again, something that he did once again on Saturday evening in Maryland.
BRANDON SLATER, SF, PAUL VI, 2018: Talk about rapid progressions…Brandon Slater has come such a far ways but in such a short time. A year ago at this time, Slater was used sporadically for his loaded Paul VI bunch off the bench and if he was lucky, he would receive more than just a few minutes in any given contest. Now, Slater could be seen as the second most reliable scoring option on his team and on Saturday evening, the sophomore started out with a bang by nailing three 3-point jumpers within the first four minutes of his game. What most impressed HoopSeen was Slater's willingness to bang around on the offensive glass, create for others in the lane, and show that he was unafraid of the biggest stage. Finishing with four made 3's in all and coming in the 3-and-D variety very similar to that of the already spoken about Terrance Ferguson, Slater tallied up 17 points but just off of eight shot attempts from the field.
PATRICK WILLIAMS, F, WEST CHARLOTTE HIGH SCHOOL, 2019: While he didn't start his lone outing this weekend out too well, he sure ended it with a bang. A 6-foot-4 forward with unbelievable length and utter toughness, Williams is far from a finished product. However, whenever it came the time to step up his game and show what he had, the Carolina native displayed a competitive edge to him in scraping and clawing for the 50-50 ball, defending various spots on the floor, and knocking down two crucial perimeter jumpers down the stretch. Still a ways away from touching his ceiling as a basketball prospect and player, Williams definitely will give it his all and while there is still little known of him on the college front, expect that all to change in the coming months and years as the West Charlotte freshman looks like a versatile forward in the frontcourt who might develop into a defensive weapon in guarding multiple spots all throughout the playing floor.
RECRUITING ROUND-UP
An elite forward in 2017, Billy Preston spoke on earlier visits to Maryland (Terps went four coaches deep for him and his teammate Trevon Duval) along with a potential trip to Arizona next weekend whenever his API squad travels off to the Hoop Hall West event; no one is standing out yet in his recruitment.
Eleanor Roosevelt star wing Naji Marshall mentioned offers from Manhattan, URI, Virginia Tech, UMass, and VCU, and while he has yet to take any visits lately, he does want to make it out to Virginia Tech and Xavier following the completion of his high school season.
A recent transfer into DeMatha Catholic, 6-foot-10 center Josh Carlton lists offers from Penn State and Old Dominion along with added interest from West Virginia, USC, Georgetown, and Clemson.
A sleeper out of the DMV who has no true position but is a competitive and productive forward, St. James junior Omar Habwe holds just two offers at the moment, these coming from Mount St. Mary's and VMI.
WHO'S IN THE CROWD?
It was a busy slate of college basketball action yesterday but there were still several handfuls of coaches in attendance including head coaches from Maryland and Towson, along with assistants from Vanderbilt, UAB, Baylor, Maryland, Georgetown, Mount St. Mary's, Miami, Towson, George Washington, Virginia, and Pitt.