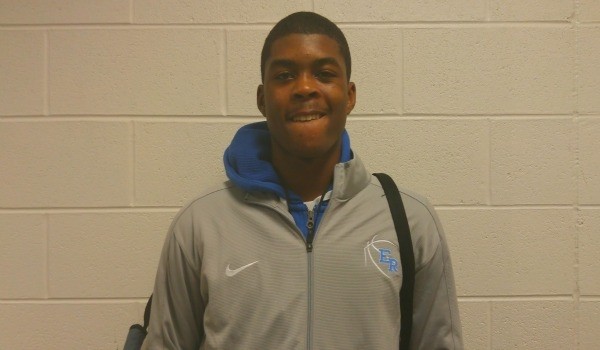 While his team went down in defeat on Saturday at the National Hoops Festival, Naji Marshall was still capable of displaying why he has become such a priority recruit as a member of the 2017 class. The Eleanor Roosevelt star, who will take a prep year next fall at Hargrave Military Academy, spoke with HoopSeen on Saturday about where things stand with his recruitment and what he is exactly looking for in a college setting.
Standing at over 6-foot-5, with great length, and a frame that has tacked on quality allotments of muscle mass, Marshall showed over the weekend that he is on the upward trajectory with things as a well-rounded ball player. Born and raised in Atlantic City, New Jersey, the product of the DC Premier travel program moved to the DMV region in the fifth grade.
On the hardwood, Marshall is best used as a playmaking wing that can create for others but flourishes on nifty drives to the basket before using a go-to jump stop move within the lane. From there, while he isn't the most athletic of ballplayers, Marshall is so crafty and long as he can convert in a variety of ways within the bigger defenders at the basket. A solid perimeter defender who can guard multiple spots on the floor, the two-way production out of the Roosevelt product is enticing, a primary reason for why so many college programs have gotten involved with him.
In speaking on his recruitment, Marshall gave insight on who has been in touch with him. "I am hearing a lot from Cincinnati, Memphis, WVU, Manhattan, Xavier, Virginia Tech, and Maryland," the slashing wing said. Of the programs that he mentioned, Manhattan and Virginia Tech are the two programs that have already offered, joining such others as Rhode Island, UMass, and VCU.
A variety of programs are now on board with him, yet there are two factors that Marshall is looking for in a school. "I mainly just want to get better and receive a good education," the DC Premier product told HoopSeen.
Headed to Hargrave Military next year upon the completion of his senior season, Marshall does have a few visits in mind. "I want to go to Virginia Tech and also Xavier after the season is over with," he said.
With a commitment still fairly far off in the distance, whenever he does hit a college hardwood, one should expect an immediate scorer off the bounce and a guy that will compete on both ends of the floor.