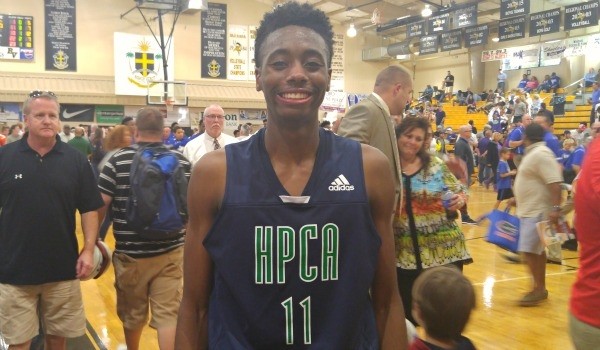 The High Point Christian bunch is a loaded crop of prospects that, for the most part, the talk surrounds Kentucky commit Bam Adebayo. However, there is a lot more to the highly talented squad than just the future SEC star as it boasts such others as Boston College signee Ty Graves and Coastal Carolina signee Amidou Bamba. However, it was junior guard Michael Hueitt that displayed some quality upside off the ball during his stay in Fort Myers this past week.
Standing over 6-foot-2 and with long arms, Hueitt competes with some toughness and grit. He doesn't give up on loose ball plays and has the length and instincts in getting involved for plays that most others off the perimeter fail to do. Where the Carolina native finds best fit is in hitting long distance jumpers, something that he did at a high rate against the Westerville South crew out of Ohio on Monday evening.
After converting on six of his 10 shot attempts from behind the arc, Huiett impressed not just with his points on the scoreboard, but also with the way that he scored his baskets. Whether it was coming off screens, hitting off of spot-up situations, or on fadeaway pull-ups from out to 20-feet, showcasing an elite stroke from downtown is always something that college coaches are hastily looking for.
Due to his consistent jumper and good energy levels in the backcourt, the recruiting end of the spectrum is beginning to pick up steam. "I have offers from Missouri, Clemson, Boston U, UNCG, James Madison, ODU, and Hampton," the High Point junior said. "I am also hearing from Louisville and Virginia and I might try and take a trip to Missouri soon."
With quality grades in the classroom and the dagger stroke that can put his squad over the top against some of the best competition nationally, just as it did on Monday evening, expect for the Carolina native, who runs with Team CP3 during the travel circuit, to blossom even further as a possible priority recruit from the Mid-Atlantic region.