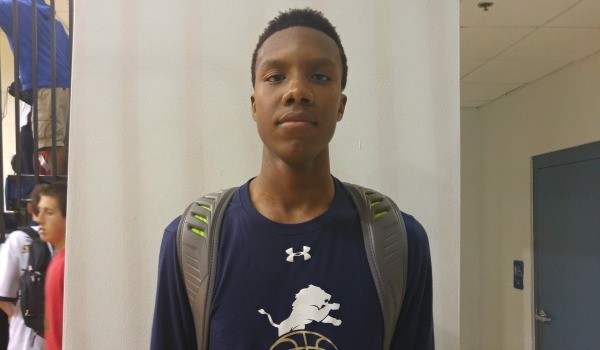 Now suiting up at Pope John XXIII in New Jersey, Lou King has taken the next step with his game. The 6-foot-7 forward continues to grow physically, yet has also broadened out his skillset as a perimeter based forward who can dabble in each major category on the final stat sheet. Due to this, the high upside forward has seen a major recruitment that many seniors would love to have.
After finishing up his freshman year at Roselle Catholic, King made the switch to Pope John XXIII and now teams up with his Sports U travel teammate Atiba Taylor for the Jersey based institution. He has grown over four inches within the past two years but remains tough and confident in all that he does.
A long bodied forward who gets up and down the floor with rather ease and is someone that can rebound the ball at a high rate, King is not short on athleticism at the basket as he can finish with either hand amidst contact. His jumper isn't much of an issue at the moment and while adding consistency to it couldn't hurt, the overall upside out of King is pretty impressive.
What stood out most about the sophomore during his time at the Kreul Classic this past week was in his ability to defend various spots on the floor but also his high level vision in facing the rim. More than a handful of times, King picked apart the opposing defense with accurate and timely passes that led to easy baskets for his teammates. While he recently added interest from UNC, King doesn't sure does lack an already quality recruitment. "I have offers from Syracuse, WVU, St. John's, SMU, VCU, Manhattan, Kansas, and Kansas State," the Pope John XXIII standout noted.
While there is still much time to go in the recruitment of King, one can be sure that if he continues on his current rate of development, that he should be able to pick from any of the programs that he might want to suit up for as a member of the 2018 graduating class.