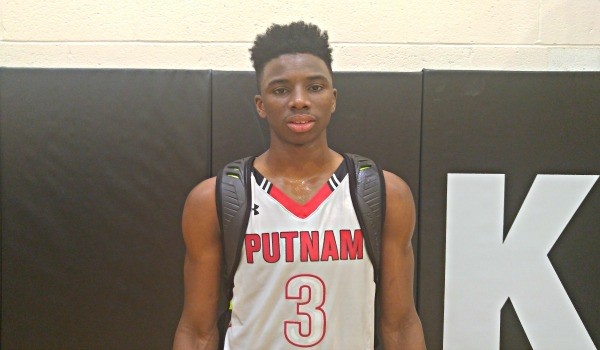 About 50-mimutes east of the city of Pittsburgh, four of the better prep programs nationally laced up their shoes this past weekend in The Kiski Classic. There were a few committed prospects and a few others that are doing their best to gain respectable notoriety before coming to a final decision within the coming months. A few stood out and further cemented themselves as top-100 recruits while others broke out from the abyss in becoming potential top-100 prospects within their own right.
HAMIDOU DIALLO, SG, PUTNAM SCIENCE ACADEMY, 2017: The current path of trajectory for Diallo is as good as it gets. The 6-foot-5 wing, maybe even 6-foot-6 now, was a lethal finisher on the break as the most vocal player on the floor is an effortless leaper and scorer at the basket with the powerful dunk. While he didn't show off much of a perimeter jumper throughout his contest on Sunday, Diallo did display underrated passing skills on the break and in finding his big man down low. There is a reason for why Kentucky head coach John Calipari and UConn head coach Kevin Ollie have been in recently for him and on Sunday, Diallo continued to cement himself as a top-15 recruit as he finished with 16 points and four rebounds while getting to the line eleven separate times.
MAMADOU DIARRA, PF/C, PUTNAM SCIENCE ACADEMY, 2016: We sometimes forget about prospects whenever they commit to a college program but it is a bit difficult to disregard the production that Mamadou Diarra brings to the hardwood. The least heralded UConn signee within this year's senior crop, the New York native will become one of the more heavy stat fillers during his days within the program. He is a monster finisher at the basket and while he may be 6-foot-8 on a good day, he displays pterodactyl-like length that he uses to finish, protect his basket, and lay a major dent in on the weakside glass. Finishing with a very efficient 14 points and 11 rebounds in the win over Elev8, fans of the AAC program need to be very excited about the immediate energy levels that Diarra will bring to Storrs next fall.
LEROY BUTTS, F, ELEV8, 2016: A former Rhode Island commitment, LeRoy Butts got back onto the floor for first time this weekend but was very effective in the frontcourt. While he is in between forward spots and isn't the quickest or most athletic of guys around, Butts' calling card is his ability to score in the lane. He has more of an old man's game from 15-feet and in as he can score on solid hooks over his right shoulder and on nifty turnaround jumpers from the high elbow region. A quality passer of the basketball with a good feel for the game who rarely every forces the issue, Butts is a solid rebounder out of either forward spot and with the constant need for frontcourt depth, expect for many more programs to jump back on board with the Elev8 senior.
SHAWNDALE JONES, PG, KISKI SCHOOL, 2017: While there is little known of Jones at this moment and no offers have been dished out to the reclassed junior just yet, it didn't stop the Pittsburgh native from displaying wide spread production on the floor. With broad shoulders and long arms, Jones has great breakdown abilities and while he isn't the quickest, Jones is very shifty in eluding the defender en route to the basket and then finishing through the added contact. He sees and controls the floor well within the half-court setting and showcases premier elevation on his mid-range jumper, though his outside converting abilities need a bit of work. A hidden gem out of western Pennsylvania, expect to hear much more about the Kiski School junior from here on out.
TAJ PRICE, PF, PHELPS SCHOOL, 2016: NJIT has made some major noise over the past year and a half on the college hardwood and the success on the scoreboard has now trickled down onto the recruiting trail. Taj Price, a long and mobile forward, signed with the Atlantic Sun bunch last month and looks to be an immediate minute getter next season. He plays hard from endline to endline, has great touch around the basket, can protect his basket from in and out of his area, and seems to be someone that can become a versatile defender of the ball when placed in high ball screen situations. He does have to get a bit stronger, yet Price doesn't lack toughness as he can score through contact and with more time given to develop his physique, the future NJIT forward should be a solid piece for Jim Engles' program the next few years.
JAKE FORRESTER, PF, KISKI SCHOOL, 2018: One hard-playing forward who posts hard down low on the block and is engaged on every loose ball and rebound opportunity, Jake Forrester displayed a wealth of upside during his time on the floor at Kiski on Sunday. While he isn't the most athletic of guys around, that doesn't affect the Pennsylvania native's ability in producing from 15-feet and in. He shows off major shades of Wake Forest star big man Devin Thomas within his arsenal as he passes the ball very well facing the basket, plays angles well on the block, has a solid turn and face jumper from the mid-range, and is a giant area rebounder of the ball. With a lone offer in hand from North Florida, Forrester has the capabilities to become a top-100 recruit within his respective recruiting class.