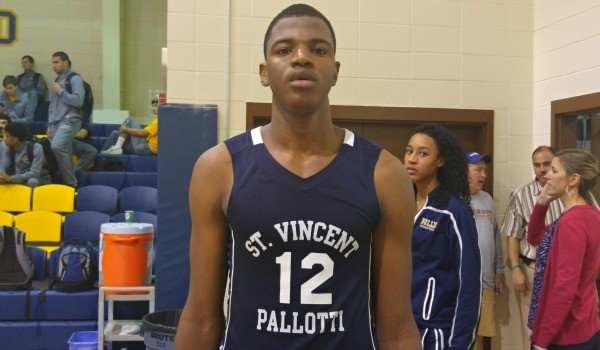 On a Sunday morning affair at the gymnasium at The Bullis School, the story began for a freshman big man with immense upside. Karim Coulibaly, a 6-foot-9 center from St. Vincent Pallotti, displayed all of the unique assets that any high major college coach might want out of a recruit in the coming years.
Born in Mali, Coulibaly, whose full name is Abdoul Karim Coulibaly, recently came over to the United States just 15 months ago. Growing up, basketball wasn't the go-to for the highly intriguing big man as soccer was the primary spot that the freshman had played. Three years ago though, the Pallotti star picked up the game of basketball and now it looks like a fairly smart decision on his part.
Getting a glance of what the productive big man does on the floor, the upside and potential out of him is tough to deny. The lefty is great at carving out his niche down low in receiving entry passes and in scoring on nifty spin moves in the lane prior to the soft lay-in within traffic. All game long, Coulibaly failed to score with his right hand until, with less than a minute to go in the game and with the contest on the line, the freshman star spun the opposite direction and hit on an off-handed hook and with contested hands within him and the basket.
Putting the game into overtime is one thing, but nailing both free throws in the extra frame to seal the game is another thing. A cool and confident ballplayer, Coulibaly even hit on a pick and pop 3-point jumper and was a major weapon on the glass as he controls the boards in and out of his area and goes and gets the ball within traffic.
With all this said, the mobile big man is going to be quite the followed and recruited prospect. While Virginia, West Virginia, and George Washington are the only programs to have started the process with him, one can believe that before things are over with, that the African center will be offered by and prioritized by some of the best programs nationally.
Sunday was the beginning for Coulibaly of what should be a very entertaining and intriguing story that will continue to play itself over these next few years within his locale that is Laurel, Maryland.