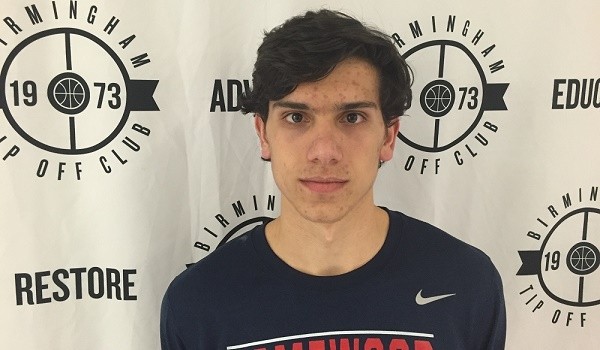 There were plenty of storylines and lessons learned from the 2015 Steel City Invitational. With that being said, we decided to share our top 15 lessons learned from Alabama's premier basketball event.
---
1.) Luke Touliatos is the real deal. The MVP of the tournament (pictured above) helped his stock and had a coming out party. He will receive plenty of college attention going forward.
2.) Watching Mountain Brook is pure chaos. I wrote in Monday's recap that Texas head coach Shaka Smart would love to watch Mountain Brook. Actually, current VCU and former UT-Chattanooga coach Will Wade would like it, too. Wade trademarked 'Chaos' as the Mocs' style when he was the head man at UTC.
3.) Sacred Heart proved they are one of the top teams in the state. Yes, a 1A team deserves recognition as one of the top teams in the state. With wins over Bessemer City (6A), Spain Park (7A), and Mountain Brook (7A), they have proved they belong in the conversation.
4.) Javien Williams is deserving of top 100 consideration nationally. The UAB signee was the most impressive player from the event – and it really wasn't close. He's a high-major talent.
5.) Homewood is one of the best-coached teams in the state. If you had Homewood winning the championship before the tournament began, you're probably lying. Tim Shepler did a great job of preparing his teams for each game and is the early front-runner for Coach of the Year in Alabama.
6.) Micah Fuller is one of Alabama's best shot-makers. It's hard not to be a fan of the Bessemer City guard.
7.) Jackson-Olin has a young nucleus of talent. JO didn't have the tournament they had hoped, but there are reasons for optimism with them. The majority of Cedric Lane's top players are underclassmen and it wouldn't be a surprise to see them get things rolling in the future.
8.) RJ Mhoon has made a dramatic transformation with his game. The Faith Academy junior was impressive in flashes. He definitely enhanced his stock.
9.) J.O. Johnson is the most entertaining team in the state. If you like offense and play above the rim, Johnson is the team to watch. Dunks, blocks, fun – you name it, the Jaguars have it.
10.) Josh Langford is consistently good. The best part about Langford's game is his consistency. As a coach, you can expect 25 points and 10 rebounds each game. There's a lot of value in that.
11.) Ramsay is one of the best teams in the state no one talks about. For some reason, the Rams haven't received the attention they deserve. They are led by two talented seniors in Brandon Wright and AJ Luke, along with juniors Kobe McClain and Justin Wiley. Couple that with an impressive head coach like Kelly Cheatham and you have a state championship contender.
12.) The 5A state finals are going to be really, really fun. The 5A Final Four in February is going to be a must-see. With Ramsay, J.O. Johnson, and Faith Academy potentially involved, it should be the most competitive classification during the state tournament.
13.) Trendon Watford is the best freshman in the state. As if this wasn't already known, Watford proved he is an elite talent in the state, as well as nationally. Remember the name, folks.
14.) Homewood's Red Caboose is awesome. If you need entertainment during a game, look no further than the Caboose. They always keep the bench interesting. Be sure to follow them on Twitter.
15.) The Steel City Invitational is a gold mine for college coaches. An out-of-state Division-II coach attended the Steel City Invitational for the first time Monday, and he raved about how this will be a tournament he attends annually in the future. Sure, the John Petty, Alex Reese, Josh Langford, and Javien Williams-type stars were in attendance, but there is plenty of talent for lower-level programs, too. The event is a gold mine for non-major programs and college coaches need to have the event on their calendar next year.