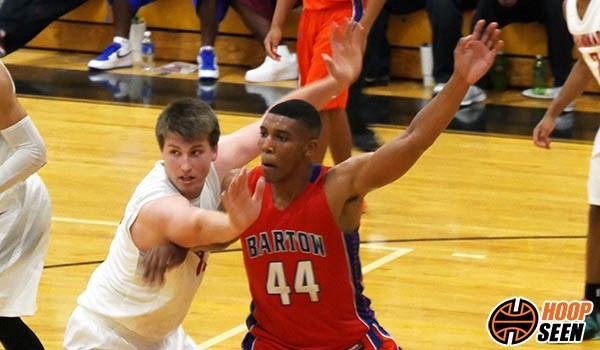 FORT MYERS, FL -- The two future college rivals traded wow moments on Saturday while two other studs ran into defensive buzz saws. What did Justin Young learn on the second day of the City of Palms tournament?  
1. Jayson Tatum can absolutely score from the wing.
Questions about his ability to score and shoot from the wing followed Tatum out of the summer. Can the midrange master become a threat on the wing, people asked. Word from the St. Louis this young winter was an emphatic yes. So, when the opportunity to play on a national stage came about the future Duke Blue Devil went to work on the wing.
Bang. Tatum drilled a three-pointer from the top left. Next possession, same thing. Two minutes later, bang, another three-pointer from the same spot. Eight minutes in, nine points on the board. Tatum was cooking.
He was darn near elite on Saturday evening. Tatum finished with a day-high 36-points on 10 of 20 shooting and connected on five three-pointers and 11 of 15 from the foul line.
Purists would approve of the technical form Tatum shot with. So, quiet the objections. He will be just fine.
The long and lean wing is one of the many crown jewels that have signed with Duke during this five-star recruit run. Paired alongside the likes of Harry Giles and Javin Montgomery-Delaurier, Tatum will have plenty of opportunity to see clean looks for the Blue Devils. His perimeter game will be ready. And it will be a weapon.
Have fun with that, ACC.
2. Roy Williams has always had success with big men. Tony Bradley is next.
Few college coaches do it better than Roy Williams with developing big men. His list of pro players at the position is exhaustive.
Tony Bradley, the No. 37 ranked player in the class of 2016, has the tools to be an effective option for the Tar Heels moving forward. Bradley will eventually find his way to help replace the production of Brice Johnson and Kennedy Meeks. Bradley is somewhere between the two existing Tar Heels. That's a great thing.
As Tatum was cooking from deep, Bradley from Bartow (FL) was equally impressive in the paint. The gentle giant has soft and strong hands. He makes for a wide target on the low blocks and he has the good fortune of having a high school coach and a point guard that knows how to feed the post.
Perhaps the best trait of Bradley is self-awareness. He knows who he is on the court. There's no mistaking where his value lies.
Bradley was incredibly efficient. He was 14 of 20 from the floor and scored 33 points. He also grabbed 13 rebounds, too. Teams that win championships always have a player like Bradley on the roster.
3. Defense. We're talking 'bout defense.
Two things happened on Saturday that you don't often see – five-star players were shut down defensively.
Dewan Huell is as consistent of a producer there is in the class of 2016. Rarely does he live below the 15 point, eight rebound line from his power forward spot. He's a steady force for the always powerful Miami (FL) Norland program. The future Miami Hurricane
But Huell has never played against a former Big East head coach before. Mike Rice, the former Rutgers head man, was back on the sidelines for the first time as the interim head coach at the Patrick School (NJ).
"He's like a young LaMarcus Aldridge," Rice said of Huell.
But he wasn't on Saturday night. Huell finished with five points on 2-7 shooting and six rebounds. It was not a fun day for the five-star big man. Credit that to the Patrick School and available post Fatir Hines.
//
Coming off a brilliant 34-point effort on opening night, 5-star junior Michael Porter had his hands full with Westerville (OH) South senior Andre Wesson.
Wesson, the older brother of Ohio State-bound center Kaleb Wesson, is a strong wing. Richmond coach Chris Mooney was on hand to see the available senior in action.
Porter finished with 21 points in his team's loss but shot 4-17 from the floor. He found his success at the foul line, hitting 13 of 15 shots from the charity stripe. The older Wesson neutralized Porter's wing to rim game.
THREE THINGS LEARNED ON FRIDAY AT THE CITY OF PALMS