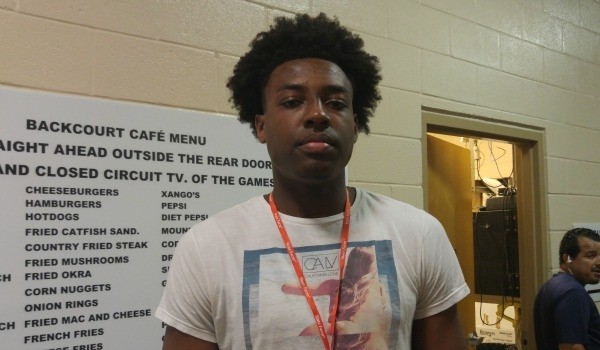 The City of Palms Classic once again delivered as some of the best suited up at the gymnasium within Bishop Verot High School in Fort Myers, Florida. Whether you were from the Sunshine State or from across the country, the top prospects heading into the event didn't hold back as they solidified their stock as elite recruits in the coming years. There were a few surprises like Andrew Wesson but it was also well knowns like Michael Porter and Austin Wiley that stood out from the rest of the fray.
ANDRE WESSON, SF, WESTERVILLE SOUTH HIGH SCHOOL, 2016: On Saturday, Andre Wesson was given the task of shutting down Michael Porter and while no one will ever shut the five-star junior down, he definitely came close to it as the Father Tolton star made just four of his 17 shot attempts. Turn around and on Monday, Wesson displayed that he is more than just a one-trick pony as he did all he could in leading his team back against the mighty High Point Christian bunch by scoring 25 points in the loss. Sporting super long arms, broad shoulders, toughness, and two-way production on the hardwood, Wesson is one of the best unsigned seniors throughout the Midwest and he used the City of Palms Classic in the best way possible in displaying his immediate but also down the road potential at the next level. With a brother heading to Ohio State in 2017, Wesson was watched by Richmond head coach Chris Mooney on Saturday but it seems that a few high-major programs could get involved with him before things finish up with this productive forward's recruitment this spring.
MICHAEL PORTER, SF, FATHER TOLTON HIGH SCHOOL, 2017: It hasn't been the best of weeks for the Tolton squad out of Missouri but Michael Porter has definitely done his best to keep his team afloat throughout the gantlet that is the City of Palms Classic. Starting out the event with a 34 point and 17 rebound affair, the 6-foot-7 bouncy wing has become a much better rebounder of the ball and because of it, has averaged a double-double in Fort Myers. While he does have to handle physicality better on the attack to the basket, Porter has packed on a few pounds that he uses in scoring in traffic at the basket. With great size for his spot on the floor and in developing some inner dog to him, Porter definitely has his game headed in the right direction where he already has become a priority recruit for programs such as Kansas, Indiana, Stanford, Duke, and Washington.
AUSTIN WILEY, C, SPAIN PARK HIGH SCHOOL, 2017: The future of Auburn within the interior, Austin Wiley went to work straight out of gates for his Spain Park squad as he threw up 20 points and brought down 11 rebounds in his first contest on Saturday against the loaded frontcourt that Montverde provides. However, Wiley didn't stop there as in his next two games, he averaged over 28 points and grabbed 15 rebounds. Now fully healthy and back on the playing floor after suffering through some knee injuries this past summer, the Alabama native is a lot more fluid and quicker getting up and down the floor, has unbelievable hands that he uses in corralling tough rebounds within traffic, and can now score through contact and over either shoulder in the lane. An elite big man within the junior class, Wiley might be able to give minutes to Bruce Pearl and his program tomorrow if needed.
JAMAL JOHNSON, G, SPAIN PARK HIGH SCHOOL, 2017: A teammate of Austin Wiley's at Spain Park High School, Jamal Johnson was the best that we have ever seen of him. He constantly was in attack mode showing off much better quickness and athleticism with the basketball in his hands. While he has been known more of as a glue, utility type in the past, Johnson has cemented his handles in creating for both himself and others within the half-court setting and looks more than capable of running his team in the backcourt. Johnson is also an above-average perimeter rebounder of the ball where he pulled in 11 boards in his win over The First Academy on Monday. Still more of a scorer with the ball, Johnson has become much more comfortable taking and hitting perimeter shots and with a pretty vast skillset as he can contribute in a variety of ways, Johnson is becoming a priority recruit for programs down south by the likes of Auburn, Alabama, Vanderbilt, and UAB.
RJ BARRETT, SF, MONTVERDE ACADEMY, 2019: What Barrett did on Monday evening was nothing short of remarkable. Finishing with 31 points on the scoreboard on the biggest of platforms that the high school level can bring displayed just how far RJ Barrett can go with the roundball. The smooth lefty gets to the basket with utter ease and can finish with crafty runners, lay-ins, and dunks, regardless if there is a defender between him and the basket. What is even more impressive is the feel and pace that Barrett displays with the basketball in his hands. He rarely ever plays outside of himself and can create for others off the bounce while making the proper pass against any type of defense. The Canadian wing already can take over games and by continuing to show off a consistent jumper from the mid-range level on out, Barrett can go as far as he might want to go on the playing floor and is an elite recruit within the 2019 class.