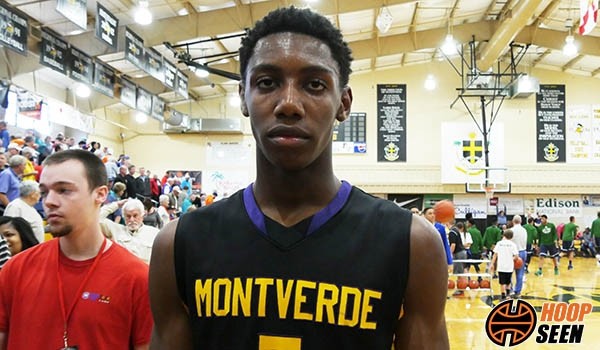 FORT MYERS, FL -- It was a complete slate of games on Monday down at the City of Palms Classic and some of the top stars throughout the high school ranks showed off just why they are so highly thought of within the national lure. A couple of future ACC products took to the floor at Bishop Verot and produced mightily while it was a freshman from north of the border that left many shaking their heads.
TONY BRADLEY, C, BARTOW, 2016:  Bradley is one of the most efficient big man they you are going to find. While he won't ever wow you with his athleticism or highlight reel dunks, what he does impress you with is his final box score numbers. A walking double-double guy each time out, Bradley again produced on Monday despite his squad coming up short. Finishing with 27 points and 21 rebounds and following up a 33 points and 13 rebounds affair from Saturday, Bradley will be an instant numbers guy from 10-feet and in next season at Chapel Hill. He shows off exquisite hands in and around the basket, has become lighter of foot, and has developed a mean streak in protecting his basket, something that will be welcomed immediately at the ACC blueblood.
JAYSON TATUM, SF, CHAMINADE COLLEGIATE PREP, 2016: Just like Bradley, Tatum will be taking his services to the ACC next fall. He will also head to the state of North Carolina but not to play for Roy Williams, but rather for Coach K in Durham. Tatum might be the most polished and skilled prospect that I have ever covered throughout the amateur ranks. Many believe he has a lower ceiling compared to some of his other elite peers but that is total nonsense. He has continued to get quicker, more athletic, and his outside jump shooting is now a consistent weapon that makes him a lethal offensive weapon. On Monday, Tatum did everything from facilitate the half-court offense, rebound the ball on the defensive end, make every shot possible, and show some fire under his belt, all leading to another productive final stat line of 33 points, nine rebounds, and four assists, and most of all, the win that takes his team to semi-final play on Tuesday.
LONZO BALL, PG, CHINO HILLS, 2016: While his younger brother LiAngelo outscored him by three on the scoreboard, Lonzo Ball was the catalyst for the giant win over the super talented Montverde bunch. The fans at Bishop Verot have never seen anything like it and not many outside of the national media and scouts have either. When you talk about high-powered, run and gun offenses, the Chino Hills gang epitomizes just that. They absolutely love to get out and run the floor and throw up points on the scoreboard but none of that is within reach without the playmaking and passing skills out of the future UCLA lead guard. Due to his great size, length, and a stronger frame, Ball handles the bump well on the attack and then make the correct decision following. His shot selection will never be pristine but it seems that the talent out of the Chino Hills star is hard to top. Finishing with 29 points and eight assists, Ball must take care of the rock a bit further but when it comes to an elite feel, pace, and the entertainment factor, the future Bruin brings that all to the floor each time out.
ANDRE WESSON, SF, WESTERVILLE SOUTH, 2016: One of the best unsigned seniors on display at the City of Palms Classic took to the floor against the High Point Christian squad on Monday evening. His group from Ohio didn't secure the W but they definitely put up a major fight and one of the reasons for this was because of the play of Andre Wesson. With a younger brother already committed to Ohio State, this Wesson sibling is a lot more versatile and can do a little bit of everything. Last game, Wesson displayed the ability to match up and guard an opposing bunch's best offensive weapon. On Monday evening, the Buckeye State native took more to the scoring role as he finished at the basket, hit a few mid-range jumpers, and displayed a good looking outside jumper. Wesson has the body to make it at the next level and after finishing with 25 points, the senior forward should become an even more recruited prospect this winter.
JAMAL JOHNSON, G, SPAIN PARK, 2017: Johnson sometimes doesn't get his proper dues playing alongside five-star big man and Auburn commit Austin Wiley on both the travel and high school circuits. However, he definitely is making a strong case in Florida this week for a prioritized recruitment leading forward. With great size at 6-foot-3 and improving athleticism and quickness, Johnson has always been seen as more of as a utility, glue type at either guard spot. However, he has gotten much better with scoring from behind the arc along with finishing at the lid within the bigger bodies. Toughness definitely isn't lacking out of the Alabama native and because of it, his rebound numbers really add up, just as they did on Monday as he finished with 12 in all. Throw in his 23 points off of 7-of-14 shooting from the field and four assists and it seems that many throughout the SEC should take an even closer look at all of the intangibles and now productive numbers that Johnson can throw up in any given contest.
RJ BARRETT, SF, MONTVERDE, 2019 (pictured above): Don't know the kid's name yet? Better get used to him because another Canadian is about to take the states by storm. The smooth lefty did it all on Monday from defending and playing the passing lanes, to making the proper plays with the ball out on the break, but most of all, it was his scoring sprees that kept his team within reach against the high powered Chino Hills offense. Barrett displays great size and length for his spot and at such a young age. There are questions surrounding whether he is a freshman or sophomore but quite honestly, it doesn't really matter. Barrett has an aura about him and he scores the ball with total ease. While he final foul shot didn't go in which led to a very close loss, a star was born on Monday evening in Fort Myers, Florida, and his name was RJ Barrett.
RECRUITING NOTES
Andre Wesson remains open to the recruiting process but he is primarily looking at Richmond, Illinois State, Akron, and Toledo.
His team went down in defeat but Darius Banks, a 2017 wing from St. Petersburgh High School, showed off a higher ceiling of sorts and after his contest he noted on offers from FGCU, UCF, USF, and Wyoming, with further interest coming from Florida, FSU, and Virginia Tech.
Malik William is a very intriguing forward for The First Academy and the junior spoke on offers from UCF, UConn, and Northern Arizona, along with added interest from the likes of Clemson, Iowa, and Florida.
COACHES IN THE CROWD
There weren't a ton of college coaches to line up along the sidelines on Monday but still the City of Palms Classic brought out head coaches from Florida State and Florida Gulf Coast, along with assistants from Kansas, Old Dominion, Georgia, Boston College, Wake Forest, Maryland, and LSU.