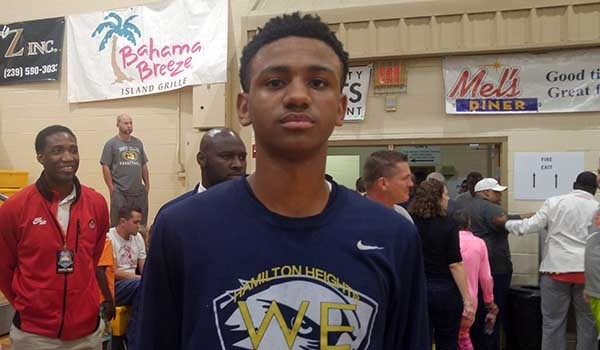 While there were only two games on the docket on Sunday at the City of Palms Classic, star power sure wasn't lacking as some of the best unsigned seniors took the floor at Bishop Verot High School. However, it was a bunch of Canadian juniors that really caught our eye and ended up being the standouts of the day from Fort Myers, Florida.
NICKEIL ALEXANDER-WALKER, SG, HAMILTON HEIGHTS, 2017 (pictured above): With great length out on the perimeter, while Alexander-Walker isn't the fastest of guys around, he is very smooth and plays with a great pace. He rarely ever gets forced out of his comfort zone and having grown over three inches within the past 18 months, the Canadian guard has kept his lead guard skills intact displaying the ability to facilitate within the half-court setting. A tough-nosed attacker off the bounce, the Hamilton Heights juniors hit on a few pull-up jumpers throughout the course of the day and his use of the high ball screen is on point. With a recruitment that is beginning to pick up steam, expect for the majority of the high-major programs throughout the east coast to dabble with the high upside junior out of the state of Tennessee.
THERREN SZMIDT, SG, HAMILTON HEIGHTS, 2017: Szmidt came into July with no offers and while he still just holds a few, that will all change in the coming months. He has grown over an inch since the summer and has also packed on a few pounds enabling for him to handle physicality better below the arc. The calling card for this Canadian is in his jumper. Szmidt can come off screens and staggers and hit with consistency and confidence. The elevation on all of his attempts is pristine and his intellect and feel for the game isn't much of an issue, either. The need for quality sized shooters of the basketball who don't force things grows by the day, hence why Szmidt will become such a thoroughly recruited prospect this summer.
SHAI ALEXANDER, PG, HAMILTON HEIGHTS, 2017: The cousin of Nickeil Alexander-Walker, this Canadian guard is actually already off the table as he committed to Florida a month ago. Known as an elite passer of the ball, Alexander actually showed off the ability to shoot the ball on Sunday afternoon. With great length and size at the lead guard spot, the Hamilton Heights floor general has packed on a few pounds but it was his playmaking skills from 15-feet and in along with his mid-range jumpers from off the pull-up that impressed many within the gym at Bishop Verot. Sure, he still has to continue to round out his game but a capable multi-positional defender at the next level who can pass it and score it, Alexander seems to be a great start for the 2017 class in Gainesville.
MOHAMED BAMBA, C, WESTTOWN SCHOOL, 2017: One of the best prospects regardless of class in all of America, Mohamed Bamba took to the floor on Sunday and again showed just why so many of the elite programs already covet him. Sporting mind-boggling length but impressive fluidity with his movements up and down the floor, the sky is the ceiling for the Westtown junior. Bamba cleans up everything and anything around the basket and is able to exert himself on any given game without even having a play called for him. Sure, he is far from the finished product but that isn't to say he doesn't have some ball skills within his package of abilities. He was able to hit a 3-point jumper off the ball reversal, throw down numerous putback dunks, and destroy every shot attempt within the lane due to his elite timing,  length, and instincts. Add it all up and Bamba is a special prospect who is being chased after by the likes of Duke, Harvard, UNC, and Kentucky.
UDOKA AZUBUIKE, C, POTTERS HOUSE, 2016: With coaches from UNC, Kansas, NC State, and Florida State in the house on Sunday for the Nigerian big man, Azubuike didn't have his best on display, but he did look to be in much better shape. Always a brute strength down low, Azubuike loves to carve out his niche within the interior before going to work with the killer drop step. Thunderous dunks are always in play whenever the Potter's House senior big man is on the floor and even though it wasn't his most productive of outings, Azubuike was still able to put down a few that brought the fans to their feet. Further developing a face-up game and a counter move on the block is definitely a need for Azubuike at the next level but it seems that this recruitment is coming down to the end and a commitment could occur before the change of the calendar year.
THON MAKER, PF, ATHLETE INSTITUTE, 2016: Just like Azubuike, it wasn't Maker's most productive of outings on Sunday but he still showed off what makes him special. People have always enjoyed picking apart Maker and his game over the years but if there is one thing you can't take from him it would have to be his willingness to compete on each and every possession. Showing a developed physique as Maker now weighs over 220-pounds, the Athlete Institute star did a great job of holding his ground down low on the defensive end against Udoka Azubuike, a big man that has 50 pounds on him. Maker has sped up his shot some from off the perimeter and even showed off some nifty passing skills out of the high post. With Kansas in attendance for him on Sunday, things are far from over with the big man's recruitment that seems to be heading to a spring commitment.
RECRUITING ROUND-UP
Therren Szmidt noted on offers from St. Bonaventure's, Duquesne, Hofstra, and Appalachian State.
Mo Bamba's last three visits came back in August whenever he got a glimpse of St. John's, Wake Forest, and Duke; UConn head coach Kevin Ollie was in recently for him along with UNC.
Nickeil Alexander-Walker spoke highly on the likes of Illinois, UNLV, Miami, and Baylor, with new interest now coming his way from Maryland; Terps assistant Bino Ranson was in attendance Sunday for him.
While he didn't have a great day on Sunday, expect to hear much more about Westtown's Brandon Randolph, a 6-foot-6 wing out of the Bronx, New York. With great length and a shooting stroke, the junior spoke on offers from George Washington, Hofstra, and Quinnipiac.
COLLEGES SPOTTED
Since there were only two games on the docket on Sunday, not a lot of college coaches were expected in but still, Kansas, NC State, UNC, Wake Forest, UMBC, Appalachian State, Alabama, Boston College, and Florid State were all represented at Bishop Verot High.