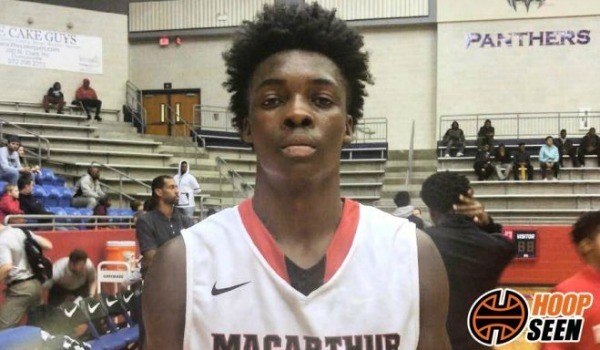 One of the best available prospects still left on the board is about to venture off to what could be, his final visit until making a commitment. While nothing has been verbalized, it seems that the recruiting process is wearing thin on Andrew Jones and that the end could be in the nearby future.
A giant stock booster through this past calendar year, Jones entered 2015 nowhere within most top-100 rankings and now sits firmly at the ninth spot within the HoopSeen 2016 rankings. The escalating development, quick growth spurt where Jones has grown close to four inches within the past 16 months, and the boatload of intangibles that the Texan brings to the floor has made his recruitment a whirlwind.
Entering his junior summer, the Irving MacArthur guard held a lone offer in hand from Louisiana Tech. Now, Jones could select any program that he might want to play at in college. However, a final five has been established that includes Arizona, Texas, SMU, Baylor, and Louisville.
While there has been much talk about it being a three horse race between Texas, Arizona, and Baylor, the latter the place where his sister, Alexis, currently plays her college ball, it should be noted that all five have a solid shot at landing the 6-foot-4 lead guard.
This weekend though, Jones will remain in the Lone Star State, but get a 48-hour glimpse at the Texas Longhorns program. Shaka Smart's bunch will host the UNC Tar Heels for a nationally televised game and it will be a weekend that could bring great pub and notoriety to the Big 12 program.
With a two-man class already in tow, the new staff has locked down two signings in the 2016 class from scoring guard Jacob Young and big man James Banks. Throw in the graduations of three of its frontcourt pieces along with two of its guards, where Isaiah Taylor, the star guard in Austin, could also leave early for the NBA, depending on how the season plays out. With a large hole within the 2016-2017 Texas roster at the moment, the opportunity is definitely evident for Jones' taking, something the staff has vocalized to him. "They're telling me that I will be able to come in and play the point and most likely start," the MacArthur star told HoopSeen.
A commitment could come before the new year, while it wouldn't be all that surprising to see the product of the Pro Skills travel program hold off until the springtime. Regardless, wherever Jones does call home will be a place that should reap large benefits from one of the best guards within the amateur ranks.