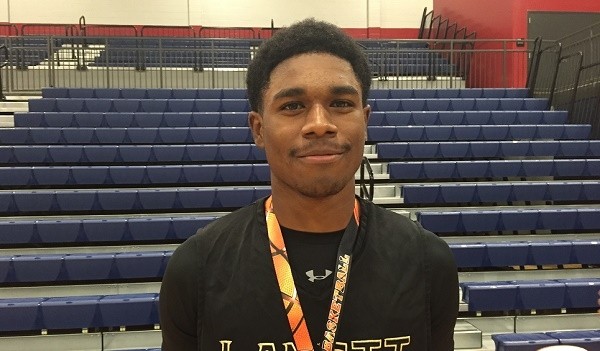 The inaugural N2 Hoops Invitational took place Monday-Wednesday at Bob Jones High School. As expected, some of the top Huntsville-area teams competed against some of talented out-of-state programs in the event.
Blackman High School, a perennial Tennessee power from Murfreesboro, left the event as champions, as they defeated Lanett (AL) 50-45 Wednesday evening during the championship game. Head coach Barry Wortman has a very well-coached and disciplined team. The Blaze used their defensive intensity to run past the competition over the course of the three-day tournament.
Blackman received a huge boost from 2016 shooting Deonte Alley against Lanett. The shooter knocked down six three-pointers to go along with a game-high 22 points. Alley was named the Most Outstanding Player of the tournament, too.
Here are the other top performers from the N2 Hoops Invitational…
Anquavious Pollard, 2018 PF, Lanett: We don't rank sophomores or freshmen yet, but it's safe to say Pollard made his case to be at the top of the list with his play this week. The 6-foot-6 face-up 4 man had some great showings Wednesday in Lanett's semi-final game against Southwind (TN) and during the championship game against Blackman (TN). He has great length and moves very well. He runs like a deer in transition and can get some easy buckets because of his high motor. During the first half of the championship game, he showed his full offensive arsenal. Pollard scored on the block with contact, as well as hitting some tough turnaround jumpers from 15 feet. If he wouldn't have went down with a rolled ankle early in the second half, Lanett may have been crowned the champions. Either way, Pollard raised his stock during the event. The sophomore finished the game with 12 points and 11 rebounds to go along with 25 points and 12 points in the morning vs. Southwind.
Carlos Marshall, 2017 WF, Southwind (TN): Marshall had as impressive a week as anyone during the event. The 6-foot-4 wing has a great shooting touch and understands how to score. He isn't the most physically athletic kid, but he understands how to use his body and strength to take advantage of the defense. Marshall is a problem in the mid-range. He is a shot-maker and is consistent each time out. He did a lot of damage at the free throw line, too. The junior had 31 points in the semi-final game, followed by 37 points in the 3rd place consolation game. High-major programs are keeping tabs on Marshall. Alabama watched him Monday night. Expect more Power 5 schools in to see him during the high school season.
Kira Lewis, 2019 CG, Hazel Green (AL): Lewis has only been playing varsity basketball for a few weeks, but he has already made enough noise to be a popular name in hoop circles in North Alabama. The 6-foot-2 freshman is wise beyond his years with his game. He has a high IQ and understands the game very well. Lewis has consistently averaged 20 points per outing early in the year, and he didn't disappoint this week. He has the ability to play both guard spots and play both effectively. He has a smooth scoring prowess to his name, along with the mind of a seasoned point guard. However, his shooting is going to take him places. There aren't many freshmen that can shoot the basketball quite like Lewis can right now. It's still quite early, but he has all the makings of a high-major prospect right now.
Ty Jones, 2017 SF/PF, Pontotoc (MS): I received a tip last week that I needed to keep an eye on Jones from Pontotoc. Simply put, he didn't disappoint in the game I briefly watched. At 6-foot-6 and close to 200 pounds, the junior is a matchup problem on the floor. He has the strength and size to finish at the rim, along with the quickness and explosiveness to get by post players on the perimeter. Jones rebounds well on both ends of the floor. He is a warrior and someone that warrants low-major and mid-major interest. Keep an eye on him going forward.
Kalin Johnson, 2016 CG, Gadsden City (AL): Johnson is another prospect that has gotten off to a strong start this season. He has already dropped 40 and 30 points in a couple of games, so as expected, the 6-foot guard is a high-octane scorer. He still needs to add 15-20 pounds of muscle to his frame, but it's hard to turn down his shooting ability right now. Johnson has a knack for scoring the ball, whether it is hitting shots from the outside or finishing at the rim. In a four possession span, the senior scored 11 straight points. He hit three 3-pointers and had a nice finish with contact at the rim. According to his coaches, South Alabama and Kent State are showing interest, but he may have to go the JUCO route. If he goes to the right place, he could be a solid mid-major guy in the future.
Mark Freeman, 2018 PG, Southwind (TN): Freeman proved he was one of the top point guard prospects in the event. He is quick and compact and makes plays on both ends of the floor. The 5-foot-9 floor general has great burst and handles the ball very well. He does a great job of getting his teammates involved, as well as scoring for himself. The sophomore didn't shoot many jump shots, but he has good looking shot. Wat his size, he can be a pest on defense with his quick feet and hands. Freeman currently claims offers from Vanderbilt, Sam Houston State, and East Tennessee State, but plenty of other schools are monitoring him.
Antonio Reed, 2016 WF, Douglass (TN): Intriguing – that's definitely what Reed is right now. The 6-foot-5 wing put up some big numbers during the event. He had 31 and 33 points respectively. He is active on the floor and has a warrior mentality. The senior may have been the most prolific scorer during the tournament. He is still very raw with his game, but once he adds some skill, watch out! Most of his damage was done at the rim, however, he did hit some jumpers, too. He has high-major length, athleticism, and bounce. Memphis, Ole Miss, and Southeast Missouri State all showing varied amounts of interest, but for the most part, Reed's recruitment is mum right now. That needs to change quickly.
JJ Kaplan, 2016 WF, Grissom (AL): I'm a fan of what Kaplan brings to the table. The 6-foot-4 forward plays hard and impacts the game on both ends of the floor. With his size, strength, and speed, he can be very versatile. The senior rebounds as well as anyone on Grissom's team, and he can pass the basketball, too. Simply put, Kaplan does just a little bit of everything. With his leadership and voice, he is a guy all coaches would love to have. UAH head coach Lennie Acuff watched him Wednesday afternoon, and he deserves a lot of Division II and NAIA attention.