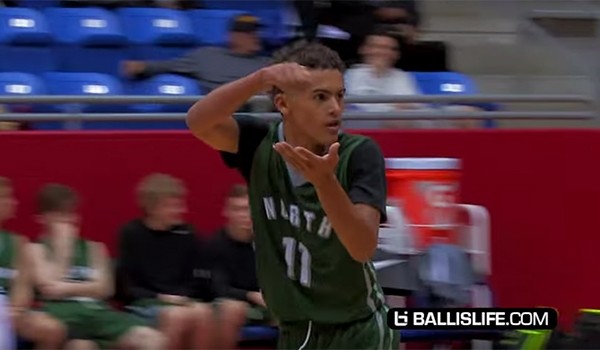 DUNCANVILLE, TEXAS – Justin Young unloads his final three takeaways from a busy and exciting weekend in the Lone Star State.
1. Comparisons can be tricky. Or hard to live up to. Or both. So when Norman (OK) North point guard Trae Young is pulling up from 30 feet and drilling three-pointers with jumpers so clean the nets barely move, comparisons to Steph Curry started to fly.
I'm okay with that. I'm totally okay with that.
Young was on a different planet at the Thanksgiving HoopFest. He did everything for his team and didn't force the issue. He shined in his match-ups against Andrew Jones on Friday and top 100 level junior CJ Roberts on Saturday. Young scored 77 points over the course of two games.
The zone Young was in was one of the best I've ever seen. There are few guys at the prep level that can hit shots in rhythm like he did on Friday and Saturday. His offensive game was a thing of absolute beauty.
2. Sometimes you want. Sometimes you need. For programs that fall into the latter, a guy like Andrew Jones could be the most important recruit down the home stretch for the class of 2016. The Irving (TX) MacArthur point guard started his senior season off where he finished his summer – rising to the top.
Texas head man Shaka Smart and Baylor head coach Scott Drew were front and center to see Jones on Saturday night. SMU had an assistant coach posted up at the game against De'Aaron Fox, too. Arizona and Louisville are also in the mix for Jones.
The Longhorns will play host to Jones for an official visit in two weeks. As the storied burnt orange program tries to rebuild, a guy like Jones could be a major foundation piece and statement recruit in the Lone Star State. But they'll have to beat out some heavy-hitters. His sister, Alexis Jones, is a star on the Baylor women's basketball team.
Finding an elite point guard this late in the game is similar to scoring back-to-back threes in the closing seconds of a game where your team is behind. It is hard to do and few can execute when the clock is winding down. But the good ones can pull it off.
With Jones, he's the difference between a March vacation for coaches or an extended work season into April.
3. Much like Jones, Marques Bolden holds the leverage as one of the best uncommitted big men in the country as we dive into the last recruiting period for the class of 2016.
I snuck over to DeSoto (TX) High School to see the 6-foot-10 center in action on Saturday and I'm glad I did. Bolden made 23 points, nine rebounds and four blocks look so pedestrian. That's a compliment to the type of talent that he is.
Bolden will be a terrific college big man and a guy that people above the college game will certainly chart moving forward. Bolden's frame is very Texan – big. My colleague Eric Bossi of Rivals.com said Bolden's frame will serve him well guarding the likes of a DeMarcus Cousins type of NBA five man. He's exactly right.
But who wins out for him from the college level? I have no idea. Kansas and Oklahoma had assistant coaches at the game. I don't get the impression that he's all too worried about where he wants to go right now either.
With rosters changing because of NBA early entries, coaching changes and transfers, there may be a team or two that isn't in the mix right now but could be come March. That's good news for Bolden. He holds a lot of cards as one of the best big men still on the board.