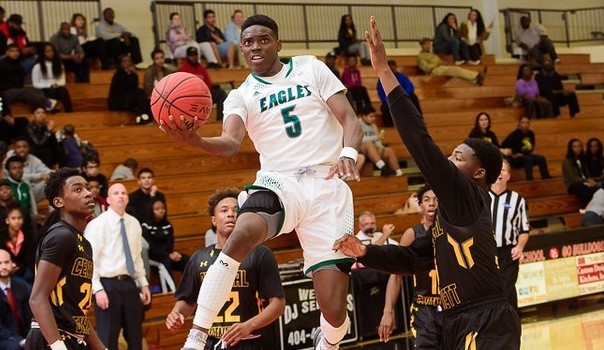 As always, the Jared Cook Classic was a well-run showcase over three days that provided great basketball while also raising money for a great cause. On the basketball side, a lot was learned, a lot was established. Here are a few notes from Monday and Tuesday:
·      Archer has an impressive looking freshman in guard Brenden Tucker. Tucker is one of the notable players in the class of 2019 and should be a name that we hear from over the next few years.
·      Greenforest is going to be extremely difficult to beat in A-Private. The Eagles have a ton of size, a lot of which was not showcased due to small injuries, making them very difficult to match up with. However, it was the play of the backcourt that stood out at the JCC. John Ogwuche (New Hampshire commit) and Justin Forrest are aggressive guards in looking to score the ball, and could be one of the highest scoring duos in the state.
·      Navy commit Cam Cox of Sequoyah is much improved from his junior year. After a solid travel ball season with Atlanta All Stars, the 6-foot-2 combo guard has really started to fine-tune his abilities to run the point and is shaping into a very solid prospect at the point.
·      The value of the Eddie Martin hire for Buford was underestimated. Even without standout point guard Alex Jones, Buford was able to contend with a good Sequoyah team. Martin's players play hard, play smart, and are able to execute the way he wants. Buford will be on the rise with him at the helm.
·      Prediction: Lambert will give a high profile team a scare in the state playoffs. The Longhorns have a group that has size, skill, and plays hard. Connor Mannion (Navy commit) & Ross Morkem (North Georgia commit), make up for a great frontcourt and Andrew Melms continues to show an ability to make plays at the point guard spot. The Longhorns are also still without guard Tanner Hall, who is a football player and still in season.
·      Collins Hill has one of the better guards that doesn't get talked about a lot in the 2016 guard conversation in TeShaun Hightower (pictured above). Hightower is a lengthy 6-foot-4 guard that provides a lot of versatility and energy. He also has a solid skill set and is able to create for himself and put the ball on the floor with finishes up and around the rim.
·      New Orleans commit and Collins Hill forward AJ Cheeseman has become a very unique prospect. He is becoming a combo-forward, able to score the ball on the block, but also able to grab defensive boards and put the ball on the floor and push it himself in a Draymond Green-like fashion. If he continues to develop in this way, he could be an interesting player to watch.
·      Over the course of the travel season, Dacula shooting guard Kevon Tucker, a Wofford commit, has become one of the best scorers that we have. When Tucker is on, look out. And was he ever on against host North Gwinnett on Tuesday night. Tucker went for 41 points, scoring from all levels of the floor. He is a great pickup for Mike Young and the Terriers.