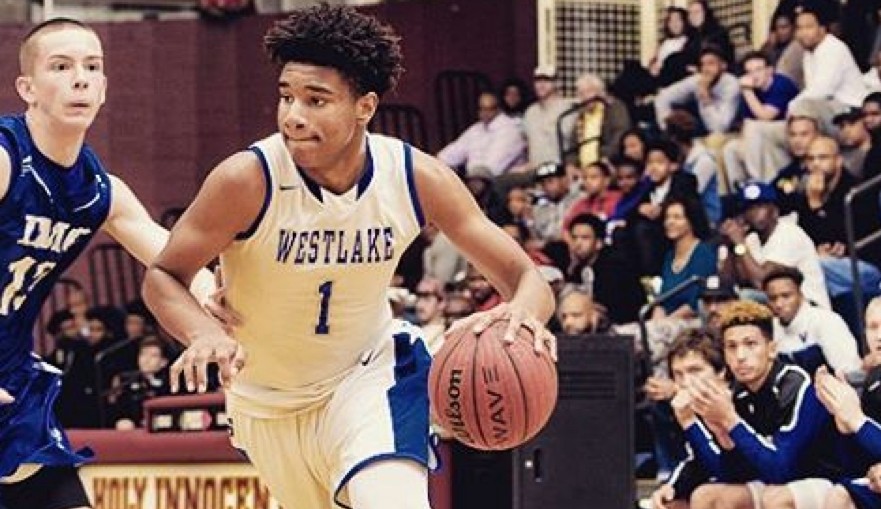 ATLANTA, GA – After a great first day of action on Friday, Saturday's slate was out to make more noise. With some of the best teams from around the Southeast and beyond, there was a lot of basketball to take in. Here are a few of my thoughts from the day that was:
·      Utah State is getting an absolute steal in Wasatch Academy (UT) guard Kobe McEwen. The 6-foot-3 combo guard passed up high major offers to join the Aggies. On Saturday, he showed why he gained such high praise, shooting the ball lights out from deep. McEwen scored 37 points in a win over Sandy Creek (GA), and was one of the high scorers of the entire event.
·      Mississippi State has one of the best recruiting classes in 2016, with many high profile recruits. Maybe the least talked about of these recruits is 22 Feet Academy (SC) shooting guard Eli Wright. However, he will be a player to watch out for in Starkville over the next few years. He showed that he can be an elite level scorer and athlete and will excel in the SEC.
·      I can't rave enough about IMG Academy (FL) sophomore Emmitt Williams. The 6-foot-7 forward always has his foot on the gas, making plays all over the floor. He is also a relentless rebounder on both ends, and created a lot of his offense by hitting the glass. He will be a special one, and could develop into a similar player to Kentucky commit Bam Adebayo.
·      Greenforest (GA) junior forward Baybe Iyiola is much improved from when we saw him last. Iyiola scored the ball well in a variety of ways on Saturday: a turn around jump shot in the mid-post, post moves on the block, and hitting from the perimeter. At 6-foot-8 and with a high motor, look for his stock to rise and for high majors to start kicking the tires on him.
·      Another Greenforest (GA) standout to start the year has been junior guard Justin Forrest. Forrest has scored the ball at a very high level. With the Greenforest frontcourt getting a lot of attention from oppositions, Forrest gets his share of good shots, and he takes complete advantage and has knocked them down at a high percentage. He has also been flying all over the floor on defense, where he has also been very impressive.
·      What can I say that has not been said about Pace Academy (GA) big man Wendell Carter? He had an impressive showing against Westlake (GA) today, with 20 points, 17 rebounds, and 5 blocks. He is one of the best rebounders I have ever seen at this level, and he continues to develop as his career progresses, which is scary with how good he already is.
·      Chuma Okeke (pictured above) was again one of the best players of the day, and might have put together the best two-day performance out of anyone in the field. Okeke gave Westlake (GA) an offensive boost while they were struggling to get things going. He was unconscious in the midrange, and uses a little step back jumper from the elbow that is very difficult to stop. Could be a top-35 recruit in 2017.
Top Performers
Koby McEwen, Wasatch Academy
Eli Wright, 22 Feet Academy
Jordan Bowden, 22 Feet Academy
Emmitt Williams, IMG Academy
Will Washington, McIntosh
Justin Forrest, Greenforest
Baybe Iyiola, Greenforest
Wendell Carter, Pace Academy
Chuma Okeke, Westlake
Jamie Lewis, Westlake