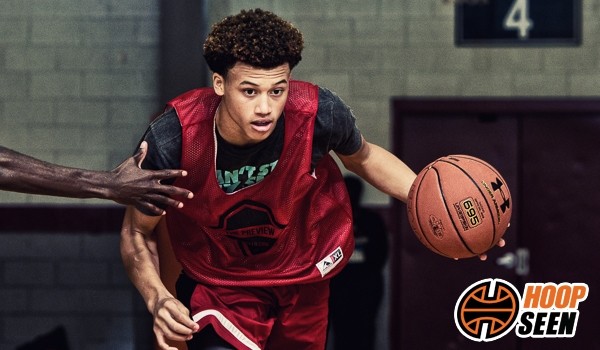 From our first Preview camp in 2013 to Saturday's Fall Preview camp, the stage has always been about starting a player's story. At this year's open camp, we saw a number of players take advantage of the opportunity and played their way into the conversation. 
WE'RE NEXT
The depth in Georgia's 2016 and 2017 is deeper than normal. Because of that, our attention has been focused intensely on the juniors and seniors. At the Fall Preview, we had a chance to look closely at the 2018 and 2019 classes. 
What a treat that was. 
The class of 2019 featured some fine guards. In fact, three of the top guards in the camp haven't even played in a high school game. Ashton Hagans (Newton County), Kyle Sturdivant (Norcross) and Chase Hunter (Westlake) didn't disappoint in the camp. The trio played poised and in control. All three will be guys that we watch closely this high school season. Each brings something different to the table. 
Hagans is a big point guard with a competitive drive that shined through in his personal match-ups against his point guard counterparts. 
Sturdivant has a midrange pull-up game that you don't see from too many guys. He's built like a truck and is entering in a nice situation with the well-established Norcross program. There's plenty of time to be coached up at the prep level. 
Hunter is an interesting prospect. He was one of the nice revelations of the day. The 6-foot-1 guard has a nice natural feel and exploded on his jumper. There's a maturity to his game that will be a nice base of skill to build around. 
SENIOR SLEEPERS 
There were a number of seniors that jumped out at the camp. At this stage of their playing days, they know what it takes to shine in the camp setting. 
Long time Preview camper Kohl Roberts played well (no surprise here) and did what we encouraged attending players to do - play harder than the rest of the crowd. Roberts did that. The 6-foot-6 post from Atlanta Riverwood produces at every level - high school, travel and individually. Guys like him translate well into the next level. 
Like Roberts, Darius Harrison of Berkmar listened to the call of energy and hustle. The 6-foot-6 senior punished people inside and didn't back down to anyone that stood in his way. After every game he played, someone on our staff noted his max effort. There's something to be said for that.
Carrollton shooting guard Desmond Webb will probably be a popular player with Peach Belt Conference teams this high school season.  He's a big wing that's wired to score. The 6-foot-4 senior should be the go-to guy for Tim Criswell's squad this season. Liked the flashes I saw from him on Saturday. 
I also liked what I saw from Stockbridge's Virgil Fields (big guard, can score, nice vision), Justin Longstreet of Columbia (shot well from deep), Cherokee point guard Kash Jackson (quick, can shoot, tough), Miller Grove's Aiden Saunders (good 6-3 frame, always involved in positive plays, competed), Kyle Kincey of Tallahassee (FL) Lincoln (smart decisions, good size, played patiently and effective). 
HI, MY NAME IS…
We saw the emergence of Will Jerrell of Crawford County at last year's Fall Preview camp. The middle Georgia sleeper used the stage to start his story. This year's stage stealer? How about Isaiah Miller of Covington Eastside? Our staff agreed that he was the most athletic player in the camp and the 6-foot guard cemented that thought home with plays like this. 
Willie Reese, the new head coach of Meadowcreek High School, told me that he has a young prospect that he thinks would show out at the Fall Preview. He was right. JoJo Toppin, a long 6-foot-5 sophomore, was a story starter at camp with his above the rim antics. Toppin made quite the first impression. As we approach the high school season, Toppin played his way onto our watch list for the spring Elite Preview. Could he shine for Meadowcreek and earn his spot to the invite-only camp? 
Ibrahima Dodo made people stop in their tracks and watch. it was hard not to. The 6-foot-7 forward from Creekside was a high-energy pogo stick. Just a class of 2018 prospect, Dodo was one of the best big men in the camp. 
You simply couldn't look past Tyshaun Crawford at the Fall Preview. The young 6-foot-10 center from Griffin (GA) High School is incredibly raw but also incredibly intriguing. This was his first foray into a big camp setting. There were moments of intrigue sprinkled throughout. We'll be watching the 15-year-old's progression closely this season. He's just a junior.