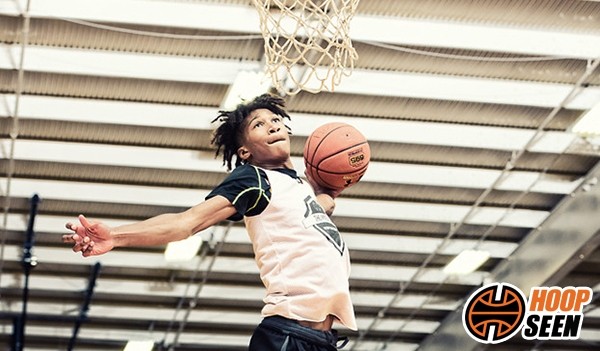 Intriguing is an understatement when attempting to describe JoJo Toppin. The 6-foot-5 wing is super smooth and effortless in all that he does and while there was little to nothing known of him entering the Fall Preview this past Saturday, the native of New York definitely did more than enough in impressing with his long-term capabilities on the playing floor.
Suiting up for Meadowcreek High School this winter, Toppin should expect to hear a lot more people talking about him, especially if he can duplicate the showings that he had in Suwanee over the weekend. Born in Brooklyn, New York, before having moved to Melbourne County, Florida, Toppin now resides in Georgia and could become someone that sees a solid recruitment by some of the better programs within the region.
Having not played travel basketball this summer, Toppin seemed ready to make a name for himself at the Fall Preview as he never stopped moved during playing action, is cat quick on drive attempts to the basket and in containing smaller guards on the perimeter, and has a decent jumper from 17-feet from off the catch. Tacking on some muscle and strength \wouldn't hurt the sophomore's game as he can get his shots altered at the basket, yet due to his toughness and relentless nature, Toppin definitely impressed.
On the recruiting front, there is nothing brewing just yet. However, because of Toppin's motor, instincts, and ability to defend the 1-3 on the playing floor, the Meadowcreek High wing might just have a chance to blow up in the coming months as a quality weapon in the backcourt that can play various spots on the floor and on either end.