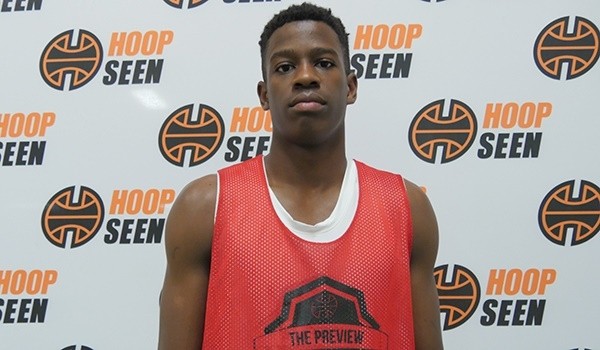 Coming into the Fall Preview, 2017 Daniel (SC) shooting guard AJ Oliver was one of the top names in attendance. Nevertheless, he made it a priority to make a statement and not be a disappointment to coaches, media, and fans alike. It's safe to say he delivered on Saturday.
Oliver, who has now grown to a legit 6-foot-5, showcased his full (and improved) offensive arsenal. Back in May, he was a standout for the Upward Stars 16U group. He displayed a high basketball IQ and the ability to hit shots from all over the floor. But over the past few months, the junior has improved at a rapid pace. He's taller, more athletic and explosive, and a more dangerous scorer. Oliver's improvement was evident, as he was tabbed as co-MVP of the event.
"I felt like I played pretty well," Oliver told HoopSeen.com following his impressive day. "I thought I did a good job on my ball-handling, passing, shooting, and creating for others."
In the spring, Oliver held a lone offer from USC Upstate. Now, he has emerged as an easy high-major prospect, especially after his performance at the Fall Preview. He holds several scholarship offers, but more will be coming in soon.
"Texas Tech, Clemson, Wofford, USC Upstate, College of Charleston, Old Dominion, and Florida International have offered me. The Citadel, Florida Gulf Coast, Wisconsin, Richmond, Oregon, LSU, and Virginia are interested."
It will be very interesting to see where Oliver's recruitment goes from here. His mother, Audra Smith, is the head women's coach at Clemson. She and his father, Anthony, both played for Virginia during their college days.
As the high school season gets going, expect more and more high majors to come in and see Oliver. By next spring, he will be a priority guy for many programs.