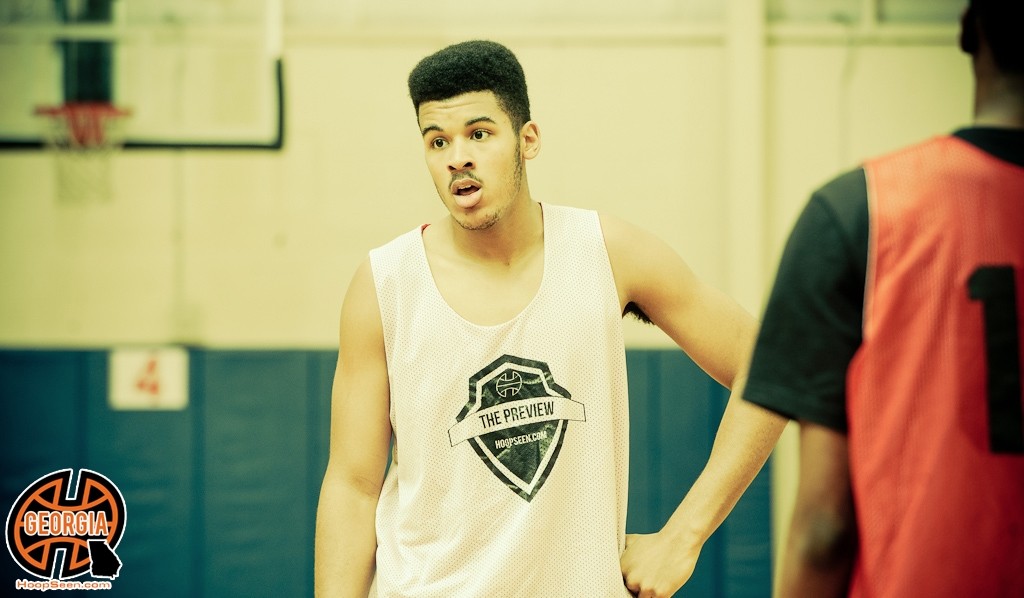 We had a full day of hoops at the 2015 Fall Preview and will spend the next two weeks unloading player evaluations from the camp. We'll go team by team and unload our notes from our staff. Today we dive deep into Team 5. 
Lorenzo Anderson, PG, Miller Grove, 2018: Given the opportunity, the 6-foot guard is a bucket-getter. He is a solid shooter and a positive playmaker. He has the skill set that could develop into a fine upperclassmen scorer in HS. 
Philip Cirillo, Cherokee, CG, 2017: The 6-foot-4 guard is a nice passer and logged good minutes at the point guard position. He's a big, strong and athletic guard and hard for high school players to defend. He made shots over the course of three games, too. 
Makhai Eastmond, PG, Wheeler, 2016: The super quick guard showed off nice ball-handling skills and aggressive moves in the halfcourt. He has a decent, but reliable, shot. He proved himself as a player that knows how to run his team with confidence and decisiveness. 
Arrhen Fejokwu, SF, Central Gwinnett, 2017: Superior athlete with a great 6-foot-4 frame with an even longer winspan. He has quick explosion off the floor and an even quick second jump. Offensively, he made people guard him aggressively and in the high school season, we can see him at the foul line at least six to 10 times a game. His post game was simple - offensive rebounds were turned into point-blank scores and he converted two dribble drop steps for buckets. 
Reco Hallmon, East Jackson, PG, 2019: There is a lot to build on for the 6-foot guard. He's a good ball-handler. He's quick on both sides of the ball. He has good length to develop into a good defender. We like his offensive awareness. 
Torian Holder, PG, Dublin, 2018: His fast, herky-jerky style gave defenders trouble. It was difficult to stay in front of the 5-foot-7 guard. He's very quick and uses a nice high floater to get shots over the defense when he gets into the paint. 
Javian Johnson, Lee County, PG, 2019: One of the smaller guys in the camp, the 5-foot-6 guard was also one of the quickest guys in the camp. 
Isaiah Kelly, Pace Academy, SF, 2018: Long, athletic and active, Kelly was one of the best players in the camp. Would have liked to seen him defend and rebound a little better. Can log quality minutes at the three and four positions. He's a match-up problem on both sides of the ball and strong for his age. Can develop into a major match-up problem at the next level with further skill building. Coach Winston Neal called him one of the four best athletes in the camp. 
Kohl Roberts, PF, Riverwood, 2016: There weren't a ton of seniors that laced up their shoes on Saturday at the Fall Preview but still, it was Kohl Roberts that represented the 2016 class at a high level. You can hear the kid from across the gym and he doesn't shut up whenever he is taken off the court. He encapsulates leadership qualities into his game as a leader on the hardwood who directs his squad in the frontcourt. While Roberts won't just as high as the best athletes around and he can struggle to score against length in the paint, it still doesn't stop the big man from producing as he competes on each possession and is willing to do whatever it takes for his squad to succeed. Throw in his high-level grades and consistent mindset and it would seem that Roberts might be an ideal fit for Patriot League programs who are looking to finish their 2016 recruiting class with a hard playing big man who brings glue-like qualities to the playing surface.
Joshua Williams, Shiloh, PG, 2016: The 6-foot senior is a good passer and ball-handler with heady point guard skills. He's a confident shooter with nice patience in the halfcourt. 
Evaluations come from a collection our staff of 12 coaches, four HoopSeen.com writers and two on-staff college coaches.